Antalya Tower, the winning entry of The Expo 2016 Antalya Tower competition is due to start construction later this year.
Designed by Turkish firm NITA (Nitelikli Tasarimlar Atolyesi), the building will be situated on the southwest coast of Turkey and will host the city's 10 million annual visitors. The completion of the project will coincide with the World Botanic Expo 2016 which will be held in Antalya and will mark Turkey's first international exposition.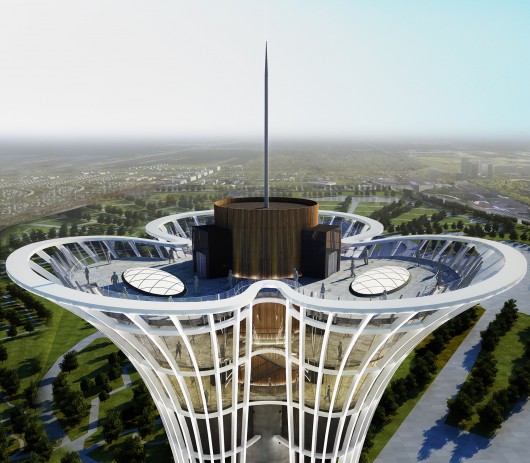 The inspiration for the tower was partly taken from Hadrian's Gate located at the entrance of Antalya's old town, paying tribute to the arch's three gates- the number three a recurring element throughout the building.
It is comprised of three panoramic rooftop decks that tapers into a single shaft at the base of the building, estimated to hold a capacity of 260 people. Three of the terraces is set to explore the theme of Flowers and Children of the World Botanic Expo 2016.
The interior of the tower consists of three levels for visitors, forming two semi-enclosed observation spaces alongside an open air observation deck.
Skylights are installed at rooftop level and will allow natural light to penetrate the top floors of the building.
Antalya Tower is first and foremost an observation tower, standing 100.5m tall. The building's steel façade is designed using digital design methods, creating a surface that is both conspicuous as well as being highly resistant to windy weather conditions.