A flexible, open retail concept for up-and-coming brands to 'pop-up' and showcase themselves has been proposed by boutique practice SuperFutureDesign*.
In The Zone is a flexible concept store with co-working space, fitting rooms, flexible display areas, an Instagrammable zone, a dichroic glass façade and an e-commerce area.
"It is conceived as a flexible and open space, which gives the brands the synergetic 'infrastructure' to displays product or, furthermore, the possibility of featuring large-scale scenographic exhibits if needed," the Dubai-based practice, created by Cecilia Morosi, among others, said.
The sister studio of luxury design firm ASZarchitetti has not said where the concept zone will located, but stated the shopping experience will be an incubator of new fashion and technology brands.
In The Zone's core will be made up of the main retail area, complete with full-height product display walls on either side, with the co-working space on the mezzanine level.
For the display counters, recycled plastic composites will be used as a finish for the draws and shelves, while white steel will be used for the structure.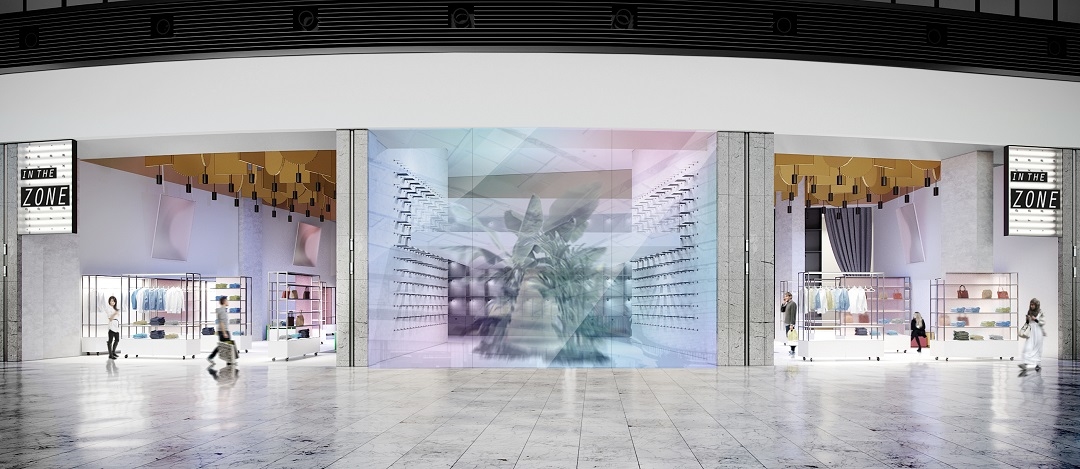 Soundproofed fabric curtain dividers will be used to separate the fitting rooms from the main sales area.
On the mezzanine level, raw concrete and anodised aluminium will play off on one another, creating a contrast that works as a neutral backdrop to the products on display.
Lighting will be used to differentiate the different zones, with warm and cosy lights in the central zone and colder, diffused lighting in the sales area.