Considering how unmoving Massimo Bottura, the world's best chef, is rumoured to be when it comes to the identity of his brand, Osteria Francescana, it doesn't come as a surprise that he initially declined W Dubai, the Palm Hotel's offer for him to open an outpost of his award-winning Modena-based restaurant.
"Osteria Francescana has its roots and identity in Modena and we never had any intention of replicating it anywhere else in the world," says Bottura. "They insisted and invited us to Dubai. When we arrived and saw the property on the Palm, we started to think again. The more we talked and shared ideas, the more we realised that Dubai could be the perfect place, but not for Osteria Francescana or our casual restaurant Franceschetta, but an opportunity for a brand new concept. And that is where the first seeds of Torno Subito were planted."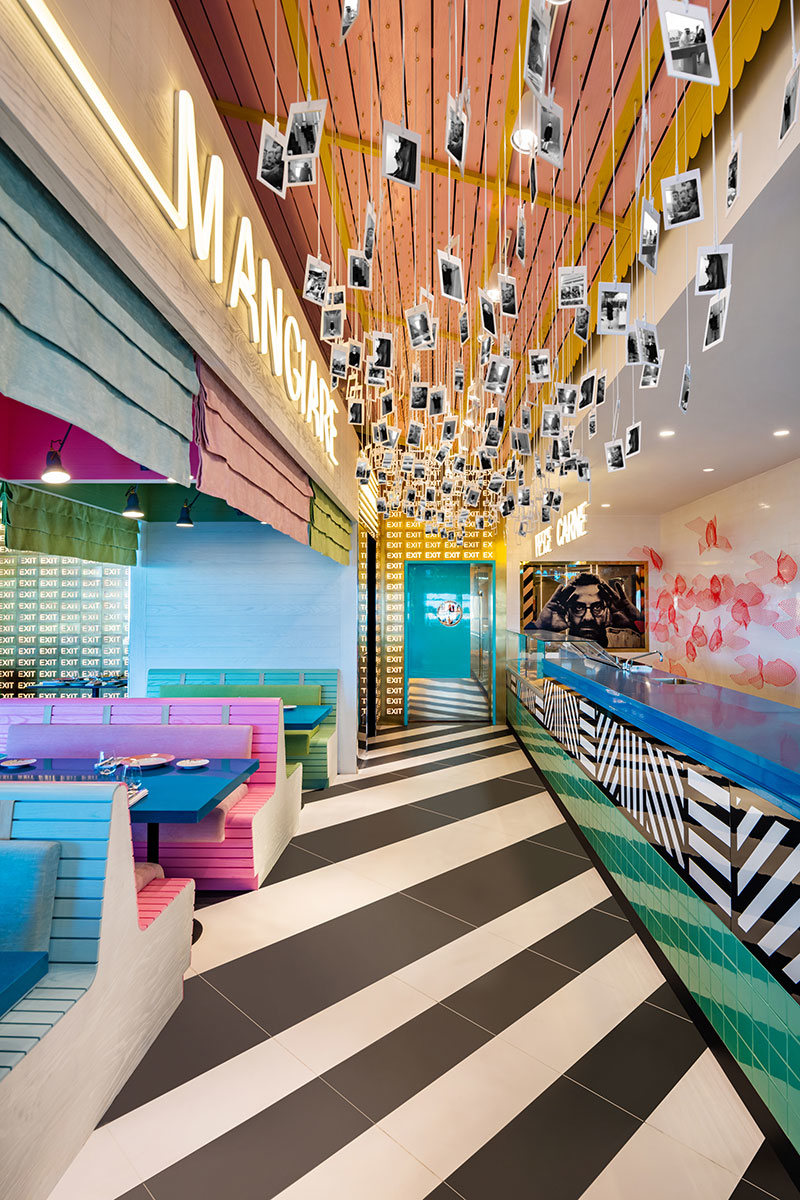 When Dubai-based interior design firm, Bishop Design, headed by Paul Bishop was tasked with the design, the brief they were given was quite simple: "It was to realise the sentiment of Massimo having fun," says Bishop. "It was to be a manifestation of beachside days reminiscent of Rimini's coastal playground of the 1950s and 60s, featuring amazing food, drinks and ultimate relaxation."
On his part, Bottura was convinced about the kind of restaurant he did not want to create. "We saw that there were plenty of beautiful fine dining Italian restaurants with leather chairs, and even more rustic Italian restaurants with brick ovens and checked tablecloths," says the culinary wizard. A few brainstorming sessions and some imaginative thinking later, Bottura and the design team had one concept in mind — something completely out of everyone's pre-packaged idea of Italy.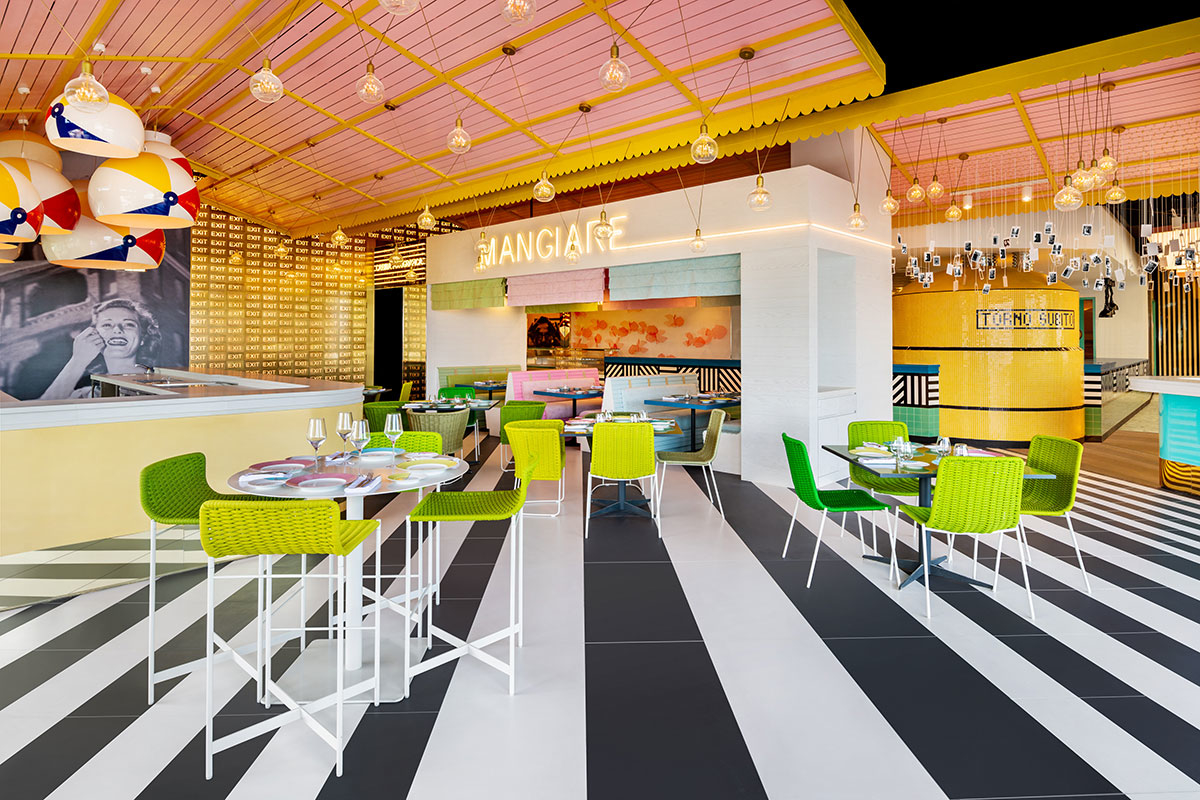 "We are constantly trying to shake up preconceptions of Italy and the Italian kitchen and this thread weaves through all of our projects from when we first opened our doors at Osteria Francescna to our latest projects in Florence with Gucci Osteria or the soon to be opened Casa Maria Luigia, a guesthouse in the Emilian countryside," says Bottura.
After many conversations with the chef, Bishop came to the conclusion that the former desired to create something entirely nostalgic with his restaurant, reflective of his innovative approach to food. "Massimo's sentiments of 'tradition in evolution' steered the design direction to inherit the best of the past and carry it forward to the future," says Bishop, who began to interpret Bottura's nostalgic days of Italian pop culture into a space.
Mixing fantasy with memories of a bygone era, the interiors would become the conduit for vintage Italian cinema, especially, the works of famous Italian filmmaker, Federico Fellini.  "The venue in its entirety was to be a beautiful fusion, bringing together the design, food and influences from the golden days into one harmonious offering," says Bishop.
The design narrative was beginning to transform into a storyboard of ideas, concepts and fantasies, which would culminate in an ultimate La Dolce Vita vibe filled with an explosion of colours alongside a relaxing beachside terrace. "Torno Subito is an effusion of utterly beautiful reminiscence," says Bishop. There are references from beach balls to the pastel-coloured pedalo boats and the faux sandy floor.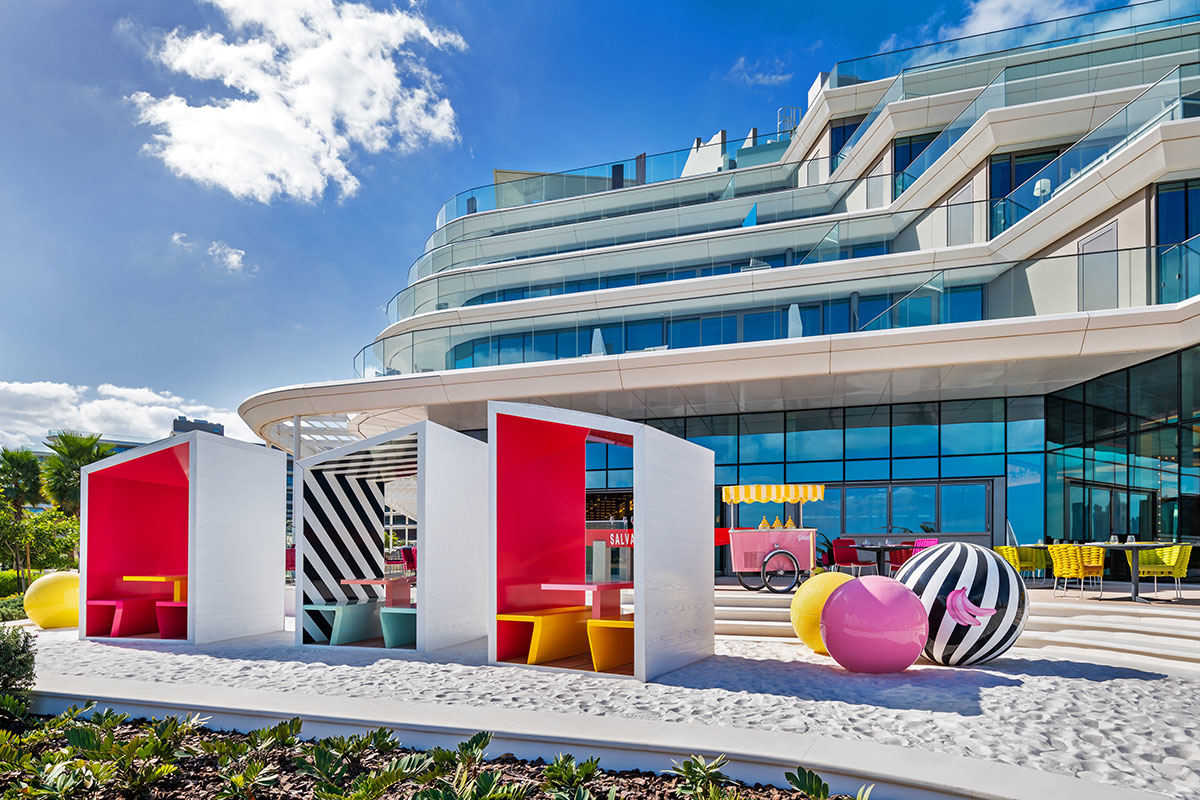 Image courtesy of Alex Jeffries.
"With Torno Subito, we wanted to transport our guests to another place and time — the dolce vita of 1960s Riviera where life was always sunny with the Dubai skyline in the background so that you can have best of both worlds simultaneously," says Bottura about the new interpretation of dolce vita. 
For Bottura, the creative process for Torno Subito began by pulling images from some of his favorite Italian places, movies, posters, and icons —everything from circus images to Fellini, from 1960s dolce vita (a term Italians constantly use to reference good life) to postcards from the Italian Riviera. "Once we had a slideshow of images, the concept started coming together, and we envisioned a gathering place that could showcase a design-focused, colourful, and delicious Italian experience," shares Bottura. "The menu followed the design and colour scheme and we divided the kitchen into difference areas — from pasta to gelato and pizza — to highlight the diversity of the Italian kitchen."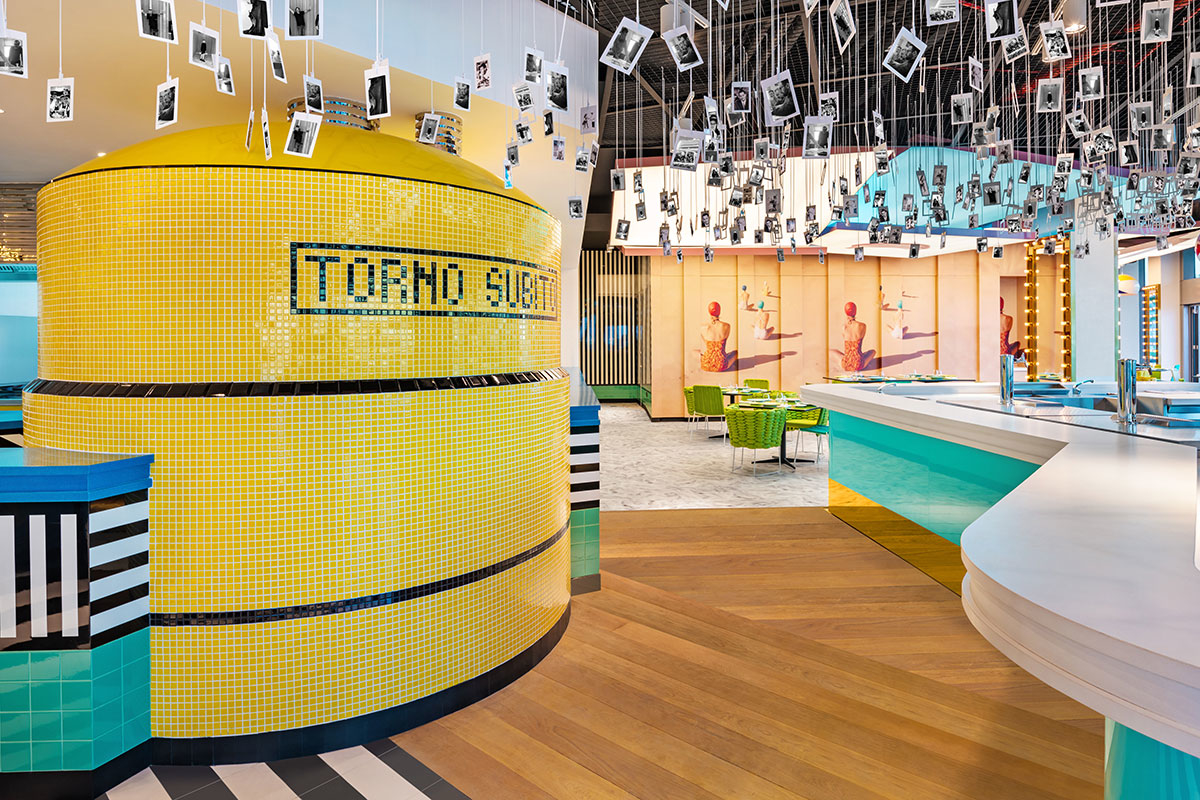 Image courtesy of Alex Jeffries.
Pastel tones mixed with a bold mélange of colours, in turn contrasting against a morphing monochromatic floor dynamic which seamlessly blends into a unique, three-dimensional agitated sand print flooring. An eclectic array of black and white Polaroid photos from the '60s are suspended from the ceiling, many of them from Bottura's very own collection. The modern influences include corrugated iron representative of a red curtain which surrounds the WC entrance. Animated graphic-stamped ceiling panels float in irregular lines representing the canopies of old Italian food market tents that Bottura has been frequenting since he was a child.  Furniture is eclectic, thoughtfully developed and curated from the design classics of Paola Lenti.
The objective of Torno Subito, as envisaged by Bottura and executed by Bishop, is far beyond being solely an F&B venue. "The walls tell a beautiful story inspired by Massimo's memories, enabling guests to relive these experiences," says Bishop. Serving emotion as the main ingredient in every dish is mirrored through each element of the design. Even the name, Torno Subito, translates into "I'll be back soon," reminiscent of signs hung in Italian shopkeepers' windows during lunchtime, captures the sentiments of the eatery, adding a tongue-in-cheek reference to Bottura's presence at the restaurant.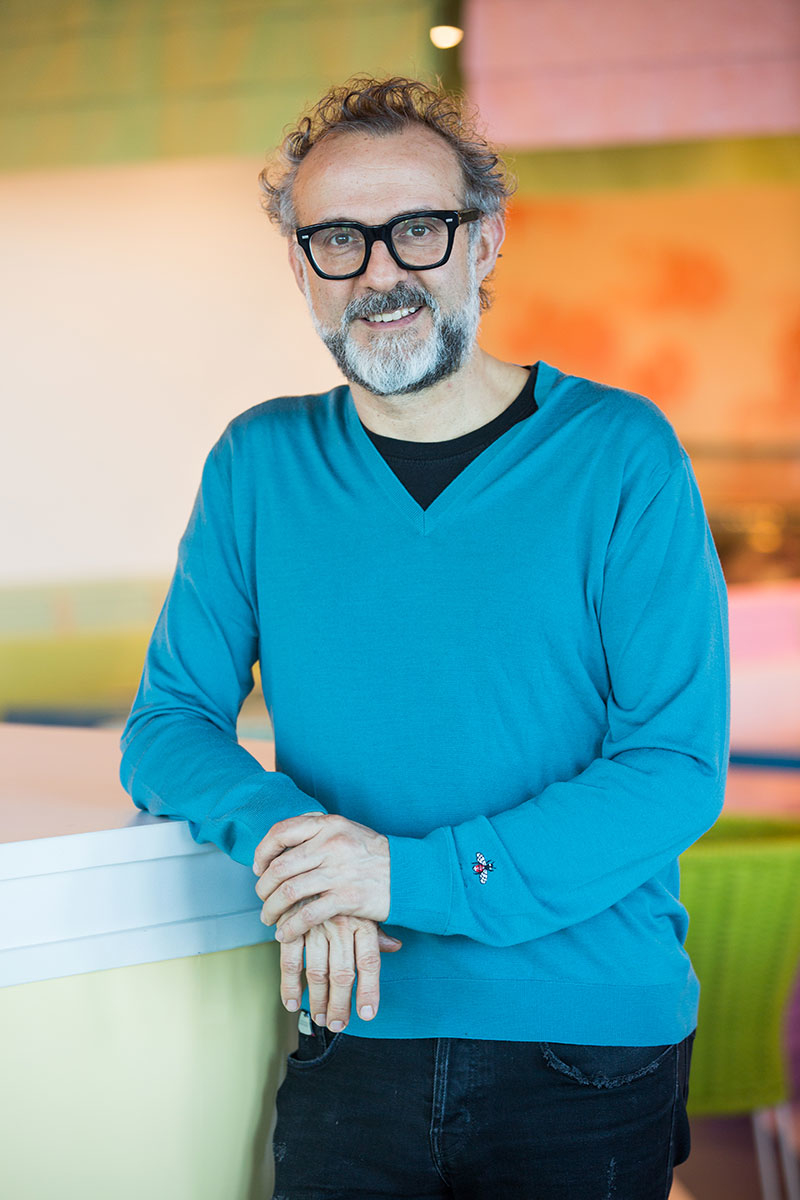 "The funny thing about the phrase, Torno Subito, is that you really never know when the shopkeeper is coming back — it could be 10 minutes or 10 days," Bottura explains. "There is a kind of irony about the expression and a lighthearted quality. You need to trust the words that the person will return."
Despite initial skepticism, the hotel representatives soon comprehended the concept.  "From our first meeting with Paul [Bishop], it was clear that there was no way we could turn back," says Bottura, describing it as a magic combination. "He completely got the concept, the irony and the design focus and took it to where it is today. If I remember correctly, in one of our first meetings Lara, my wife, said, 'Think Memphis-meets-Fellini', and that was all it took to get everyone aligned."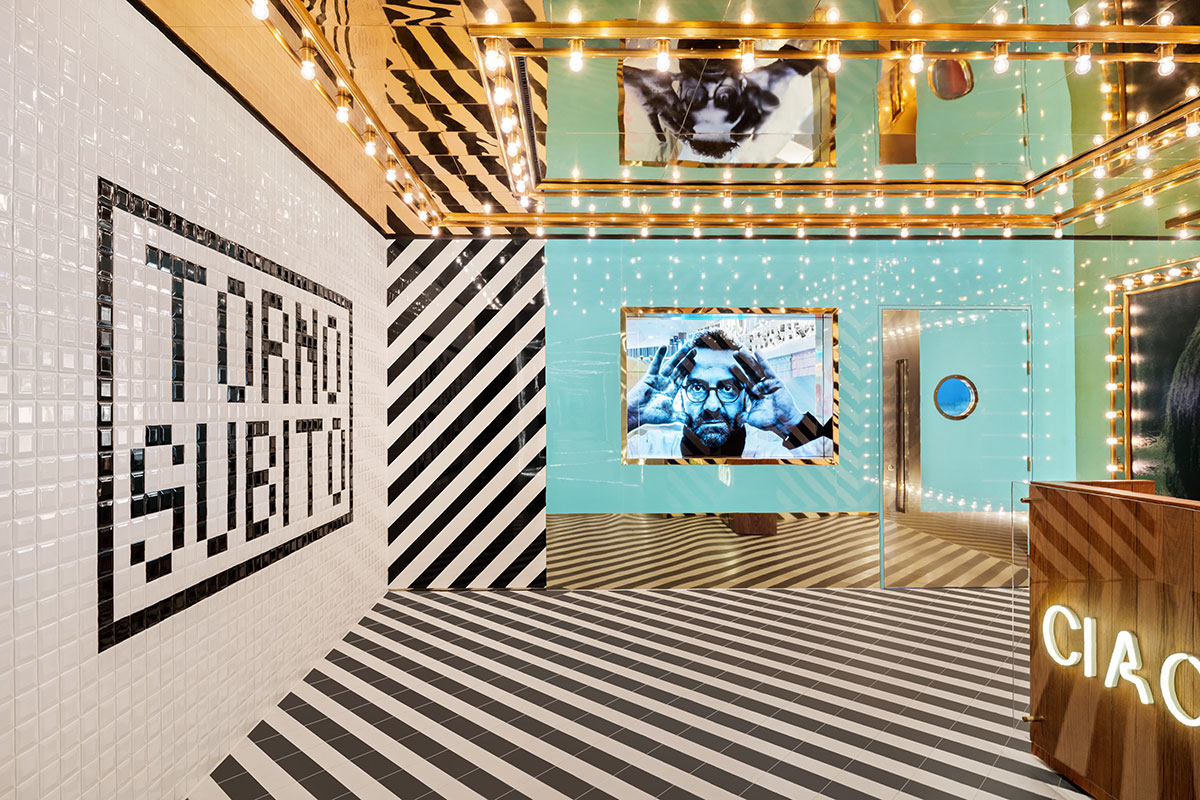 Image courtesy of Alex Jeffries.
Explaining the riotous colour scheme, Bishop notes that every element from the bold monochromatic striped flooring to the sunshine yellow tiles, glossy teal counters and graphic-infused ceilings, the entire venue is a fusion of perky hues that shouldn't work together, but somehow do. "With the project superseding Massimo's expectations, it has been a truly inspiring and amazing chapter for the studio," says the designer. When speaking with Commercial Interior Design's sister publication, Caterer Middle East, Bottura had commented: "I'm very critical on myself, on my team — nothing is good enough for me, never. But I have to say when I walked in, it was unbelievable."
The interior perfectly captures Bottura's view of the world, which is multi-layered, profound and often filtered through a child-like wonder and his Italian enthusiasm.