At first glance, Rossano Ferretti's salon in Abu Dhabi looks like the hairstylist's 20 other outlets around the world: elegant, minimalist and chic, with a neutral palette. The concept has become a part of the branding which seeks to sell a luxurious experience.
However, a closer look uncovers several local elements incorporated into the design.
"Each salon maintains a visual identity that is consistent with the upscale Italian brand's moody and sophisticated palette but with a mandate to reflect the geographical location of each branch," says Carla Conte, creative director at design firm, Brand Creative.
"We intended on giving the Abu Dhabi space a strong visual identity that is distinguishable from the Dubai branch but also maintaining a look and feel that would appeal to the overall multicultural demographic in the UAE," she explains.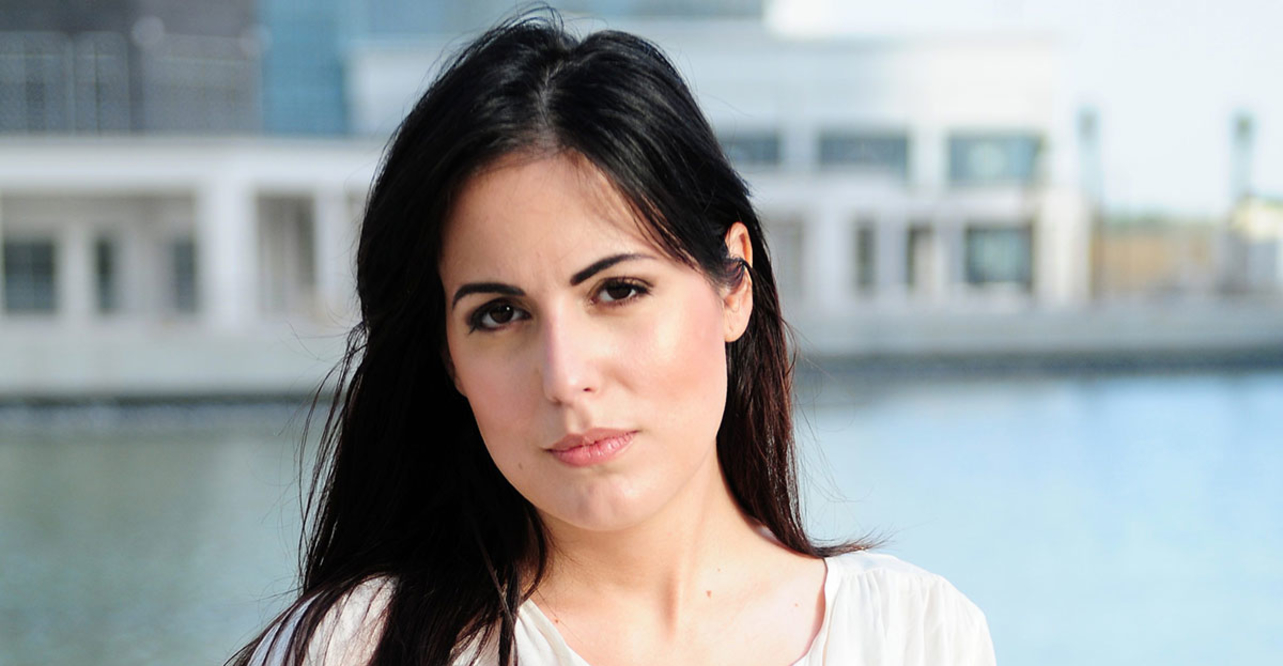 Carla Conte
To enhance the local focus, albeit in a contemporary way, each wall feature has been carefully created. This includes traditional Arabic arches and thatched ceiling, that stay true to the brand's visual identity.
The salon, covering an area of 557m2, is a repurposed two-storey villa. The ground floor houses a nail salon, two VIP rooms and a cafe. The first floor of the building houses the main hair spa and massage and treatment rooms.
"The nail salon and VIP room are located on the ground floor for acoustic considerations.  By placing the hair salon on its own floor, we were able to ensure that services requiring sound buffers were isolated," says Conte.
The cafe also has an outdoor terrace where clients can relax before and after appointments. "The cafe was strategically located off the reception and adjacent to a terrace space to ensure that clients would feel comfortable enough to use the space before, during, and after treatments," says Conte.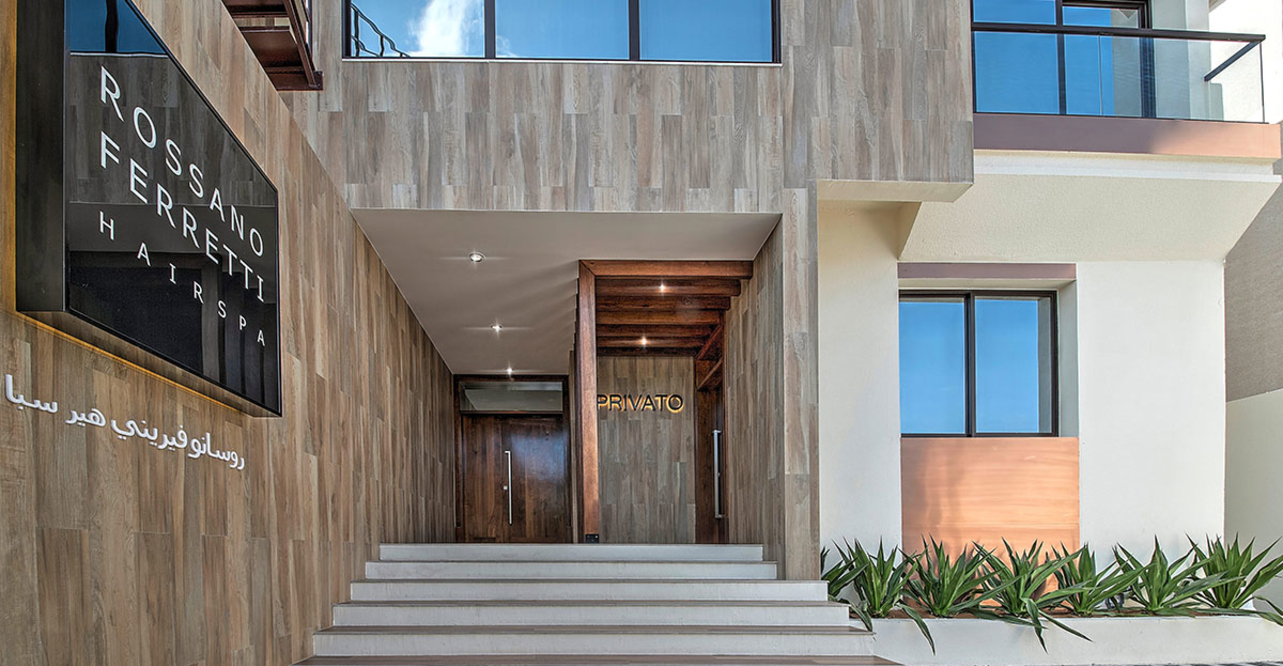 The salon has also made use of natural light brought in by floor-to-ceiling windows. "The new conservatory in the nail spa has plenty of floor-to-ceiling windows that wash the space in natural light and bring a sense of freshness to the ground floor," Conte remarked.
"We used grey, linear panda white marble with an offset installation to capitalise on how visual texture can play with light while keeping an identity true to the Abu Dhabi villa." 
Working on an existing residential property to convert it into what it is now wasn't easy. "Transforming an outdated residential use to both an architectural and interior contemporary commercial space was a challenge," says Conte.
One of the challenges was the need to incorporate a fire escape stairwell that is mandatory for commercial buildings, as per the local regulations.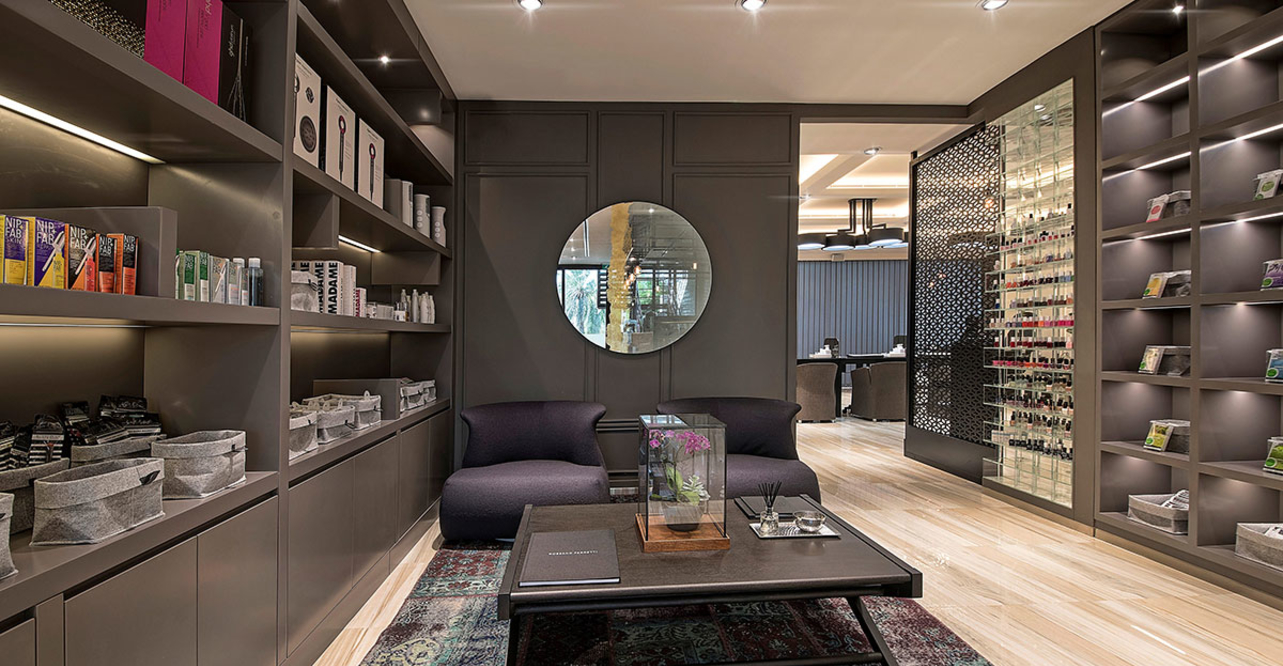 "We designed an industrialised black metal perforated concept that contrasts with the white building.  Instead of hiding it, we welcomed it on to the new outdoor terrace where the feature lands in a sculptural way to be appreciated by clients who are enjoying the facilities of the onsite cafe, Al Gusto," Conte shares.
One of the challenges was to convince the authorities that the exterior façade of the building will suit the area's design plan. "The officials needed convincing that our pared back proposal for the façade and introduction of wood elements and copper balcony 'pop-outs' would honour the neighbourhood's existing theme of traditional stonework," Conte explains.
The inclusion of local elements in the design concept was crucial for brand recall. "Contemporised Arab touches are integral to the current portfolio of branches. Women in the Middle East appreciate the nod to local culture with the use of local artists and abstract geometric patterns mixed in with the original brand look of dark, sophisticated colours and luxurious finishes such as chrome, marble and etched glass," says Conte.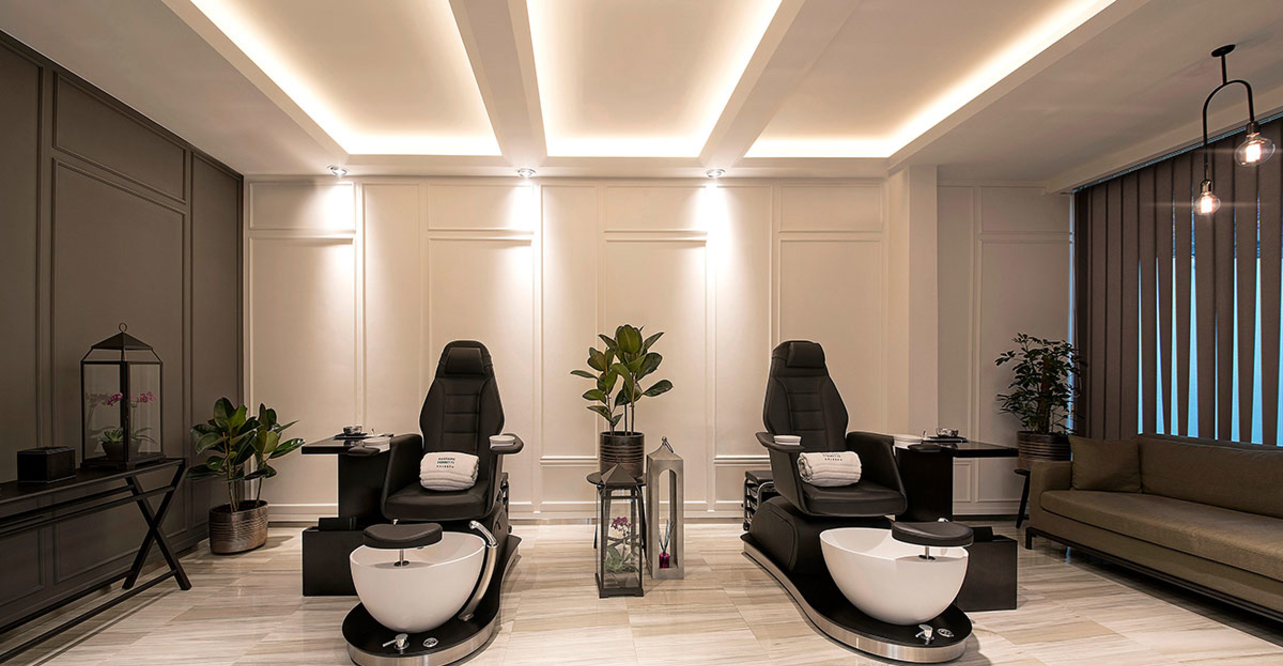 Green elements weren't forgotten. "Greenery has been incorporated throughout the space. We ensured that the manicured back garden was visible and appreciated from the nail salon, and it was our homage to Abu Dhabi's natural landscape and mangroves."
Placing an emphasis on convenience was a major consideration in the brand's luxury mandate. She says: "Point of sale purchasing was incorporated on every floor and within the VIP space so that waiting in line becomes non-existent. Providing locked closets to hang abayas and handbags safely and discreetly means that you can enjoy your services without having to worry about personal belongings."
Plenty of thought has been put into storage requirements. "With a villa conversion, we were quite lucky that we were able to repurpose two smaller bedrooms and the entire rooftop floor to dedicated storage rooms for various hair and body products as well as create an onsite training facility for staff.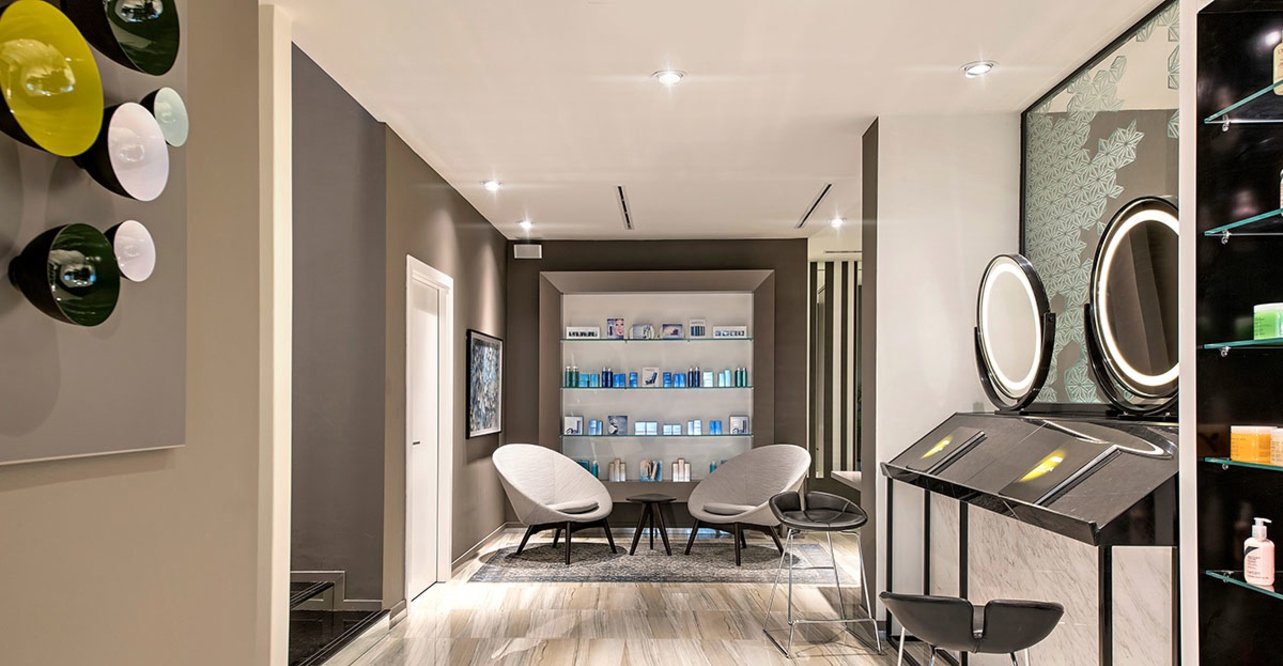 Accommodating efficient back of the house operations for over 30 staff members was another challenge.
"Staff required space for personal belongings, tools and a large stock of inventory. We also realised that clients should not feel as though therapists are out of reach for long periods of time when preparing treatments or cleaning up afterwards.  As such, we interspersed back rooms while integrating ample storage within each treatment area," says Conte.
Being a salon, the issues of hygiene and maintenance was of high importance. It was crucial that materials used in the interiors should be easy to clean, stain-resistant, yet luxurious.
"Our study into materials for this salon and spa was extensive and somewhat new to us. Marbles were coated with special finishes to add anti-slip qualities and impenetrable working surfaces in treatment rooms and mixing bars. Woods were lacquered with 'clear diamond topcoats' to create non-marking, wipeable areas that staff could quickly work in without the fuss of having to carefully consider their actions," says Conte.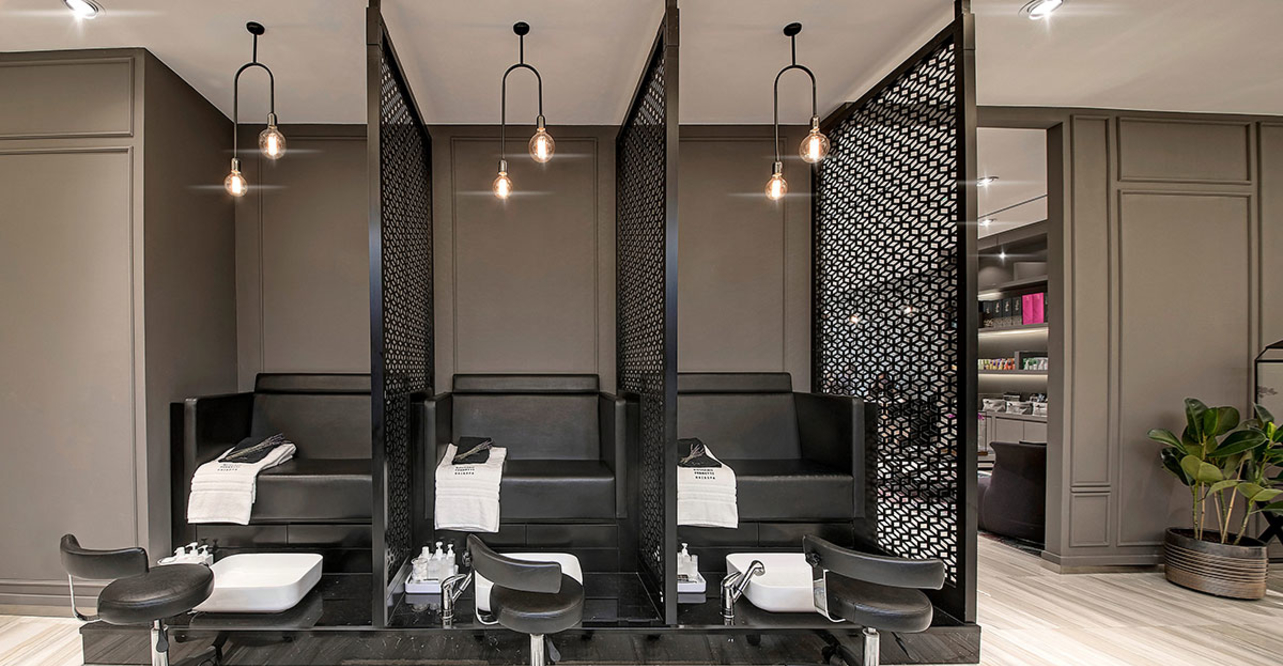 The company was required to factor in the addition of abrasive cosmetic chemicals when specifying materials. "Finishes on horizontal surfaces needed to be hygienic, non-porous and easily maintained.
"For instance, joinery carcasses utilised Arreis — a sustainable fibreboard, which was one of the few brands available through a local supplier.  Walls located in high traffic areas were protected by durable vinyl wall coverings and rectified porcelain tile. The salon and nail room seating feature pearlescent, anti-microbial vinyl that we specifically tested for beauty product resistance to staining," explains Conte.
Strategic lighting has been used throughout to achieve a soft, relaxing ambience. "We worked with lighting engineers early in the design process. Custom features such as pendants in the nail spa and hair salon were manufactured locally," says Conte.