Angry architects have been causing quite a stir lately, from Frank Gehry's infamous middle finger to Hadid's recent law suit.
Whether frustrated about what others have to say about them, or at how their works have turned out, there is nothing holding these architects down.
Here is a list of the top most angry architects as of late:
5. Zaha Hadid
Zaha Hadid filed a lawsuit against New York Review of Books and architecture critic Martin Filler after the latter included defamatory statements concerning Hadid's attitude toward migrant workers in a book review.
"Mr. Filler wrote a review of a 370-page book on architecture in which Ms. Hadid's name is mentioned in fewer than 20 pages. Mr. Filler's book review, by contrast, mentions Ms. Hadid in nearly two-thirds of its paragraphs," said a statement from BakerHostetler, the law firm who filed the complaint on behalf of Hadid.
Hadid claimed that Filler's review was "a personal attack disguised as a book review" that opened her up to "public ridicule and contempt".
She filed the complaint with New York State Supreme Court in Manhattan on Thursday, August 21, 2014.
Filler then  publicly claimed that he regretted the review and regards his comments about Hadid as mistakes.
Hadid had waged the five-month long battle against Filler after the critic published defamatory remarks concerning the architect's attitude toward migrant workers as well as her Qatar World Cup Stadium project.
Filler released an apologetic statement shortly after Hadid launched the lawsuit, and the battle has now come to an end.
4. David Chipperfield 
David Chipperfield has disowned a museum he designed over concerns that the materials and construction are not of the required standard.
Chipperfield was reportedly furious over what he considered to be low-quality floor materials used in the Museum of Culture (MUDEC) in Milan, calling it a "museum of horrors" and adding that the museum was "a pathetic end to 15 years of work."
According to media reports, Chipperfield has demanded that his name be removed from the museum as its  floor "contained pieces that were scratched, stained and badly aligned".
Check out the council's response here. 
3. Jacques Herzog
Jacques Herzog, co-founder of  Swiss firm Herzog & de Meuron, the masterplanner for the 2015 Milan Expo, has launched a scathing attack on the event calling it a "bore and waste of money".
Herzogsaid he believed the Milan Expo 2015 was a missed opportunity to reinvent the global design fair.
"These expos have become huge shows designed merely to attract millions of tourists," he said in an interview with Berlin-based architecture magazine Uncube. "What a bore and a waste of money and resources!"
In 2009, Herzog was invited by Italian architect Stefano Boeri to draw up the masterplan for the 2015 expo. The original design team said its aim was to rethink the expo format to place more focus on exhibitions rather than national pavilions.
But just four years ago all its members had left the project. Herzog said this was because the organisers were not "powerful or courageous enough" to support their ideas, and had instead reverted to "the same kind of vanity fair that we've seen in the past".
He explained: "We decided only to accept the invitation to design the Milan masterplan if our client would accept a radically new vision for a world exhibition; abandoning these monuments of individual national pride that have turned all expos since the mid-19th century into obsolete vanity fairs.
"The content of the exhibitions should make the countries look different, not the size of their pavilions.
"It simply seems embarrassing to address this very important topic and at the same time built enormous, dramatically curved pavilions with facades in wavy plastic or with spectacular waterfalls or whatever.
"I am afraid that the visitors will again be blinded and distracted rather than informed and made aware of chances and risks, of opportunities and difficulties, of politics and business, etc.
"There is an amazing variety of global themes that should be tackled and brought to the fore – the conventional format with national pavilions competing for design awards cannot deliver that."
2. Jean Nouvel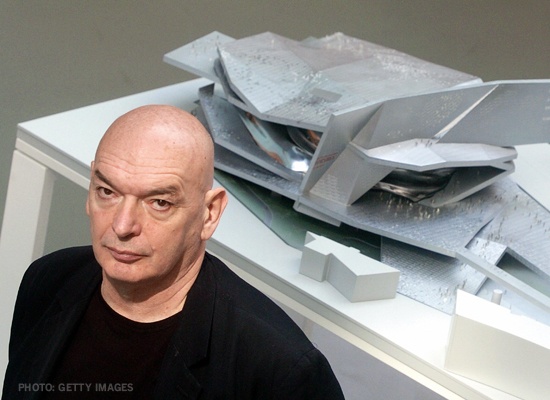 Jean Nouvel has snubbed the opening of his new Philharmonie de Paris concert hall saying tests to ensure its viability as a venue for concerts have not been carried out.
Nouvel said: "Against all the advice of its architect since 2013, the building was opened in a schedule that does not allow to meet the architectural and technical requirements."
In a statement on his website, Novel also rejected stories in the press which blamed him for spiralling costs on the project.
He said: "These charges are unfounded and highly prejudicial to me and to Ateliers Jean Nouvel. I will not tolerate that untruthful, defamatory and disparaging writings or comments are made about me."
The architect said that he has been pushed aside and decisions about the hall are being made in secret without the necessary oversight. He also claimed Philharmonie leaders have made cuts and sacrificed details, which he believes have compromised the building.
"The contempt these last two years for architecture, for the architect's craft… prevents me from expressing my agreement and satisfaction with attending the opening ceremony," Nouvel wrote.
1.Frank Gehry: 
Frank Gehry had a few harsh words for a reporter who asked how he responds to critics who say he practices 'flashy architecture' at a press conference in Oviedo, Spain.
In true Gehry fashion, he replied: ""Let me tell you one thing. In this world we are living in, 98% of everything that is built and designed today is pure shit. There's no sense of design, no respect for humanity or for anything else. They are damn buildings and that's it.
"Once in a while, however, there's a small group of people who does something special. Very few. But good god, leave us alone! We are dedicated to our work. I don't ask for work. I don't have a publicist. I'm not waiting for anyone to call me. I work with clients who respect the art of architecture. Therefore, please don't ask questions as stupid as that one."
Gehry then followed up the response by flashing the journalist his middle finger.