It's just been a little over two months since she took over the reins of Dubai Design District (d3) as the executive director, taking over from former CEO, Mohammad Saeed Al-Shehhi. But Khadija Al Bastaki already has a hectic line-up of meetings and official commitments filling up her diary. When I'm finally able to meet her for this interview, she shows no sign of being new to the business, easing into her role with an effortless control. She rattles off figures and statistics without having to refer to the official knowledge assets.
Reflecting the zeitgeist, which sees Emirati women in leadership roles in both private and public sectors, Al Bastaki has honed her management skills in the public sector realm in a variety of roles, including business development and protocol, portfolio management, and international relations for the TECOM Group.
As she shows me around the offices of d3, the organisation which took a sleepy precinct and turned it into a thriving creative destination, it's hard to imagine that the petite and trendy Al Bastaki is a software engineer by training. "Although I studied information technology, I quickly moved into business, supply and logistics, free zone management, and portfolio management of global accounts, within the purview of the TECOM Group," she says.
Her exposure to such diverse responsibilities across a multitude of businesses have prepared Al Bastaki to be at the helm of d3 which, undoubtedly, has catapulted Dubai into the league of most creative cities around the world. In the past five years, since coming into being, d3 has not only given design entrepreneurs in the emirate a bona fide address, but it has also become the epicentre of design and art for the region. This recognition was further reaffirmed last year when Dubai joined the network of 24 UNESCO Cities of Design. 
Having developed the 8,500-strong professional community in just under five years, d3's success makes for an interesting case study. Al Bastaki reckons that in addition to being a successful business community, it is the energy and vibe of the place which gives it a strong edge. "The pool of talent, designers, and creative minds all around is what makes this venue so iconic," she says. "Even the product offerings at d3 are unique, from the point of view of established companies, start-ups, and students. Ranging from world-class infrastructure to co-working and commercial spaces, as well as plots of land, and warehouse facilities, the framework offers everything which businesses need to set-up and grow."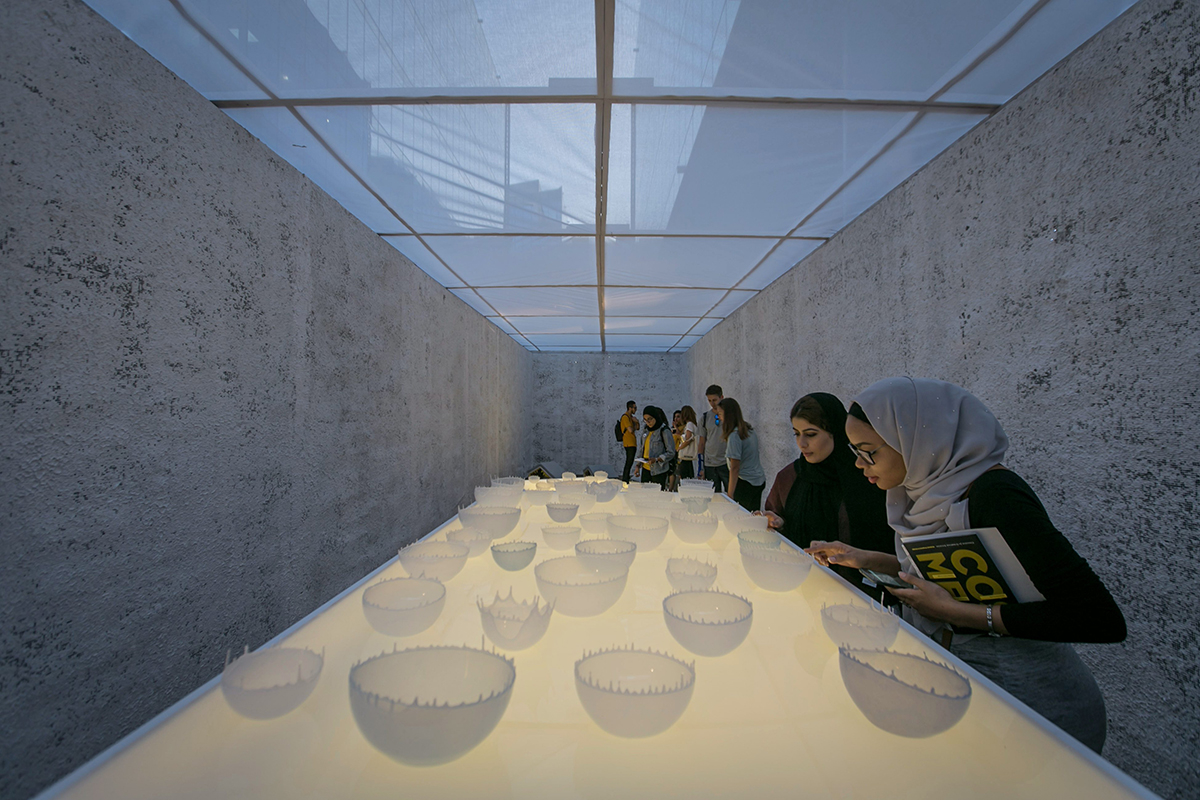 Even as it operates as a real estate entity itself, d3 aims to be not just a service provider but also act as the conduit of creativity. In the past few years, it has been the home ground of high profile events such as Dubai Design Week, one of the 92 global design weeks; Sole DXB; Downtown Design, as well as playing host to satellite events during Art Dubai. 
While events such as these, which have a large international audience, and have played a pivotal role in boosting d3's cachet beyond the UAE, where does it go from here? Al Bastaki is convinced that sustaining and scaling businesses is the way to move forward. "By providing continuous support to our business partners, we want to ensure that they are networking, collaborating and growing their businesses individually and collectively," she stresses.
The collective growth objective clearly stems from the fact that most of the businesses in d3 feed into each other with a strong collaboration initiative among design companies and suppliers. Al Bastaki envisages it as an industry-specific neighbourhood where design, art and culture collide.
"Our objective is to bridge our business partners from different fields by creating a platform for them to engage with each other and international firms," she says, adding that a large part of this initiative is to provide support to homegrown SMEs and boutique practices. "We will work closely with relevant government bureaus to open connections and develop global platforms."
According to reports, the design industry in the UAE has grown ten-fold in recent years. This is evident in the number of well-known foreign firms setting up their MENA region headoffices in d3 and elsewhere in Dubai. "I'm inspired by the fact that so many homegrown talents have set up their base in d3," says Al Bastaki. "The vibe and energy when you walk around the Design Quarter [in d3] is infectious." She points out names such as architect Pallavi Dean and fashion designer Arwa Al Banawi, who are collaborating with global brands such as Artemide and Adidas respectively. "Putting the spotlight on such success stories plays an important role in inspiring the whole industry," she says.   
I inquire how has Dubai changed over the years, according to her? Despite the nostalgia about the olden days, when families used to live close to each other, Al Bastaki takes a pragmatic approach to the metropolis' exponential development. "It's a city that now contains multiple smaller 'cities' within its boundaries," she says. "There are different industries for different sectors. Dubai has grown fast and big with a clear objective of where it wants to position itself on a global index of competitiveness, trade, ease of doing business, tourism and logistics among others."
Design, Al Bastaki points out, has been added to this economy-driven mix, making it "a new vertical", which is helping draw attention to Dubai. This new paradigm in the city's evolution also aligns with the vision of the emirate's leadership — to transition Dubai's oil-based economy into a human capital and knowledge-rich system. "Its cosmopolitan environment and geographically-strategic location have also helped Dubai rank high on numerous global indices," she says. "I do sometimes miss the old Dubai, but the culture of UAE is such that it protects tradition and heritage — locals still like to sit by the creekside in Al Fahidi district and reminisce about the years gone by." Al Bastaki comments that alongside progress, it's equally important to have a poignant reminder of history and heritage.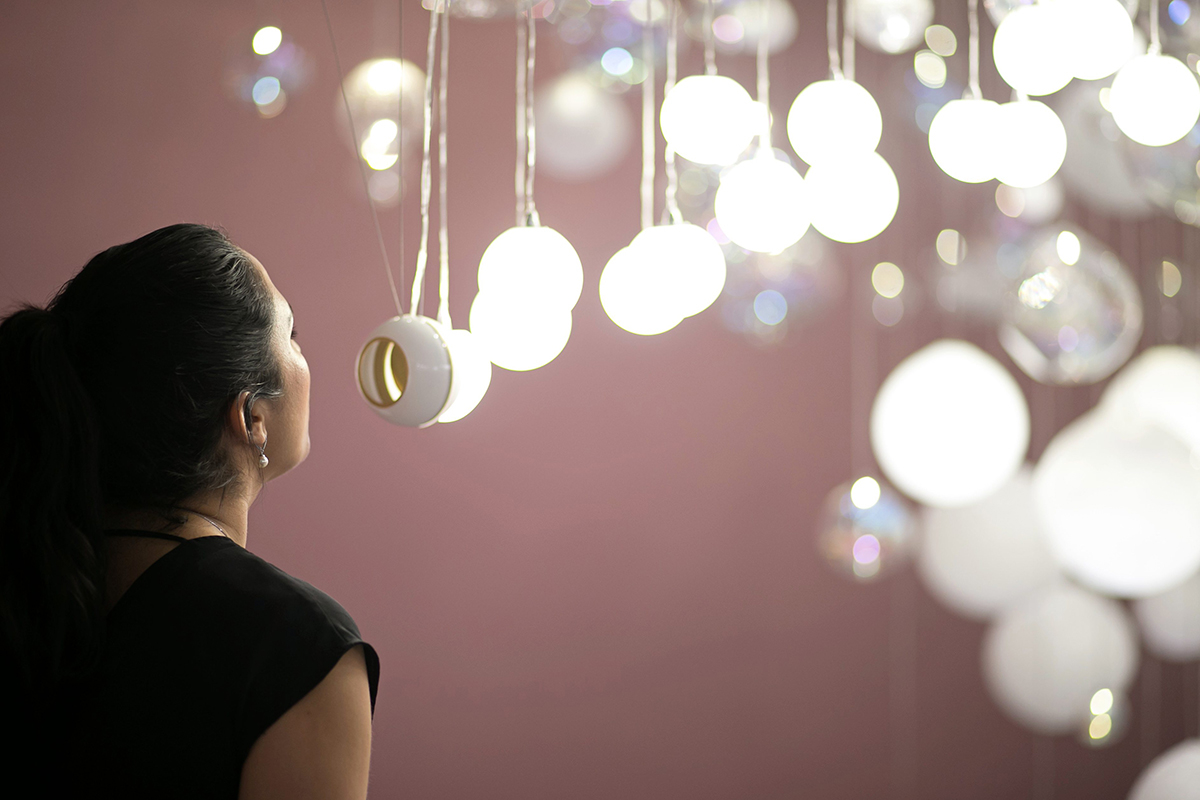 Having immersed herself completely in her new role, Al Bastaki says that she is truly passionate about helping homegrown start-ups — founded by both Emiratis and foreigners — scale up globally. "I want to contribute towards making Dubai a role model in every sphere of business and quality living in the world."
Does she have any personal interests, when she is not taking executive decisions for one of the most dynamic creative enterprises in the region? "I love travelling and shopping," she shares. Are there any favourite destinations which she prefers? "Favourite destinations include Europe and the US. I'm a city person, and I like to be in busy and vibrant cities such as London, Milan, and Munich. I've tried going to destinations that are considered more relaxing, but it didn't work for me," she says. 
By her own admission, Al Bastaki has a keen eye for aesthetics. I wouldn't think otherwise as I admire her designer shoes and custom-made abaya with pearl details, which she has donned for the photoshoot. A probe into her favourite fashion designers reveals that she admires John Galliano and Dubai-based label Raw by Ayten.
She takes a keen interest in interior design, too. "I like the contrast, placement and materiality," says Al Bastaki. "I'm always experimenting with design at home which is like my lab, and my taste often conflicts with that of my mother. I'm always making changes to the lighting, interior, and exterior." Favouring bespoke items over "off the shelf", she often finds herself getting on a plane to Saudi Arabia or Egypt to get something made by craftsmen. Her discerning taste reflects in just a glimpse of the dusty pink, hand-embroidered kaftan she has donned underneath the abaya. She shares that it is a bespoke creation, which she got tailored on a weekend trip to Mumbai. As an avid reader of Commercial Interior Design magazine, Al Bastaki takes a personal interest in the ever-growing interior design scene in Dubai. "The concept of a space is now part of your experience, much like the food and service" she says. "When I dine out with my group of friends, we pick a specific place because we like its interior, furniture, and the lighting. Here, if you're a keen follower of design, you're spoilt for choice."