Paul Bishop — he has been here since 1996 — and Pallavi Dean, born and raised in Sharjah, have carved a niche of their own in the region's competitive industry. They are both homegrown successful design entrepreneurs, who inspire others. Right off the back of their individual win at the Commercial Interior Design Awards (CID) 2018, we sat down with Bishop and Dean to discuss the big night, the recent rebranding of both the firms and their expansion into foreign territories.
Bishop says that it was an immense sense of overwhelming and one that he didn't quite expect. "My 50th birthday is coming up and it was the best present bestowed on me," he says. Despite having been here for over 20 years, the UK-born designer remains unassuming about his success. "This award epitomises my work over the years," he adds. "We're lucky to do what we do. We have picked up many awards over the years, but this one is the icing on the cake. It took me completely by surprise and the emotions flowed out. I dedicate this award to my team, and my dad, who passed away last year. He didn't really know what I do in the industry, but he was still very proud."
Describing it as a win for his team, he expresses his disappointment at not having won the Boutique Firm of the Year. "I'm happy for Lulie [Fisher] and her team as it was equally well deserved, but I was disappointed for my team," he says. "It goes beyond just one person, or the name behind the brand it's the team behind it. At the end of the day, this recognition belongs to my entire team." Bishop recalls that his team, too, was overwhelmed with emotions for him, particularly, when an ecstatic Bishop got up on the table to dance.  "They had my back and caught me when I fell off," he laughs.
On the other hand, Dean admits that this year was the firm's best showing yet. Last year, her eponymously named firm won the Boutique Firm of the Year accolade. She says: "This year, we won in two categories and highly commended in two more. We weren't expecting it."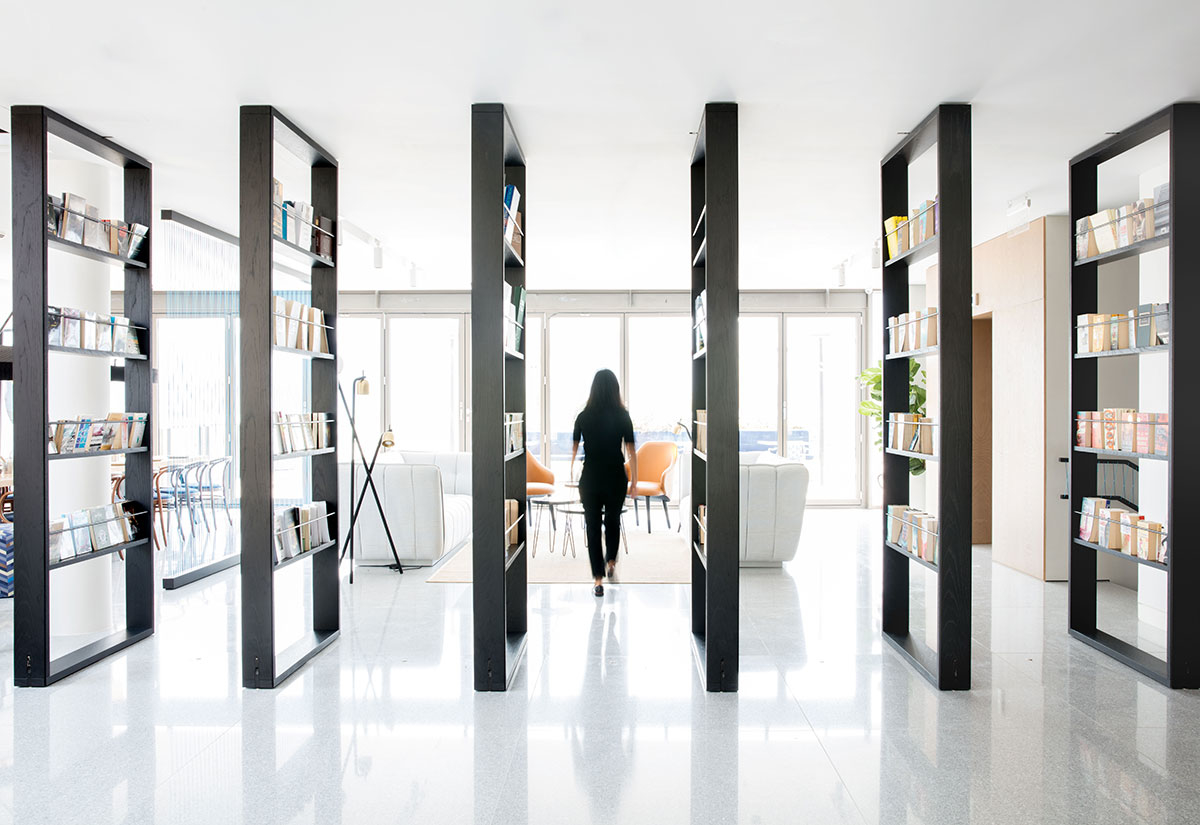 Al Rawi bookstore and cafe by roar
She shares that she wasn't confident they will win in the Food and Beverage category as it had very strong entries. "Personally, it was a massive win because I worked on the refurbishment of the restaurant, Shababeek, a place I used to visit as a teenager, and when it was just me in the company," she says. Over the years, her firm now known as Roar, has grown into a powerhouse of talent comprising eight designers. "We also picked up the Concept of the Year and all of us in the office had worked on the project at the American University of Sharjah (AUS), which is my alma mater," she says.
Both projects have a personal meaning for Dean due to her strong connection with Sharjah — she studied architecture at the AUS. Roar was Highly Commended in the Boutique Firm of the Year category as well as Dean being Highly Commended in the Interior Designer of the Year category. "The best thing about CID Awards is that it gets the team all spirited, they can see the reward of all the hard work they've put in over the past 12 months."
With such strong competitors in each of the categories, why did they win? "I'd like to think that it was on merit alone and what I've achieved this year; it's not a lifetime achievement," says Bishop. "We're consistent in our delivery and we deliver dynamic interior solutions to spaces, visually and physically. We're on point with our work. We can compete with the best in the industry. Not just locally, but also internationally." Bishop's firm has been commissioned to design restaurant and hotels overseas, such as Caramel restaurant in London. "We're working on a bigger stage, but CID Awards is the biggest for us because this is home turf," he says.
Bishop shares that he moved to Dubai in the late '90s straight out of grad school and had to educate himself very quickly in order to work in the market. "I cut my teeth here as a designer," he says. "You get thrown into the deep end. That's the dynamic of Dubai. It takes a very different type of person to make it here because it is very demanding. I studied furniture and product design, then interior design followed by interior architecture. I came out here and I had never specified one piece of furniture in my life. My master's degree was theoretical. It wasn't based on a real space, it was a hypothetical way of approaching design. There was no selection of furniture or FF&E."
Having established himself as one of the sought after designers in the regional industry, Bishop stresses that the challenging dynamics of this industry provide designers with the best experience they can ever wish for, as long as they are willing to work hard and grow with the market's demands. He takes pride in the fact that his company is a breeding ground of talent, and that he encourages the designers in his firm to create a niche of their own. "I like to uphold this value in my company, so that everyone has the capacity to be designers and creative thinkers," he says. "I tell them that you're not here to work under me. Dubai and the region gives the young talent these kind of opportunities. Here, you get a chance to create and put your mark on what's being developed in the region. Basically, we've created what's around us now. In the UK or elsewhere, at that young age, you wouldn't get an opportunity to deliver something that will likely be considered completely out of your league."
However, he also points out that the market here can be unpredictable and challenging but that is what keeps the industry going. "It's not an easy market, everyday is a challenge," says Bishop. He turns to Dean and adds: "You're familiar with Sharjah; it's home territory, so you must be proud of everything you've done there. As proud as I'm to get international projects, Dubai is my home."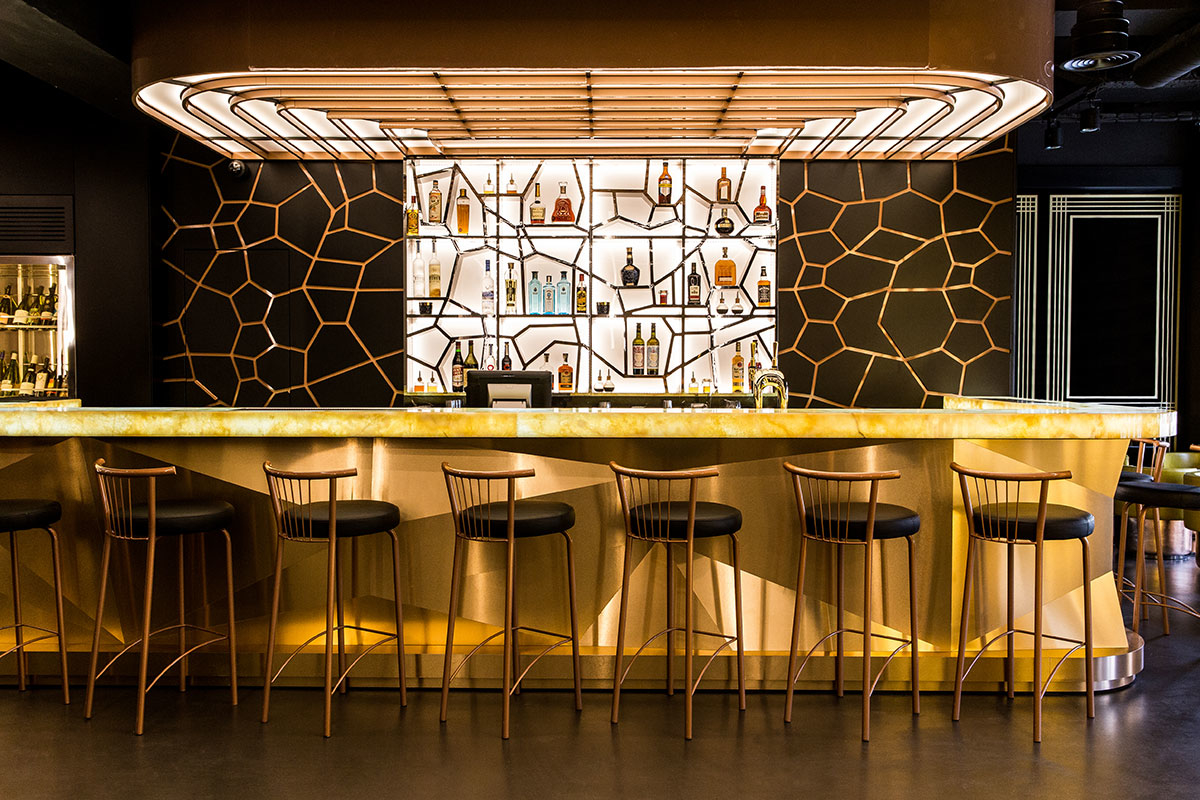 Caramel London by Bishop Design
Dean agrees and shares that establishing a locally-relevant narrative in all their projects underscores her firm's work. "For us, storytelling is extremely important," she says. "It's not a superficial story that we make up. It's set within the context, both local and international. We've a big push towards social sustainability and we support local artisans. Our studio is full of homegrown talent. That is our unique proposition in the market that we have very deep roots in the region."
Having started their careers here, both Bishop and Dean have observed an evolution in the design language of Dubai [and the region], as well as their own style. What have been the turning points in creating their repertoire? For Bishop, the evolution itself is a work in progress. "You develop every year in a different way," he notes. "Every space and experience you engage with, you start to enhance it by creating a little bit of a design library in your mind. You do derive inspiration, but essentially, it's all about storytelling in a strong sense of context, textures, layers and space. It's not just one element; it's multi-layered." Bishop feels that the reason most F&B concepts don't stick around for long is because of the lack of a strong narrative.
Dean argues that design is an iterative process in itself. "You'd find many designers who come with the finished product," she says, adding that the finished product will never be well-received if a designer hasn't gone through the entire process. "But how do you get to that stage? You need to have the layers, juxtapositions and almost a battle with yourself before you arrive at that."
The 37-year-old, who has previously worked with prestigious firms such as RMJM Architects and Godwin Austen Johnson, says that designers such as her and Bishop have been in the industry for such a long time, that they have grown with it.
"Designing is a responsive profession," she says. "You're watching human behaviour, and you're creating something in response to that behaviour. We are like sociologists."
Bishop concurs: "As a designer, you become a sort of a voyeur. Take a restaurant, for instance. You study its operations, functionality, and how people engage with it. You play the master manipulator in the space you are designing." He adds that while designing, he is constantly thinking of how the visitors will engage with that place and this informs the concept. "Clients, generally, don't care about the process but we care about that as designers. That's the only way I know how to design," says Bishop.
Commenting on what most creative practitioners face while working with clients, Bishop says: "Often, clients ask me, if they can have two or three options. I tell them I've gone through 10 options to get to this layout. I do everything manually. I work by hand. You lose that sense of space and connectivity on a machine. If you draw on a piece of paper, you're committed to it. I encourage everyone to draw. Computer is only an aid to document information. You have to have a high hand-eye coordination.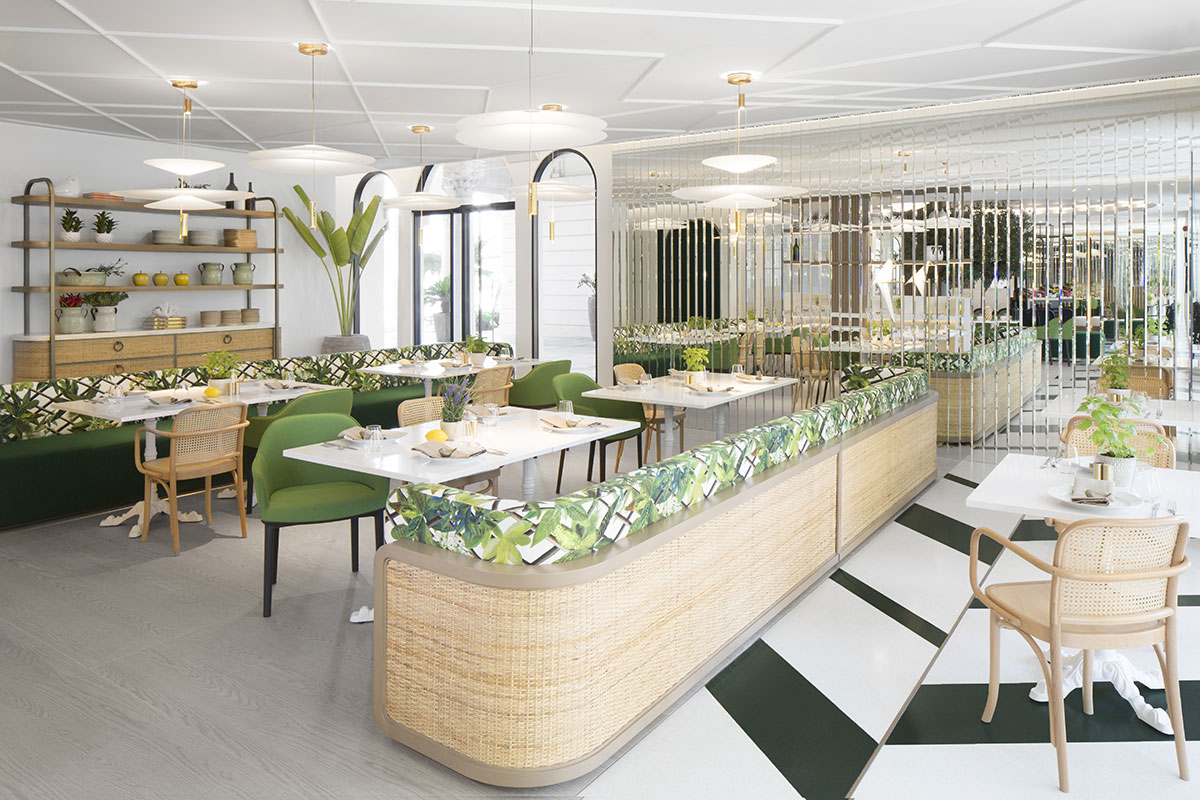 Shababeek by roar
Technology-savvy Dean agrees with Bishop's methodology. "I talk to myself while drawing by hand. It's a visceral process. I love computers and things like parametric design, which I'm learning currently. It's brilliant but at the same time, it's just a tool to document my ideas."
In addition to the design process, both Bishop and Dean feel that in the region, there is nothing naturally present that can enhance a given space because everything is new build. "That's why when you get a renovation such as Shababeek, there is so much you could use to bring that in," says Bishop about Dean's winning project. "The reason it was voted so strongly was because it is authentic and has natural elements. If you just get a core shell, you have nothing to build on. It's challenging for designers here to create something amazing because new spaces are devoid of soul and spirit."
Dean observes that new spaces lack the history and authenticity. She goes on to cite the example of Little Miss India as a space which, despite not having an inherent historical element, worked with a premise that lent authenticity to the project. "I thought it was a really strong narrative," she says. "They [the design firm] imported a narrative into the project. It's thematic, but it works. Our respect to Stickman Tribe, who did a great job there. It's a very literal interpretation of their narrative, but it works for that space and what their brief was."
Having trained as an architect, Dean admits that her job now as an interior designer goes way beyond just picking up materials, colours and finishes. "What we do is interior architecture, where we excavate and create volumes within spaces," she says. "We think volumetrically." Bishop adds that creating volumes within a core shell space requires a juxtaposition of space, light, balance and quality.
Talking about the rise in homegrown talent, both designers agree that the local industry is no longer an importer of talent. In fact, it is now exporting its ideas to foreign territories. "There's great talent coming out of local institutions, such as AUS, which has one of the best design and architecture programmes in the region," says Bishop.
"I've selfish reasons that I teach at AUS, so I can have access to this talent," Dean adds. "They're doing amazing high-tech stuff which I can't get my head around, but I don't need to learn that. I can just collaborate with them."
Bishop and Dean highlight that despite fierce competition in the industry, the community is close-knit enough to applaud each others' achievements, and that theoretically, there is enough for everyone. Bishop points to Dean: "She is one of those people in the industry who is ranked high among the contemporaries. We compete but we're also happy if someone else picks up an award. There is no animosity. Sometimes you get complacent, without actually realising. And when you don't win anything, you realise you've to step up a bit."
Dean admits that she thrives on competition because it helps her raise her own benchmark. "If I see Paul's [Bishop] project, I'm inspired to do better — not to outdo him, but to raise the bar for myself, " she says. "The level of competition now gives me sleepless nights, but I love that."
A noticeable trend this year has been a rise in the number of boutique firms which got shortlisted. They even went on to win in several categories. Dean says: "There has been an evident shift towards boutique firms this year, which dominated the shortlist. When I was starting out on my own a few years ago, I thought I wouldn't stand a chance against the bigwigs, which are international names. But CID has given us this platform, being locally-based has helped us and now, we are going international. It just proves that you can be small but agile and still compete with the big guys."
Bishop says that it is because firms like his are capable of offering diverse styles. He also shares that he takes a personal interest in every single project. "I always want to be in front of my clients," he says. "If we didn't provide such a personalised service, which our clients expect of us, we wouldn't be sitting here talking to you. At the end of the day, they trust us enough to come to us and tell us this is what we want."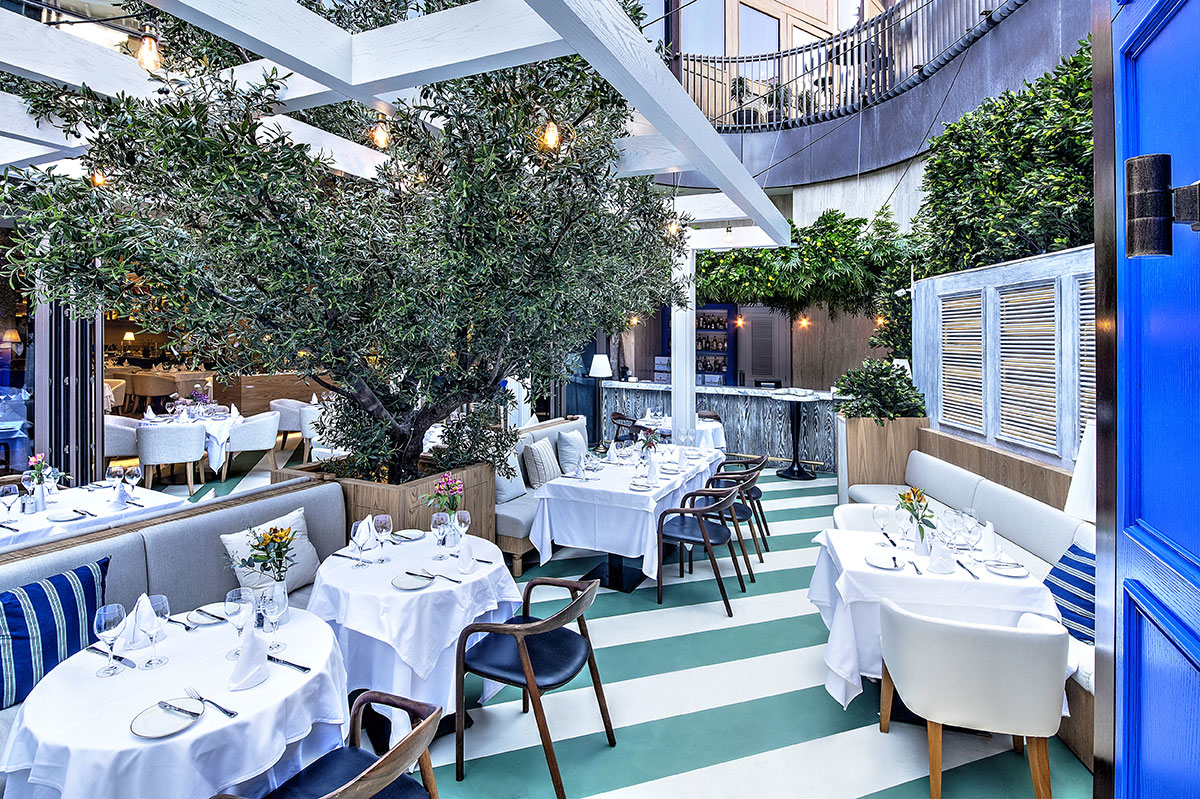 Scalini at Four Seasons Dubai by Bishop Design
Offering bespoke and tailored solutions require developing a deep empathy for clients, and for Bishop and Dean, that is the first step in a project — getting to know the client first. Both admit that they are hands-on practitioners, by being designers first, and bosses second.
While Bishop says that he sits out in an open plan office with the rest of his team, Dean says that her firm has a flat hierarchy and there are no fixed timings. "Designers choose their own timings. So if someone is not a morning person, they can start their day at noon," she says.
Bishop and Dean have both rebranded their firms — Bishop Design has an alter identity now called Rogue and Dean's firm is now called Roar. "We had been talking about this for two years," says Dean, adding that everyone advised her against doing this. "They said that you've built a brand, you can't just drop it. But, I started Pallavi Dean Interiors when I was a freelancer. Now, it's so much more, and I needed a company that represented us as an entity. I want to build a brand that doesn't rely on a single person."
With the new firm, Rogue, Bishop aims to diversify his offerings in the form of a multi-faceted creative enterprise. "Your DNA will never leave the company," Bishop says of the identity concerns. "We did Rogue to make ourselves more diverse and change our offerings a little bit. It's so that we are not labelled only as an interior design firm." His new firm is now venturing into graphic design, branding, architecture and other creative disciplines. "We've also designed a resort — from architecture to landscape, branding and videography," he says. "We want to bring in more creatives to the mix."
Among the upcoming projects, Bishop is excited about his dining concept for renowned Italian chef, Massimo Bottura, whose Modena restaurant, Osteria Francescana, is ranked number one on the World's 50 Best Restaurants list.
He comments: "We've Torno for Massimo Bottura coming up at the W Palm Dubai. It'll have a big effect in reinventing the F&B market. The concept explores how people react to the space through him as a chef, as well as through his offerings. He's shifting away from Osteria Francescana to offer something more diverse."
Bishop is also excited about an outdoor yoga and recreation centre as well as hotel projects that are currently under construction, in addition to his international commissions.
Dean says that she is looking forward to her winning Concept of the Year project, the American University of Sharjah Enterprises Headquarters. She says: "We're excited to be working on this five-storey office tower, in which we've used computational design throughout every single interface within the building.
We are also proud of what the building represents: It's going to be a collaboration space and a co-working area, where university students and industry professionals can come together. Big-scale projects take time to build, which is why we take on smaller projects to keep the momentum going, such as quick-service restaurants."