The desire to stay hands-free is changing the world as we know it. As guests now rate hotels on their sanitisation skills, will the need for contactless interactions hamper or enhance hotel design?

The 16th edition of online discussion forum Cosentino City Live! brought together four forward thinkers from the design industry to take on this provocative topic
Taking part are Firas Alsahin, co-founder and design director of 4Space Design, Isabel Pintado, senior vice president of Wilson Associates (and number one on the Commercial Interior Design Power List 2020), Lee Worthington, managing director MENA, JPA Design, and Vera Dieckmann, founder of XO Atelier. The event was moderated by CID editor Jane O'Neill.

The debate centred around the low-touch economy, the way businesses across the globe have been forced to operate in order to succeed as a result of COVID-19. 
 
What has been the initial impact of the low-touch economy on hospitality design? Can you identify what will be short-term fads and long-term trends?
Isabel Pintado I think what we have all seen from the beginning are the things that have become compulsory for hotel guests, such as, when you are interacting with another individual there is a screen.

I think that is going to become intrinsic. It's short-term but, really, there is going to be a long term need, too. You need to protect your staff, so you need to process the design to be factored in to do that.

We see the short term solution right now with these sheets set at the base or suspended from the ceiling. It's done differently in Europe, differently in the States, but at the end of the day, it's the same solution – a barrier to protect the people on either side of the sheet.

We need to start designing in a way that this becomes integral and incorporated into the designs. We don't want it to constantly look as if it's a temporary addition - it needs to be a part of the design.

Then are elements of distance. You know, in the past we never really had to think of the distance of the person sitting behind you or the next to you. I think that the parameters of how we gauge spaces, how we allocate space to each person will now actually change. I think we've gone through this incredible hardship right now of having gone through complete isolation, we've had to distance ourselves, not being able to leave the house etc.

Then there's that element of fear that we still have. We've gone through something major, we're coming out of it and most people are really positive about going back to work. And yet we still need to factor in that fear, and as designers one of our main responsibilities is to make people feel safe, to make them feel comfortable within the spaces that we design.

I think at the end of it all, long terms trends will be guided towards creating a sense of safety and an actual physical safety that people have to be surrounded by. Now keeping that in mind, what makes you feel secure in a space and with that personal rationale, that personal thinking, we apply that to the designs.

Vera Dieckmann Arriving in a hotel is one thing, but the big impact, a huge one that we're going to see a change in, is going to be on restaurants. This is one thing that we faced when we were travelling. The hotel directly offered us an in-room breakfast. They preferred for us to have breakfast inside our room since it's easier to guarantee you the distance and you could just ask for the menu, whatever you want to have and they just bring to your room when you want it.

So I think a big issue for hotels will be the breakfast scenario. This is because we all know that's the one meal that the client takes literally in every hotel and that is the one point that everyone is coming together.

Of course, our thinking about making restaurants, not only in hotels but other food and beverage outlets, is going to be about securing distance without looking too clinical or clean or antiseptic. This is because you're still human beings you'd want to interact with people and have gatherings together, exchanges because that's who we are.

But you still need to keep distance or maybe incorporate it in a cosy design and in an atmosphere that still invites people to join and spend time in it. No-one wants clean steel surfaces with a glass divider between you and sanitiser all over the place to celebrate a nice candlelight dinner.

Firas Alsahin I think that the biggest impact was a change in the purpise of travel. Gone are the days of hopping on a plane for a business meeting , which is why we will see hospitality trends shift away from the hotel catering to business. Instead we will see more travel for the sake of pleasure and vacation, until travel feels safe again.

Guests will not consider safety as a given, so hotels really need to reinforce it at every point they can. Reducing the touch points, creating new solutions and getting technology onboard more than before.  Of course, we still want to create open spaces to visit, but what we really need to do is rethink the way of doing things from a design perspective.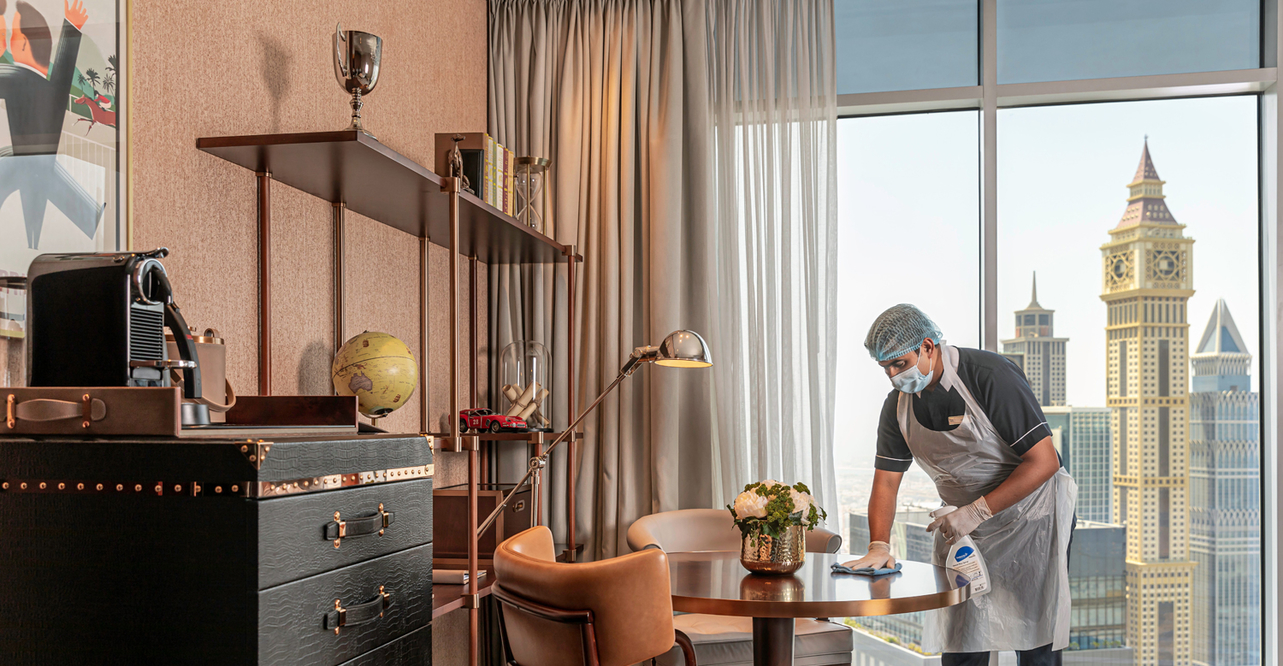 Waldorf Astoria DIFC
How has the use of contactless technology been accelerated into the design process and what emerging technologies have you worked with?
Vera Dieckmann It's already existing. Several brands are producing it, others already have it. But on the other hand, technology costs money. The travel industry and hotel industry got hit hard. So the new way of travelling factors around 'who do you trust and how do you trust?'

Take a boutique, for example. You say, I trust you I've travelled to your place several times and I find it much more convenient and safe at your location because you have only say 50 rooms, 30 rooms instead of three to four hundred. That's one thing, but on the other hand people love to be together, to exchange, and they will come together again. I agree with Isabel when she said that we're going back somehow to normal, the new normal.
What would the perfect post-pandemic hotel look like? How do we incorporate new technology, create beautiful things and reinforce the guest experience?
Firas Alsahin Usually the hotel industry is not that quick to innovate, it usually takes a push.  While nobody would have wished for this, COVID-19 will really accelerate the evolution of the industry. This is our moment to push the industry towards a low-touch experience with something that feels safe and sustainable. Lots of measures can be taken with technology, incorporating them to create a smart guest experience.

For example, let technology allow guests to check in directly from their smart phones, similarly for self-checkout. It can bypass the welcome desk and means you say goodbye to the hotel through apps. Vera mentioned having keys within our smart phones for the rooms. More and more hotels are adopting that to bypass the front desk. It will save the cost of the environmentally harmful plastic key cards. So that's a sustainable approach for it. Getting creative with lights, hands-free, smart technology, sensors to avoid touching door handles... There are a lot of measures, but as Vera said it's expensive. But, if you want to stand out then you'll have to incorporate them.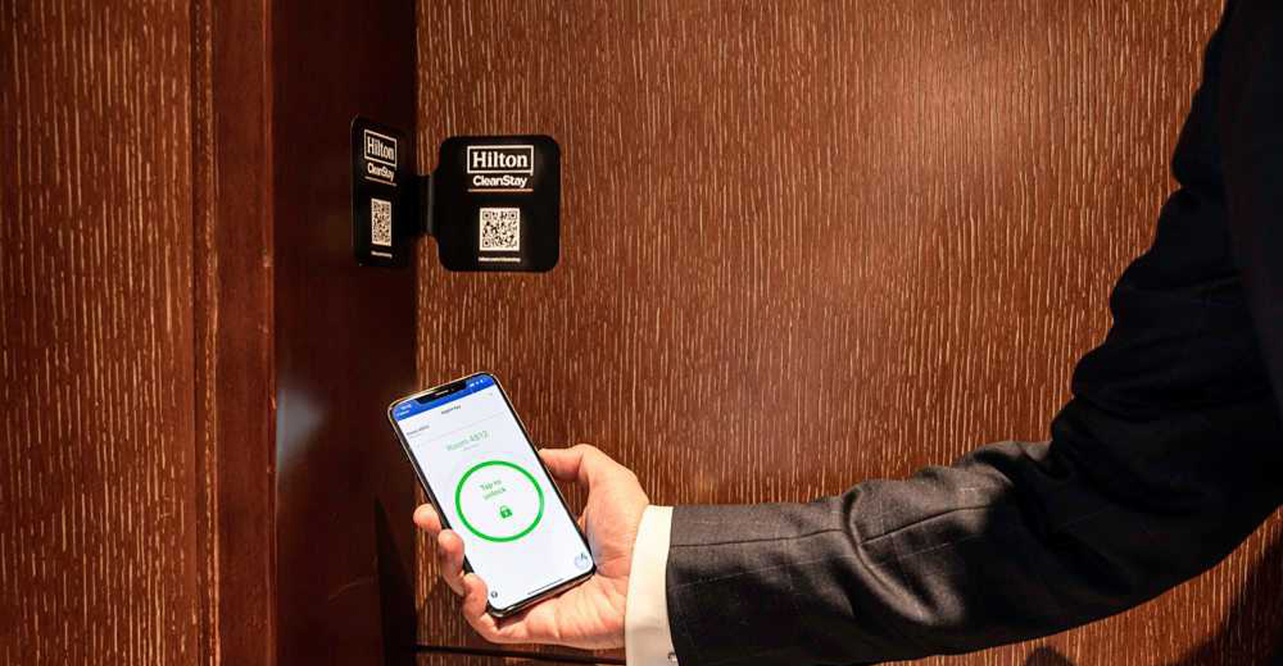 Contactless is in
Does low touch have to mean single use? Is sustainability something that designers will incorporate or will it take a backseat?
Vera Dieckmann At the end of the day someone has to touch your plastic wrapped cutlery as well. If you have a professional dish cleaner and you run it at 95 degrees of heat in water, things are clean. But if you have it plastic wrapped, then so many hands have touched it in the factory and then you unwrap it. You're just creating a huge amount of trash. Plastic is now or biggest problem in the world, it takes it 400 years to go down. If you burn all of it then it's still here. So I'm not a big fan of plastic cutlery and another wrapping.

Lee Worthington I kind of agree with everybody here. In terms of what Firas was saying about travel, at JPA Design we specialise in the end-to-end travel experience because we design the lounges, airports and now the autonomous vehicle transit and hotels.

We've been designing social distancing suites for years now in terms of business class and first class. Now what Firas said was interesting and correct that business travel will become not non-existent but in terms of meetings I think you'll go for one and then that's it. The rest will be covered via video conference. The trends we're facing now is going to be a lot more premium economy. So basically the class system in the plane, everybody will just move up and we'll gain more space.

Now going back to the answer about touchless – home automation has been around for so many years. I mean to have the excuse that it's not affordable to go into hotels is ridiculous.

Though COVID-19 has been devastating for so many people, we've actually sat back and thought about what's wrong with certain industries. The automated technology should've been incorporated a long time ago. It should be mandatory.

In terms of how technology can help in the future I think we can move back to the designs we're currently working on in our planes. It has been a complete contactless check in for years now. We actually have a process of doing autonomous vehicles which is a bit more advanced wherein you can adapt the vehicle to suit your use. Whether it's an office, sleep mode, family mode to get you to the airport. You check into the lounge through your own smartphone, the baggage is checked in then you check into the plane. You then control you whole setup. There's no paper there's no menu. The media system, you can control on your own.

The future of hospitality and how touchless can actually help, in our opinion, is this contactless aspect – being able to open your door, being able to operate lifts. The technology has been there for years. What is the future is how the smart technology operators can adapt and collaborate with their hospitality partners to generate some more revenue.
Business class is probably going to be not so much a thing of the past, but the lounges that we're developing will be no longer segregated, they're a single lounge. The first-class passenger can get extra access in priority to certain areas, but it's more of a revenue generator so that the premium economy people go into these collaborations with local F&B outlets and hospitality partners with the chains of hotels. The future, from our point of view, is this collaboration. In that instance, the next generation for hospitality is not to just have the operator, the client and the designer but you will also have the person who brings all the operators together. So you're actually promoting all the local facilities, you're changing their experience. Guests can tailor their own experiences differently each time.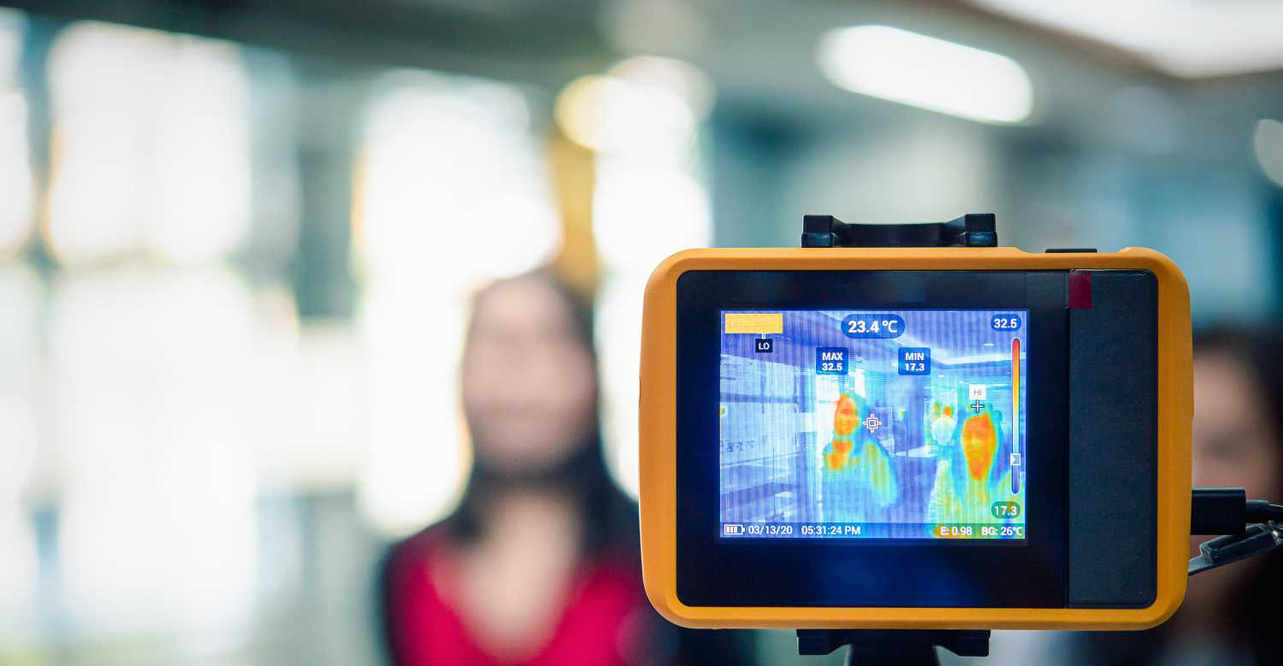 Temperature checks are a new norm
As staycations rise, will we see more homegrown hotels and F&B concepts?
Lee Worthington The UAE tends to bring in successful outlets and hospitality venues from overseas. In the market, restaurants change very quickly but we very rarely produce homegrown trends then sell the franchise abroad. This is a positive time for hospitality to be rethinking the complete model. Looking at the immediate response to COVID-19 in terms of F&B, although it's been devastating and people have lost money and jobs, I think at the moment it's good. The restaurants are full and people are choosing to go to different restaurants instead of going to the same one again, because there's limited amount of space.

So I think it absolutely helps this fickle mentality that we have and we'll probably have the restaurants open longer, looking at progression in terms of design and looking at better end results.
Is there are also going to be a greater demand for originality?
Firas Alsahin Definitely, as hotels are turning to more leisure than business. We'll see them being located in off places, creating a new experience, bringing in new audience that is out of this world. As Lee said, by incorporating food and beverage more, by creating connection with hotels that support local food and drink.

We've seen interest in redesigning spaces to provide more flexibility wherein, you can transform the look of the space. You can adapt to a certain situation or time or season.

Changing artwork, partitioning, getting smaller service areas, redesign table-top accessories. I believe this will bring about more originality in hotel and restaurant design.
Can you see any elements of hotel design that will disappear?
Isabel Pintado We've been fighting this large all-day dining structure, where if it's not peak time it feels quite deserted. All-day dining has now been shifting for substantial number of years towards your signature restaurants.
My gut feeling is that we will have more restaurants but smaller ones wherein you give people different experiences, again I'm talking about the luxury sector.

Coming back to the psychology of how the space issue should be managed, I don't think we'll go back to the hordes of tables like a ballroom full of tables, because it becomes a bit soulless.

I think the structure will be in small scale because a large number of people will choose to have in room dining.
Firas Alsahin I believe many of the changes in the customer preferences will likely last years, and may even become permanent. We don't know yet. That is the million dollar question. So the restaurants, hospitality industry, hotel industry need to develop both short-term plans and long-term plans to adapt these trends and changes.

While these plans should be based on creating a low-touch experience they should also optimise the guest experience.

The originality and tenacity of the design still has to be considered and the brands that are the most successful in doing this will not only survive the current crisis but also thrive and will gain market share.

Meet the experts

Firas Alsahin
Co-founder of 4Space Design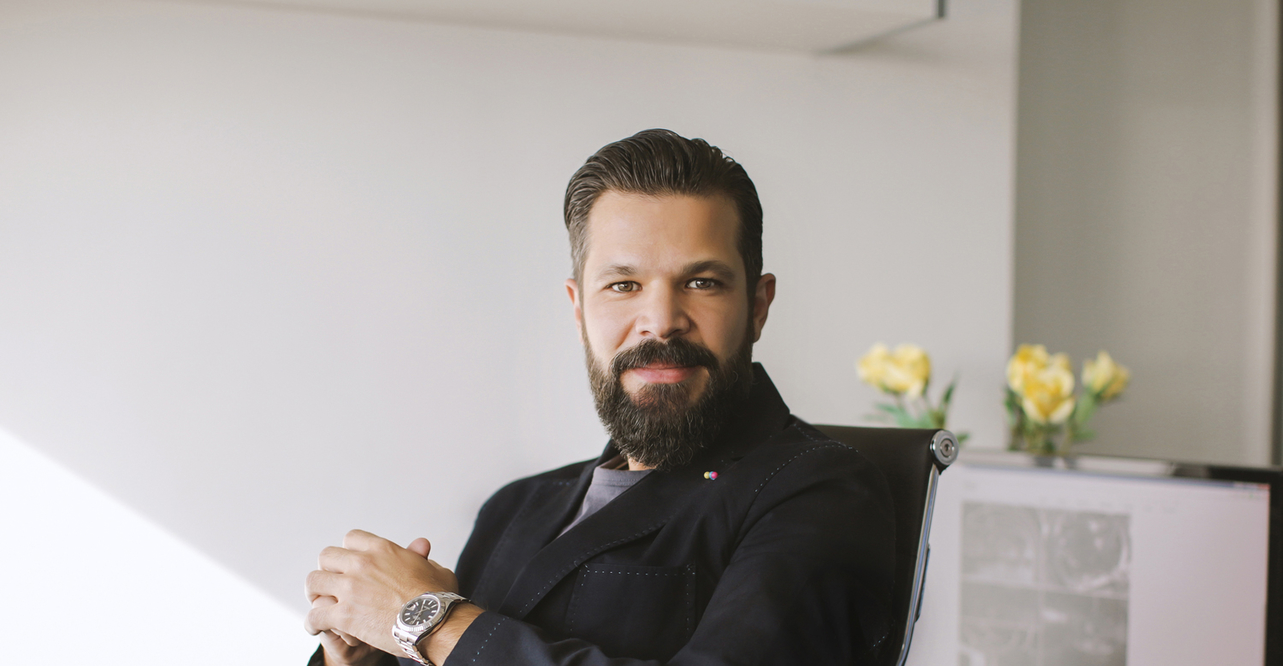 Isabel Pintado
Senior vice president of Wilson Associates Dubai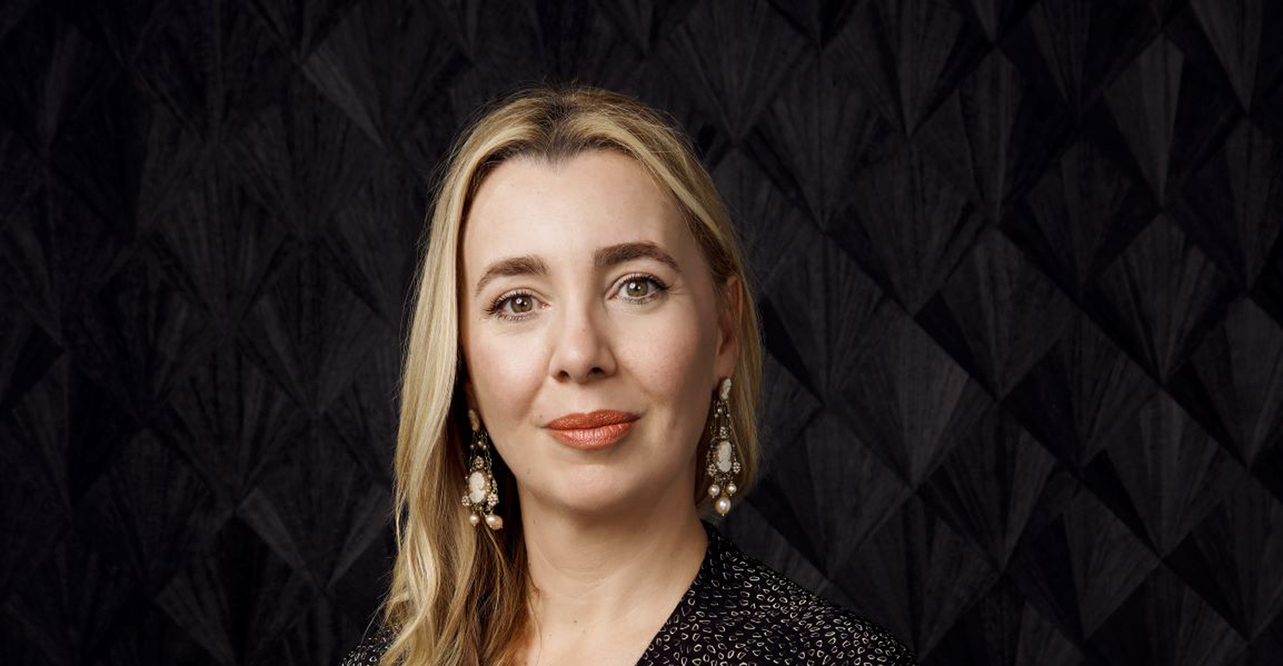 Lee Worthington
Managing director MENA, JPA



Vera Dieckmann
Founder of XO Atelier