Nearly a year since opening its doors, Finasi takes Commercial Interior Design on a culinary-inspired journey fitting out Mediterranean restaurant Gaia in Dubai International Financial Centre (DIFC).
The interior design, furnishing and fit-out firm was founded in Italy in 1969 and now works with clients across Europe and the Middle East on retail and hospitality projects. In October last year, it completed Gaia's first branch in the UAE.
The restaurant and bar – you can find it speakeasy-style hiding behind a wall on Gaia's ground floor – blends contemporary and traditional Greek design with a beautiful aesthetic that adopts an understated colour palette: think soft greys, calming whites and a blend of natural wood and Italian marble.
When one asks Hisham Sultan – who, along with his brother, Ahmed Sultan, runs Finasi – what his favourite part of the delightful Gaia design is, he points to the materiality. "The simplicity and use of material is something I really like," he says. "The mix of wood and the marble is great. The red Rosso Levanto marble used, which takes its name from a small village in Italy where it was found, blends perfectly with the vibe of the restaurant."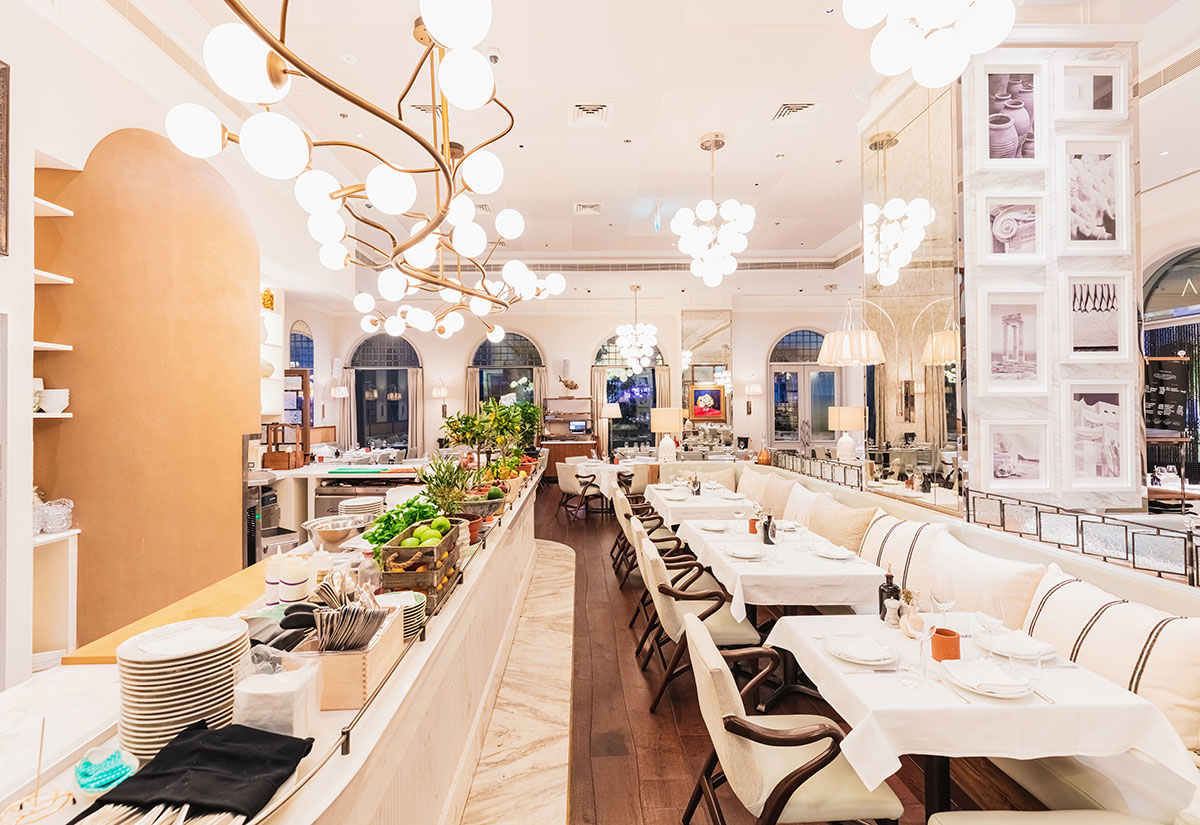 It's hard to dispute that this DIFC spot has an unmistakable vibe. It is reminiscent of a coastal town in Greece, but perfectly suitable to the hustle and bustle lifestyle of the financiers who frequent DIFC.
Gaia's authentic charm comes through with rustic tables, white linin tablecloths and bespoke shelves stacked with hardback books, pottery and other Greek treasures.
But for all its beauty, Sultan says delivering the contemporary and refreshing interiors for the restaurant, speakeasy bar and al fresco dining area in the garden and under the pergola, was a tricky job to carry out. When asked to single out what was challenging, he says: "The short time schedule and the overlapping of activities on site and working while the design was still being finalised."
Since opening last year, Finasi has received praise for the workmanship and finishing on the Greek restaurant. The business has developed a track record for respectable fit-outs on other projects, such as Satoria Shop in DIFC and the Maison Lubna Showroom. Many of the clients it has worked with have rewarded the business with new projects. Finasi will undoubtedly be at the top of Gaia's list should it plan to take its Mediterranean-style space to other emirates.