Do you find that more organisations are turning towards co-working spaces, as the regional populace increasingly embraces a digital nomadic approach to work life?
Ben Corrigan (BC): To answer this question, a few things need to be considered. We are experiencing clients and leadership teams being far more open-minded to introspectively challenge themselves, and the way they and their teams deliver. They are also more mindful of the fact that their people and teams expect more freedom to deliver on their tasks and goals. It is evident that offering choices within the workplace is fundamental to attracting and retaining the best talent.
Relocating, expanding or refurbishing is now considered much more of an exciting opportunity for change as opposed to a frustrating necessity which makes the process much more collaborative and interesting for all involved. The conclusion we often arrive at after many collaborative workshops with a client or leadership team is a mix between the inclusion of co-working spaces, and a more permanent set-up for certain teams or departments, while also wanting these teams and people within the same organisation to collaborate intentionally, and collide accidentally to encourage communication and innovation — that is the challenge.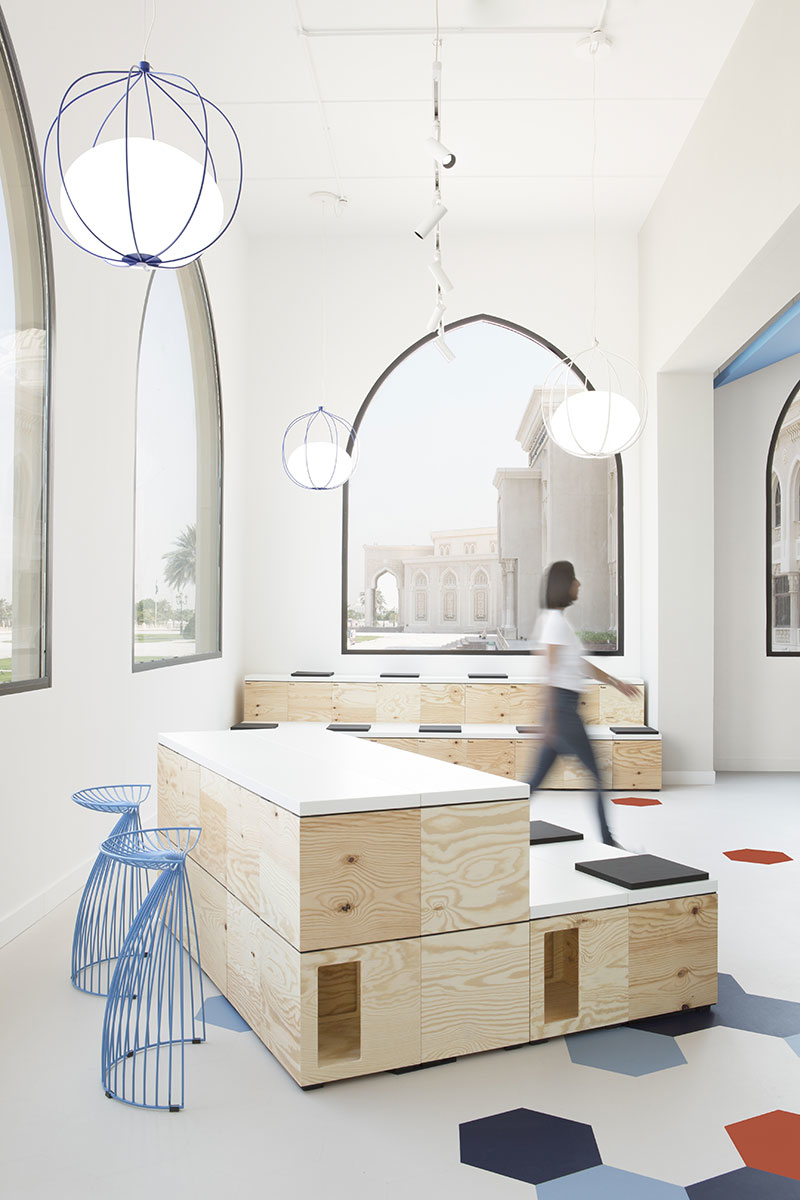 In the Sheraa co-working project by Roar, space was optimised by using Bene Pixel boxes which can be configured to turn the room into an amphitheatre.
The reality is that within any business, people and teams have difference functions and this needs to be respected — sales or marketing, for example, will likely be a highly mobile team, while finance or HR will be more static and require longer periods of focused or collaborative work. Despite these nuances, we can agree that designing a space to encourage collaboration and communication is paramount regardless of how mobile or static a team member or team may be.  
Pallavi Dean (PD): Flexible, agile, co-working spaces are still very much the exception, and not the rule in this region. In theory, everyone says they love it. It's a great idea, and that they love the look and feel. They even show you a bunch of images on Pinterest. In reality, when you get to actually planning a space, office workers are territorial — they want their own dedicated desk space to put up photos of their cat or their kids. Managers like an office with a door as a status symbol. Not everyone or every organisation, of course, but it's rather common.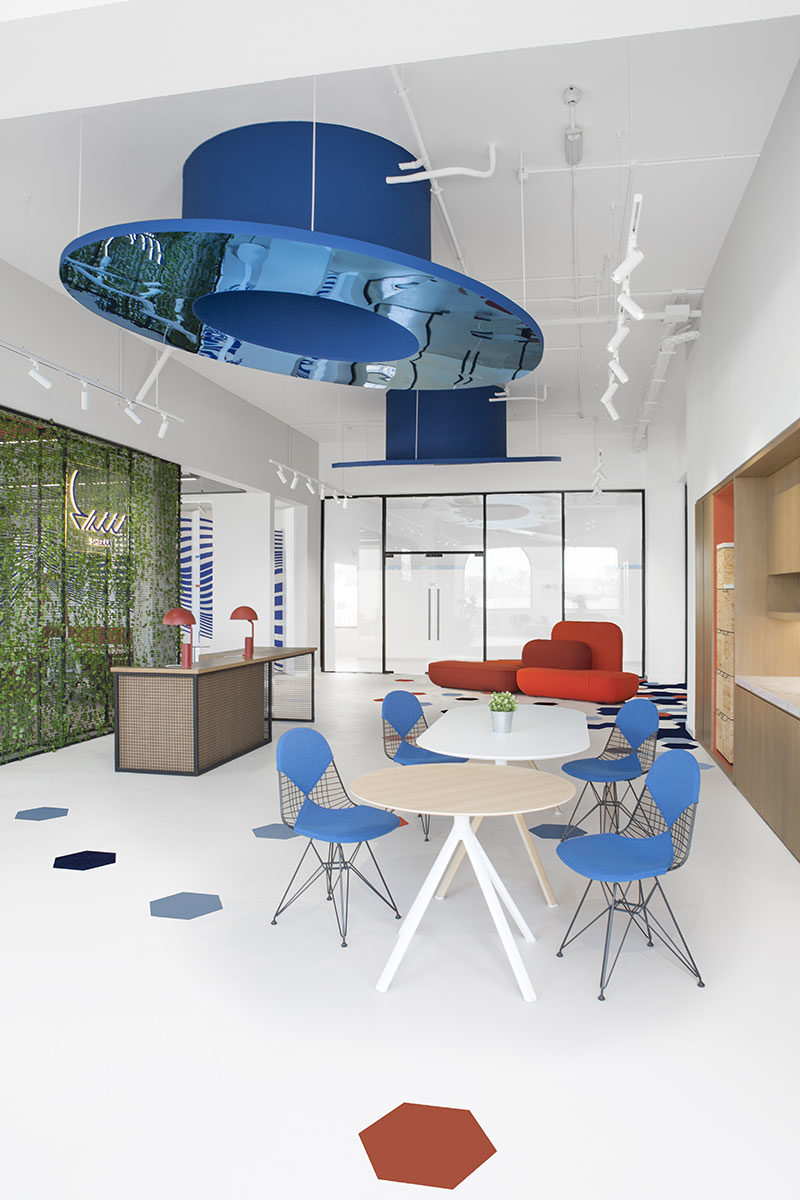 The green wall brings in biophilic elements, while the blue reflective circular discs were created to hide the air-conditioning ducts. 
What are the specific challenges interior architects face while working on offices, as workplaces these days need to be more agile and collaborative than ever before?
BC: The challenge is designing a workplace that will constantly need to adapt and change in the medium term, and still adapt to the business needs, and changing vision and aspirations in the short-term or even five to six years' time; this also presents great opportunities to design exciting and interesting spaces. We need to truly understand the clients' vision, as well as immediate and future goals. We need to take these factors into consideration while also thinking for them by designing the change we feel may benefit them further along on their journey. This involves anticipating the unknown, which can be both challenging and exciting.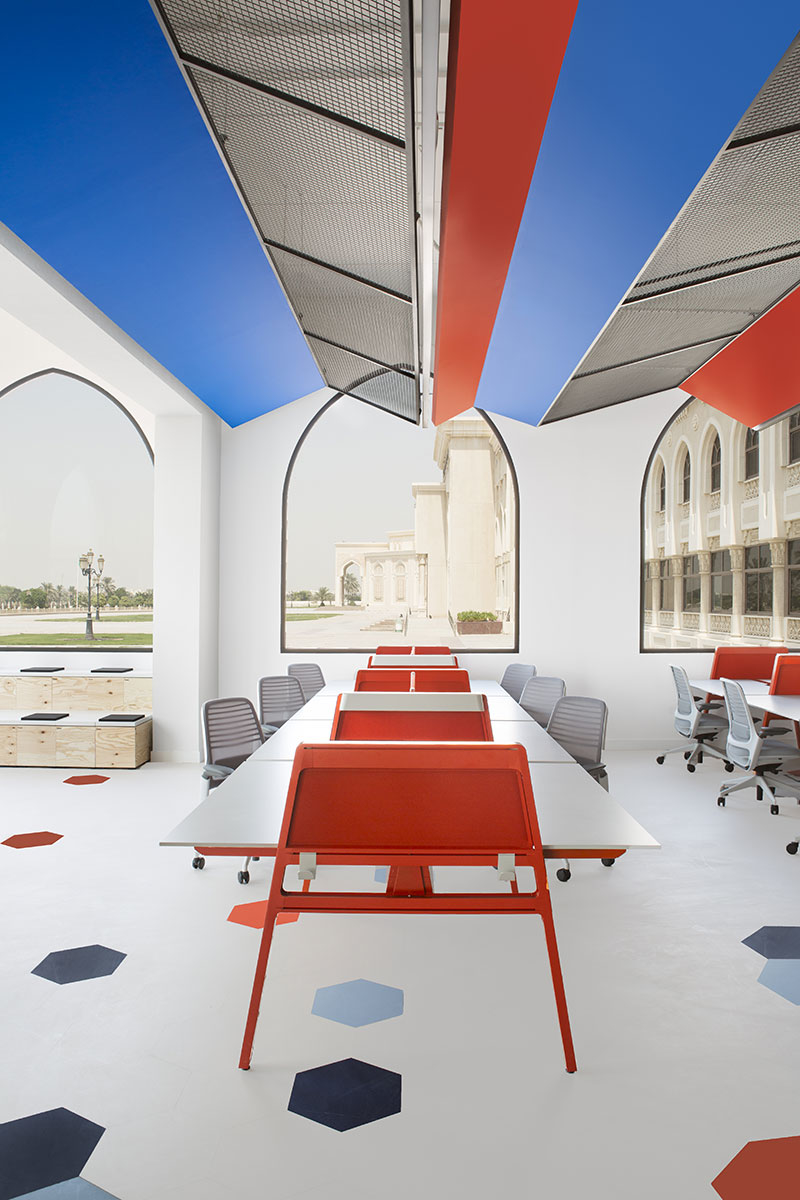 Steelcase Bivi by Turnstone is a modular desk system which serves the flexible needs of the users. 
PD: Collaborative work spaces and open plan offices are great, but they should also allow individual areas for deep work. We are big fans of Susan Cain, author of Introverts, who famously said: "Stop the madness for constant group work!" It's not that group work is bad. But you have to give people havens, where they can get their head down and get things done. One solution we like: collaboration zones that are standing-room-only. It keeps meetings short.
Why are open plan offices so divisive in their appeal?
BC: Over the past five or so years, many organisations have taken a step back from where they were headed to appreciate that one size does not fit all, and that the workplace needs to flex and adapt. Every business, or team, has its nuances and this needs to be respected and taken into consideration, this is partly driven with a view to attracting the best talent, getting the best from them, and ensuring they are retained.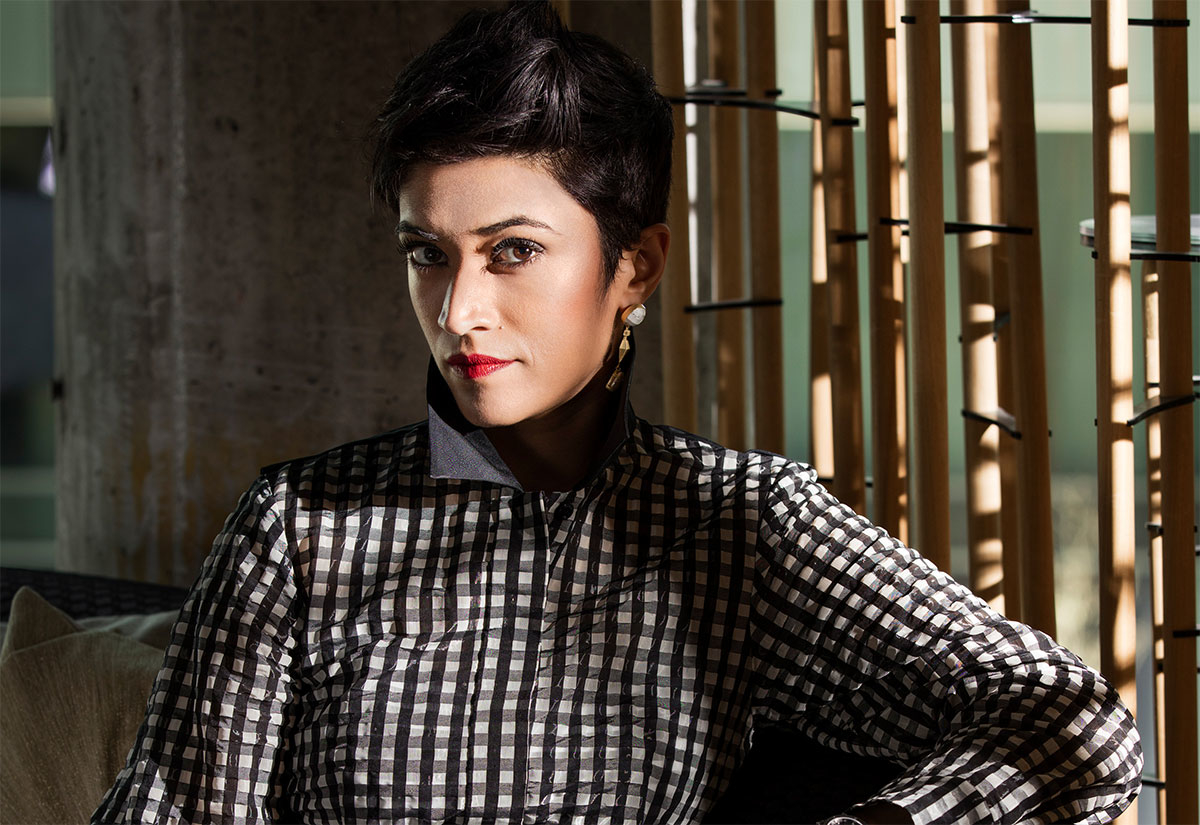 Pallavi Dean, founder and design director, Roar.
PD: There's a lot to be said for open plan offices. The sense of space, the quality of light that travels through an open plan office — it's very appealing. And let's not kid ourselves, the costs are cheaper too: you get more people per square foot, and the MEP costs are lower with fewer partitions. But they can also be distracting: research from the University of California claims it takes 23 minutes to refocus on a task after we're distracted by colleagues who might be wanting to ask a question. That is a high price to pay in terms of productivity.
Do you find that organisations are willing to invest more in the well-being of employees, especially when it comes to providing ergonomic furniture and solutions that have a direct bearing on employees' health?
BC: Yes, focus on the well-being of employees has increased considerably, from bringing nature into the workplace, to ergonomics by ensuring thoughtful system-furniture is specified, or by offering people the flexibility to work in a space and time of their preference. That said, there is still work to do, as at times, the leadership of an organisation does not always look beyond a two- or three-year plan or strategy, nor the importance of attracting, and retaining talent. This is partly driven by the transient nature of the region. While things have improved, we do believe the long-term goal needs to be more of a priority for leadership teams, as it is now widely accepted that there is a relationship between the well-being of employees, and the performance of an organisation.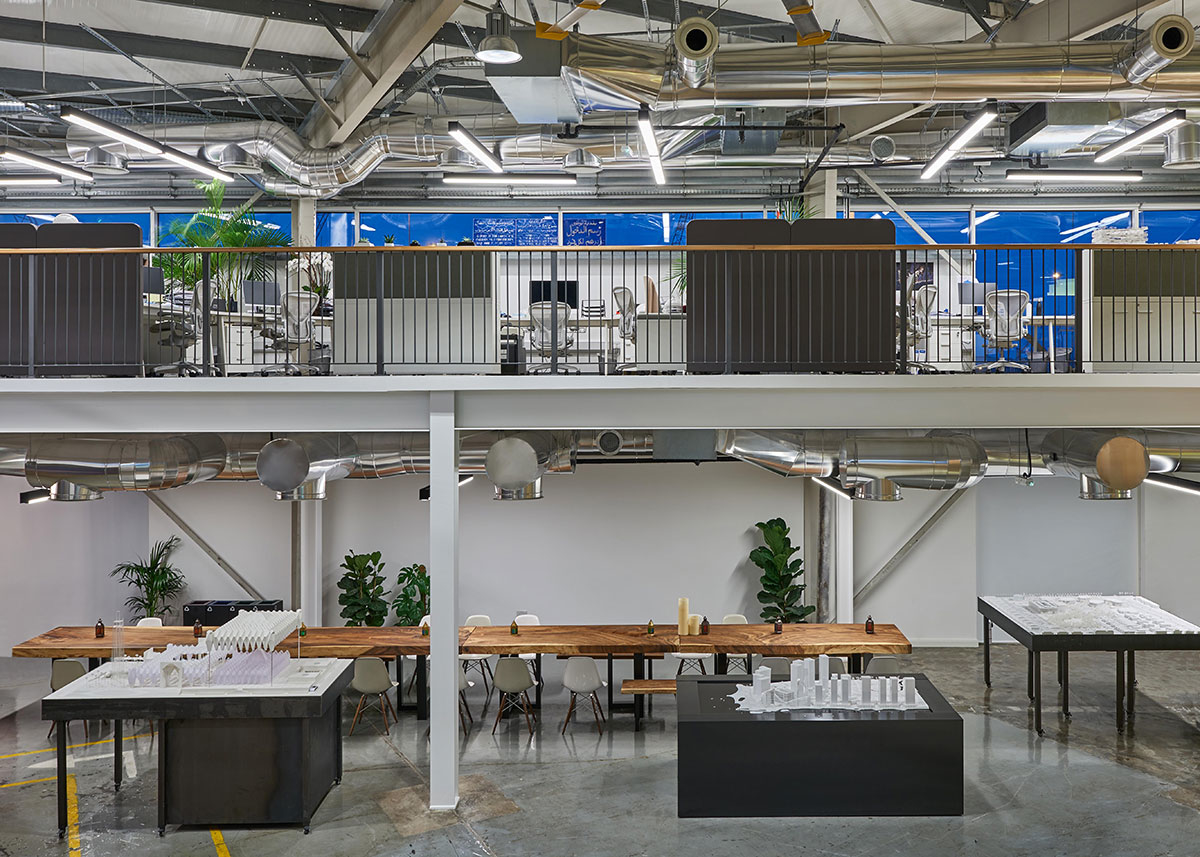 The headoffices of property developer, Imkaan, in Abu Dhabi has been designed to be adaptive to future needs.
PD: Definitely 'yes' in terms of the clients we work with. But there's a big caveat: only a small minority of offices that get built around this region use a consultancy like us, Gensler and a Bluehaus, or a specialist design-and-build contractor. Most are still built by old-fashioned contractors using cookie-cutter templates from the early '90s. It's a real shame for the people who have to work there.
That aside, you've hit on two distinct issues. In terms of ergonomics, there's one thing we won't compromise on in an office project, and that is task chairs: they have to be from a specialist task chair maker such as Vitra, Herman Miller or Steelcase. In terms of wellness, we're increasingly asked about our approach to issues such as biophilia, rest and recuperation, and WELL Building Institute certification. It's now part of the pitch process, and that's really encouraging.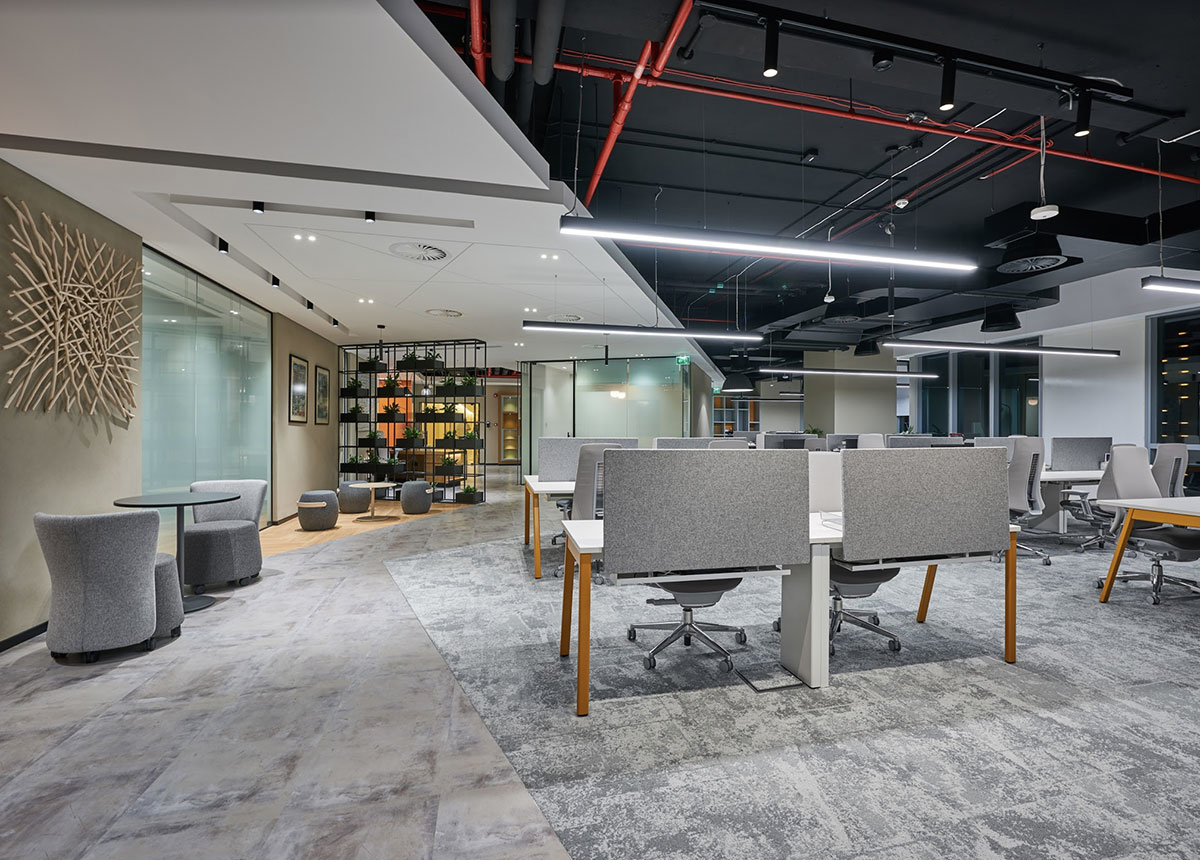 Another project by the Bluehaus Group features compact workstations within an open plan office.
How do you integrate technology into your spatial planning? What are the optional factors and what are the absolute must elements when it comes to technology in workspaces?
BC: We have seen a significant shift over the past five years or so within the industry from tech and audio-video 'following' the design of workplaces, to tech and audio-video 'leading' the design. Bluehaus Group believes in working closely with tech and audio-video specialists, both on the client and partners side, as well as the project team.
This begins right from the briefing stage and front-end of the project to ensure it is a fundamental part of the interior, both from a usability perspective, as well as flexibility. These components should be designed to be adaptable, upgradeable and changeable.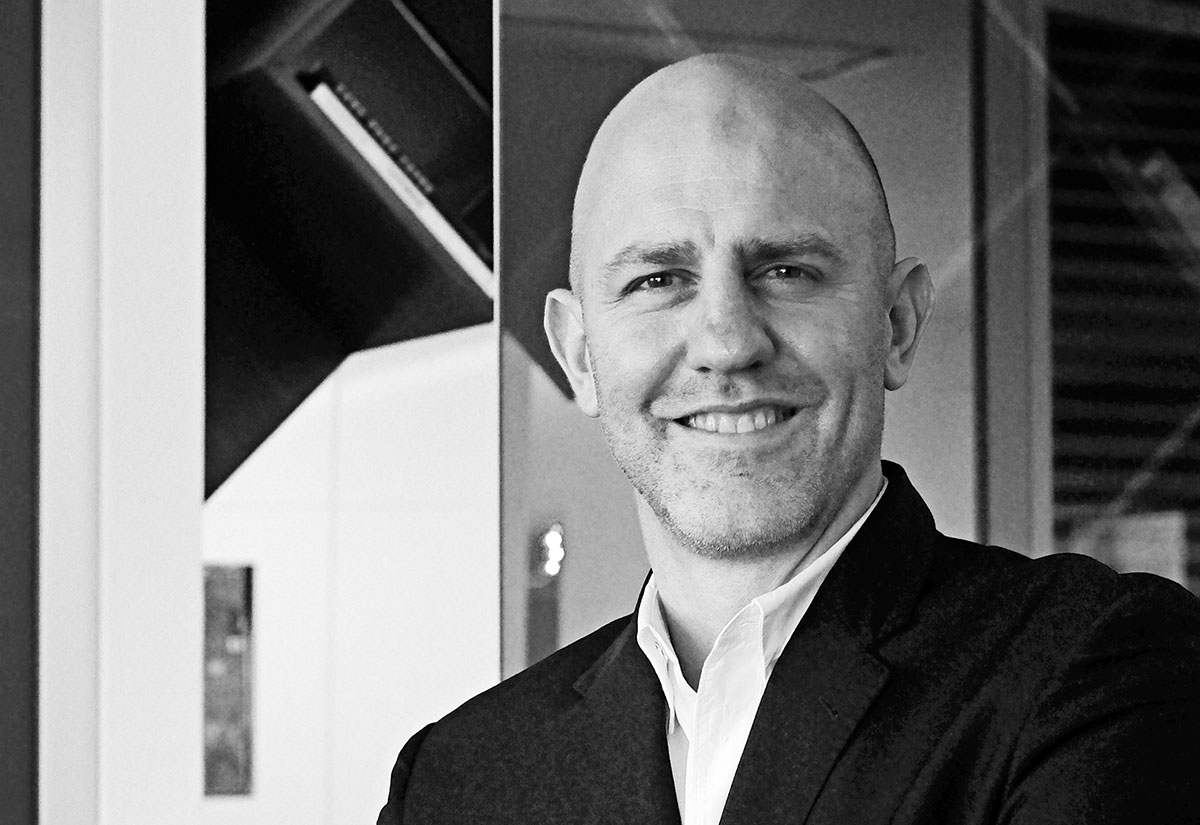 Ben Corrigan, founder, Bluehaus Group.
PD: Ironically, we're pushing analogue workspaces, as an antidote to the amount of screens in our lives. People love tactile surfaces, natural fabrics and bringing the outside in — natural light, plants, and water. The technology is behind the scenes, which includes smart buildings that regulate temperature and lighting to reduce carbon footprint, and sensors that map out optimal space usage.
What are some of the ways in which office design has evolved in the region, in comparison to, say, five years ago?
BC: Leadership teams are far more open-minded than, perhaps, five or 10 years ago, and more willing to listen to new ideas, and challenge the way they currently operate. They are more willing to believe there may be a better way and to explore it.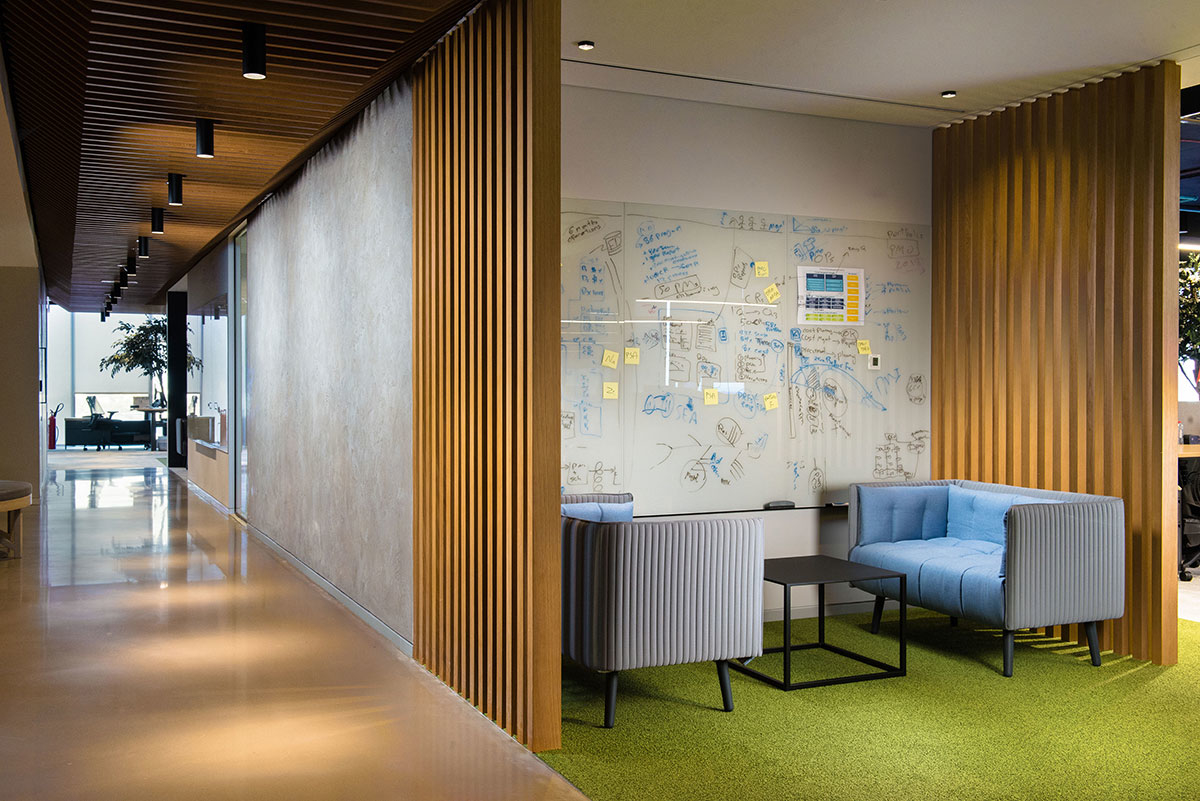 Dubai Smart Government headquarters by the Bluehaus Group has been widely lauded for representing an agile workpalce which incorporates biophilia and well-being into its interiors.
This liberal outlook makes for a far-more collaborative approach to workplace design. In terms of design, what is exciting is the morphing of multiple sectors within the workplace — from hospitality to F&B, and in some cases, the integration of leisure and entertainment, or retail. There are no rules anymore and this has really opened up the possibilities within workplace design.
PD: If you look at the work we're doing — and other local and international design houses — it has been a radical transformation. Some of the projects we're seeing are incredible, creating workspaces that are efficient, highly functional, smart, and inspirational. Industry awards such as the Commercial Interior Design Awards are becoming super-competitive: many great office projects don't even get shortlisted.
However, the people who work in these progressive spaces are the lucky few. The vast majority of the millions of office workers in this region are turning up every morning to work in badly designed, and often sick buildings. This is a big problem to be solved over the next decade.
This article first appeared in the March edition of Commercial Interior Design under the headline, "The new workspace archetype".