The UAE's growing economy and its diverse cultural demographics have both been crucial in creating a booming market for coffee. According to Euromonitor International, the Middle East's coffee industry is expected to climb to US$4.4bn by 2021.
A recent report by Aaron Allen and Associates further states that sales at cafés and specialist coffee shops are expected to remain strong in the next few years, achieving an 8.9% CAGR between 2016 and 2021.
As the market continues to grow, newcomers in the industry are looking for new ways to find a foothold in a crowded market, and design is one point of focus for these businesses to distinguish themselves from the rest.
Distinct experience
Jasmine Armaly, interior architect, Studio Em Dubai, says that when it comes to trends in specialist coffee shops, "it is an open market".
"The points of difference from store to store are so much more interesting than everyone copying and pasting a design style."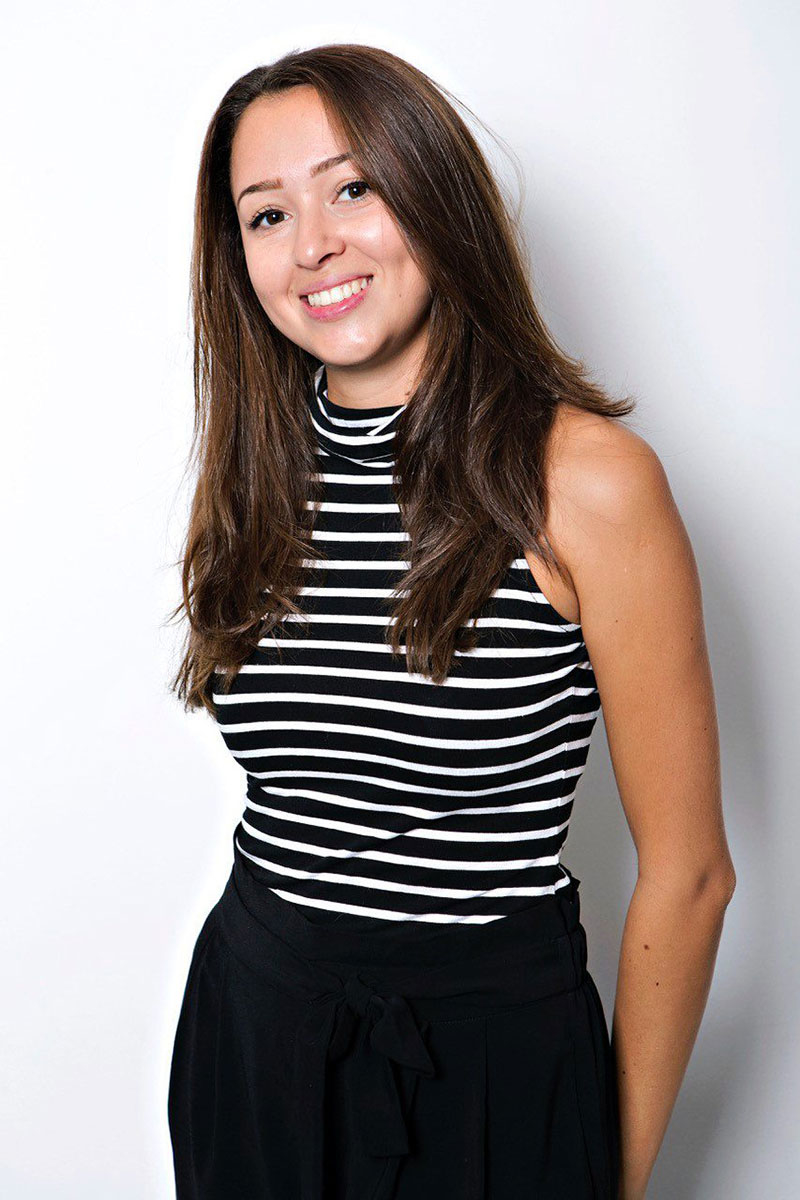 Jasmine Armaly
She says that while the overall look may vary, all designs seek to highlight a single aspect: the experience.
"There are so many different approaches to creating a speciality coffee space that it's really opening us up to some awesome designs across the board. However, one constant which I see and love, is that each concept is about the experience, it's about how the coffee is poured, roasted, prepared and the story that comes with it from the barista," says Armaly.
Omar Ghafour, founder-principal of Light Space Design, agrees with this view, "The current trend is to have well designed, simple but detailed spaces that concentrate mainly on the experience of coffee drinking."
"Coffee is no longer hidden on the back counter or brought from the back of the kitchen due to all the new coffee machines and processes in making speciality coffee. The customer is much more engaged in these spaces, as opposed to your traditional mainstream chain," Armaly remarks.
Meanwhile, Cameron Fry — owner and creative director at Liqui Group says that minimalism and luxury are the current norms when it comes to speciality coffee spaces.
"The private-members-club look is gaining traction, so more opulent materials like marble, velvet and brass are being seen a lot more, also striking minimal design is becoming more popular in the coffee industry," says Fry.
Emphasis on spatial elements
While designing a coffee-centric space, there are several aspects of design to focus on. Creating comfort and a relaxing ambience are of prime importance.
Giving the example of Drop Coffee, a specialist coffee project that Light Space Design recently worked on, Ghafour says: "A coffee concept is in today's market is a hub for meeting and working. The struggle is to cater for the key function, which is the experience of enjoying coffee, but also creating a space that is lit well, with enough seating to cater for the passing customer, as well as the one who wants to sit and work from the space. A variety of comfortable seating with good mood- and work-lighting is key."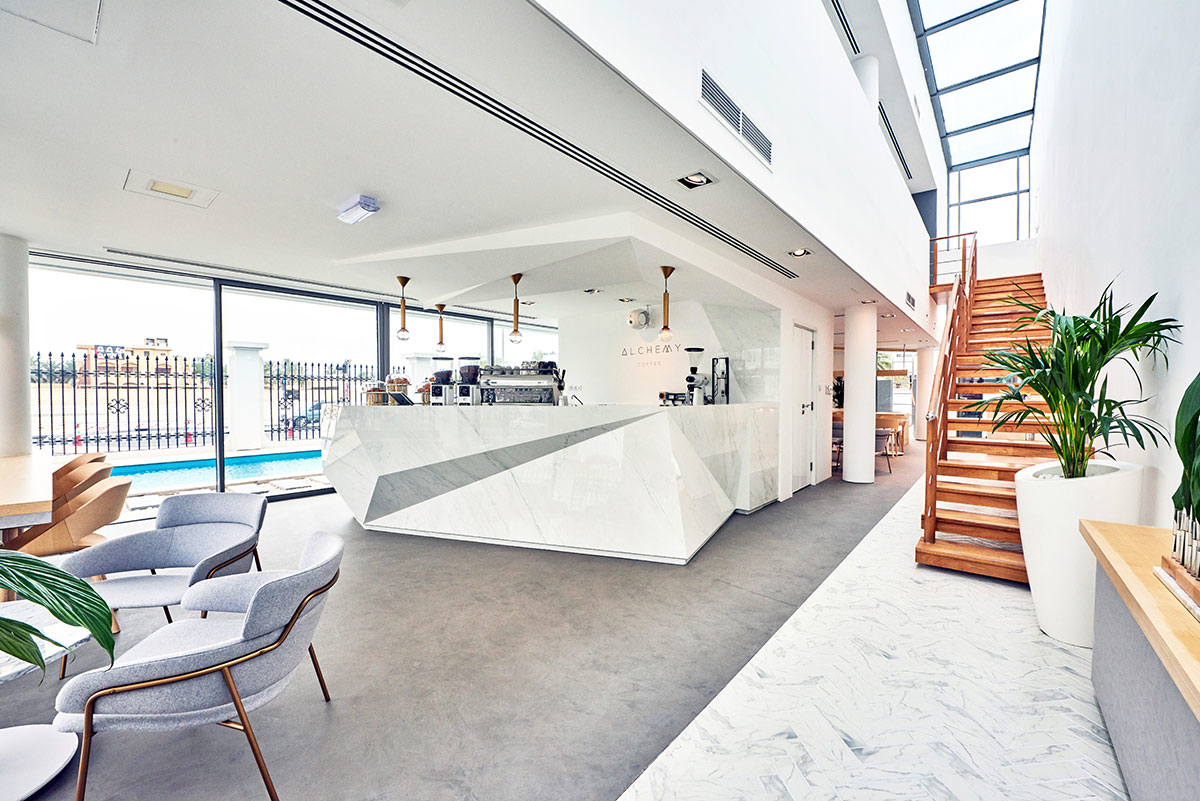 Alchemy by Studio EM
Armaly echoes this view. "For us it's all about comfort. Why do we drink coffee? Why do we choose one coffee shop over another? Is it to meet your friends for a catch-up? Is it a place you go to work from? Read a book? Or have a business meeting? More often than not, the space has to be for all of the above, meaning that the design of the space must be comfortable and adaptive to many users.
"This is important when it comes to the design and finding out what the end game is. You then have to factor in so many operational factors. Is it a coffee bar, where you queue? Self service? Is there a roaster, an interactive element? These are the questions we ask ourselves before we even get close to commencing the concept design stage. Once all this is established, then it's time to make the design come alive," says Armaly.
Fry says that it is important to work with the available space and not cramp it.
"It sounds simple, but try and work with what you've got. If you've got lots of space then go crazy, but if it's a small unit don't try and fit a massive central bar or 200 chairs in it. This is something we find people try to do a lot. They have a fixed vision of what they want and it just doesn't work with the available units in the area they trying to open in. The most important thing is to create a space that people want to be in and come back to. In the end it's a business that relies on return custom."
These are the same principles that were put into use when Liqui Design recently completed the interior design of Brew92, a Saudi Arabian-based speciality cafe and roastery. Located in Jeddah, Brew92's flagship Al Khayyat cafe and roastery began as a large, open and bare two-storey building. Liqui Design re-imagined the space with a bold, bright and airy look to give it a new warmth and personality.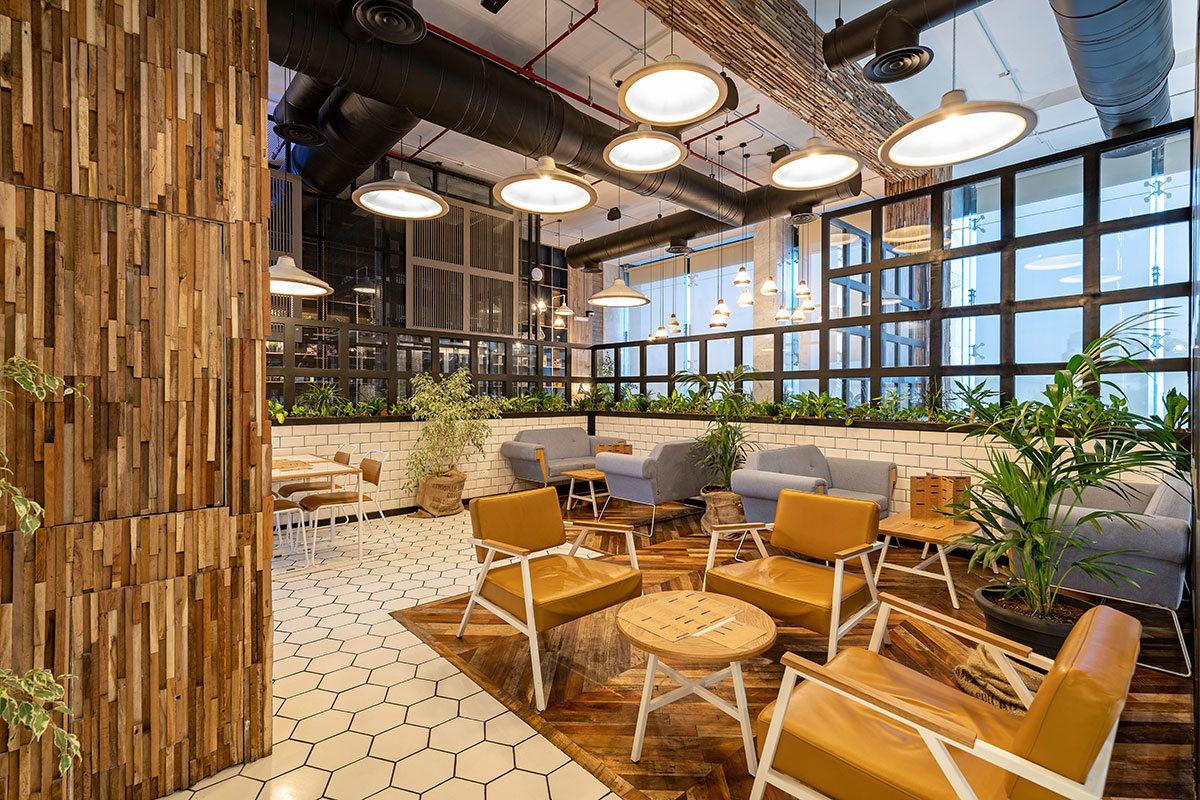 Brew92 in Jeddah by Liqui Group
The selection of the design elements depends largely on the brief received. For Alchemy, a new specialty coffee concept designed by Studio EM in Al Wasl Road, the brief called for a space with a Scandinavian backdrop that was simple, clean and luxurious.
At the venue, a faceted central coffee counter stands out as the most dramatic design statement within the space; this element was created to connect the counter to the rest of the seating area. Its bold form is the perfect juxtaposition to tranquil backdrop of the rest of the space. The balance of the space is further emphasised by the stunning herringbone floor.
The ambience depends largely on the lighting and it was a huge area for Studio EM to consider when working on Alchemy.
 "With the predominant glass façade creating a bright and warm environment during the day, we created a lighting scheme that harnessed the abundant natural light during the day and complemented the space during the evening. So the cafe could transform itself from night to day. When the lighting is added to the perfect medley of crisp white walls, contrasted with the simple raw wooden staircase and shelving features, lifted up by the vibrancy and earthiness of the greenery, the whole space begins to speak of signature Scandinavian comfort," says Nicola Fahy, head of food and beverage design at Studio EM.
Interchangeable spaces
Adaptability is also key in these concepts, as the space may be used in a variety of ways.
"For a workspace concept we are currently developing in Bahrain, we have designed a hybrid space that is interchangeable as per the needs of the space, with the concept being lots of sliding doors that can come in and out of the walls seamlessly, so as to create either a completely open café area if it is busy or if the owner is hosting a seminar or community gatherings.  With the movement of a few sliding doors, it can also become a totally different co-working space with a meeting room, telephone rooms and a quiet library, if it needs to be, it's all about being a clever designer who can create a space that is adaptive to multiple needs," says Armaly.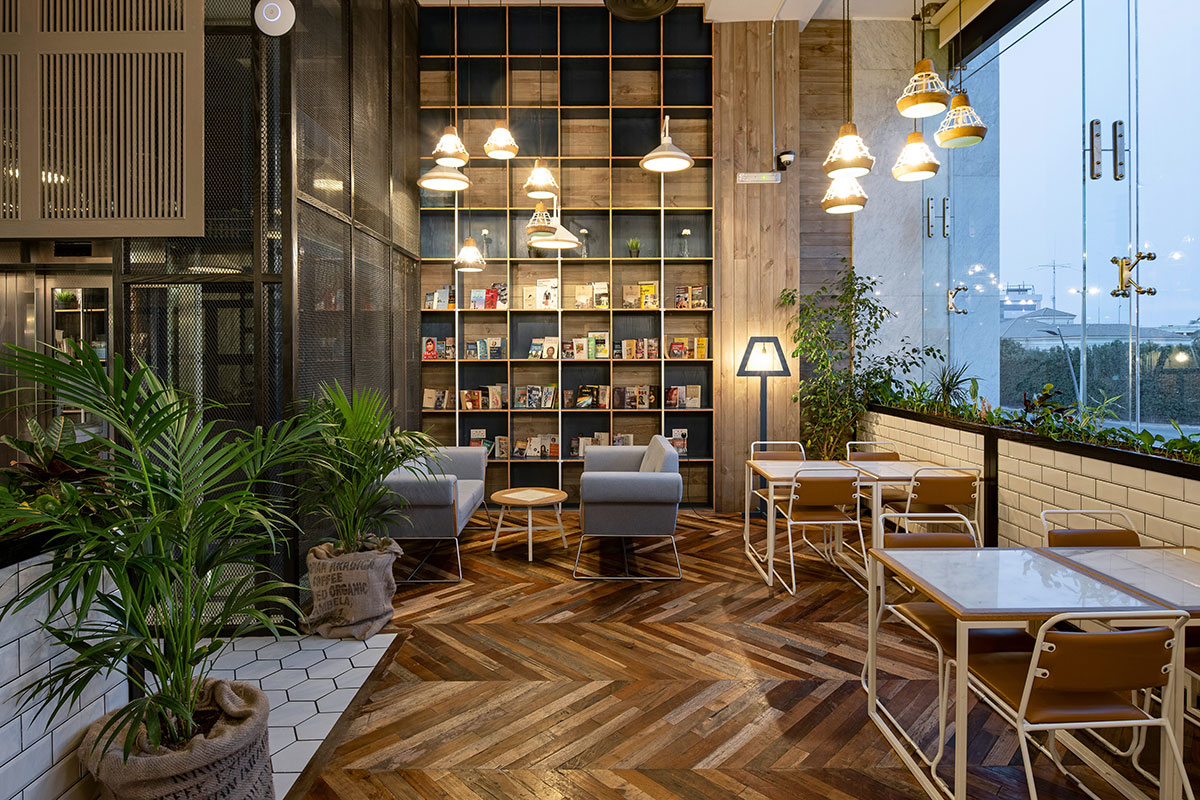 Brew92 in Jeddah by Liqui Group
When working on work-friendly spaces, designers have to focus on designing a space that allows for concentration.
"From a concentration perspective, it's quite easy to create pockets or zones within a concept that are naturally going to be quieter than others. These areas are usually predetermined in the concept stage and if it is part of the client's brief, then during the detail design stage these areas will be detailed with more acoustic paneling and other savvy design tricks to create a quiet zone."
However, it is important not to make the space look like an office, says Fry.
"In work-friendly spaces, being able to focus is very important. There are however clever ways to achieve this without making the interior look like an office - adding more soft seating and upholstered items can really help with noise cancelling. Also when it comes to space planning try to divide it up by allowing people to have smaller spaces to recede into if they need some quiet time."
For instance, Liqui Design has divided the space at Brew92 into a number of smaller seating areas, delineated by natural wood flooring. In addition, a private lounge and rooms offer a sense of intimacy, and are enclosed with an industrial mesh.
"A work space in a coffee shop should be one that is vibrant, dynamic and filled with inspirational details and a sense of comfort. You need a great space to help generate great ideas," says Ghafour.
Design as a branding element
"With a lot of our clients who we do full project development with, from the brand conception to the interior delivery, the main aim is how to tie them all together so as they speak the same language and communicate brand harmony.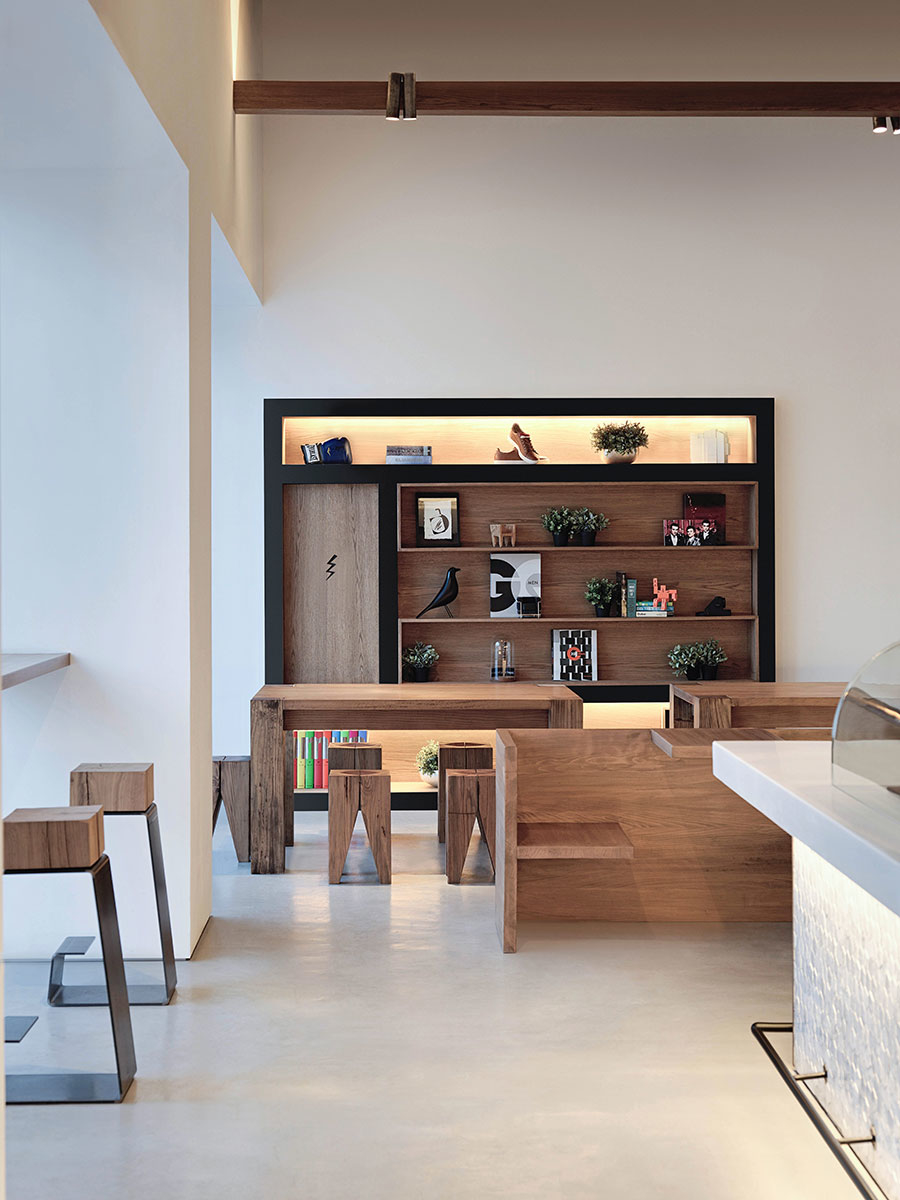 Drop by Light Space Design
"Now more than ever, the interior design is becoming synonymous with the brand.  It has to be an extension of the brand's voice and persona and with social media. The interior is now the third main component that is looked at, after the main offering, the coffee, then comes the service and staff and then comes ambience," she remarks
However she is quick to warn that a great brand and interior is never going to save the business if the coffee and service is not up to the mark.
Studio EM branding director, Neil Baker, who oversaw the development of Alchemy's brand identity, remarks: "With the name, Alchemy, it was easy to fall into the realms of creating something clichéd for the brand. In sync with the interiors, we used restraint, in order to give a nod to the concept of Alchemy and the Alchemist, but not to oversell the concept. The branding and interiors have to speak to each other and in the end, we think they do this beautifully — the conversation is calm, delicate yet pronounced and bold. Alchemy is a concept and a space that is all about the simple pleasures in life, relaxation, calmness, great coffee and a space just waiting to be filled with good company and conversation."
Fry believes that too much of branding can become tiresome and monotonous.
"It is very unfashionable to have something that looks too branded. Even leading high-street brands are coming away from this. So what is key is cleverly branding a store, whether it is using subtle accent colours, or a set material palette. This means you can have an instantly recognisable interior without it looking like a traditional chain or franchise, even if it is."
Materials used
Armaly compares the trends of today with the practices of yesteryears. "If you asked me two or three years ago, when industrial design was all the rage, it seemed to be brick, concrete, wood, Edison bulbs and powder-coated aluminum or steel everywhere, with a bit of tan leather or a navy steel chair, subway tiles and a chesterfield thrown in for good measure. Thankfully now, we are seeing more and more unique concepts getting away from the industrial era.
"What speciality coffee has done, is to bring a new wave of coffee shops with some totally new concepts," she remarks.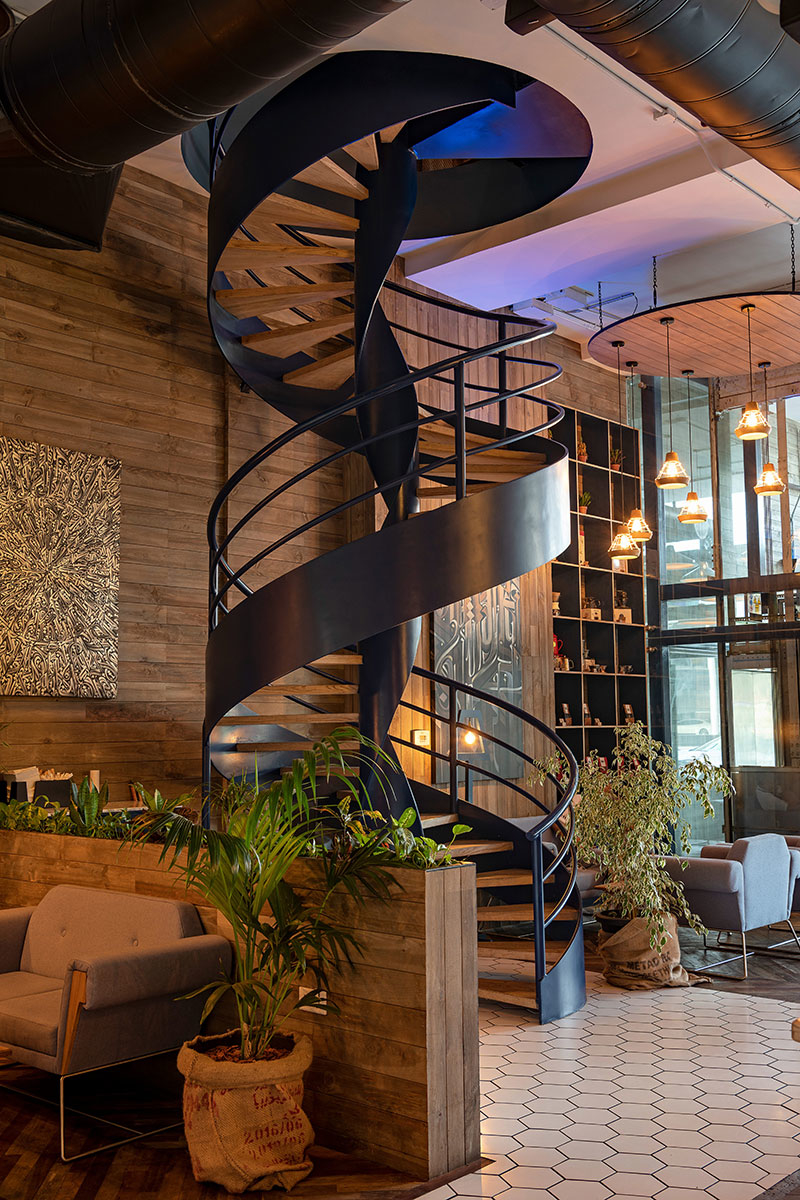 Brew92 in Jeddah by Liqui Group
For Fry, sustainability is the way to go. "We've always used sustainable materials in both the furniture and the lighting we manufacture, as well as the interiors we create. This approach in material choice is very important. With current styles, selecting high quality natural materials and using them in an intelligent and creative way is key."
Cost of investment
Fry says that the cost of investment depends on numerous factors.
"There are many factors that need to be taken into consideration, like equipment needs, the size of the interior space available, its condition and what build work needs to be carried out to meet business needs. Above all though, is an understanding of the business aims and objectives and knowledge of the surroundings, both in terms of location and competition," he comments
"Having said that, however, there is a general guide we use when working out the cost of investment. You would want to be spending in the region of AED4,827 - 7,240 per m2 of space. You can, of course, invest more than this and you can invest less, but it is safe to say that the coffee industry is a highly competitive market.
"With everyone offering quality coffee — coffee shop goers opt for places with a fun and fresh ambiance. A thoughtfully designed atmosphere to create a memorable experience and encourage repeat customers is invaluable," he says. Armaly likes to explain it in simple terms: "Usually about 100% more than anyone ever expects."