"One's destination is never a place, but a new way of seeing things". These words by Henry Miller adorn a wall at the Abu Dhabi Tourism (ADT) headquarters, reflecting the essence of the recently refurbished office.
The quote is set in a sporadic landscaping with a swing, as a notable representation of the biophilic design concept followed throughout the space.
Characterised by bright colours and chic, striking furniture, the office is a far cry from traditional government offices.
 "We wanted to breathe some life, energy and enthusiasm into a stereotypical office footprint, that had very little footfall or use for the client by creating ideation spaces, leisure facilities and communal or collaboration working hubs for small and large group gatherings," Chris Barnes, founder, Broadway Interiors, explains.
Quotes by other renowned world leaders, such as Jawaharlal Nehru and Albert Camus, make an appearance too. Motivating and uplifting, they contribute to the design goal: fostering collaboration and encouraging culture and creativity.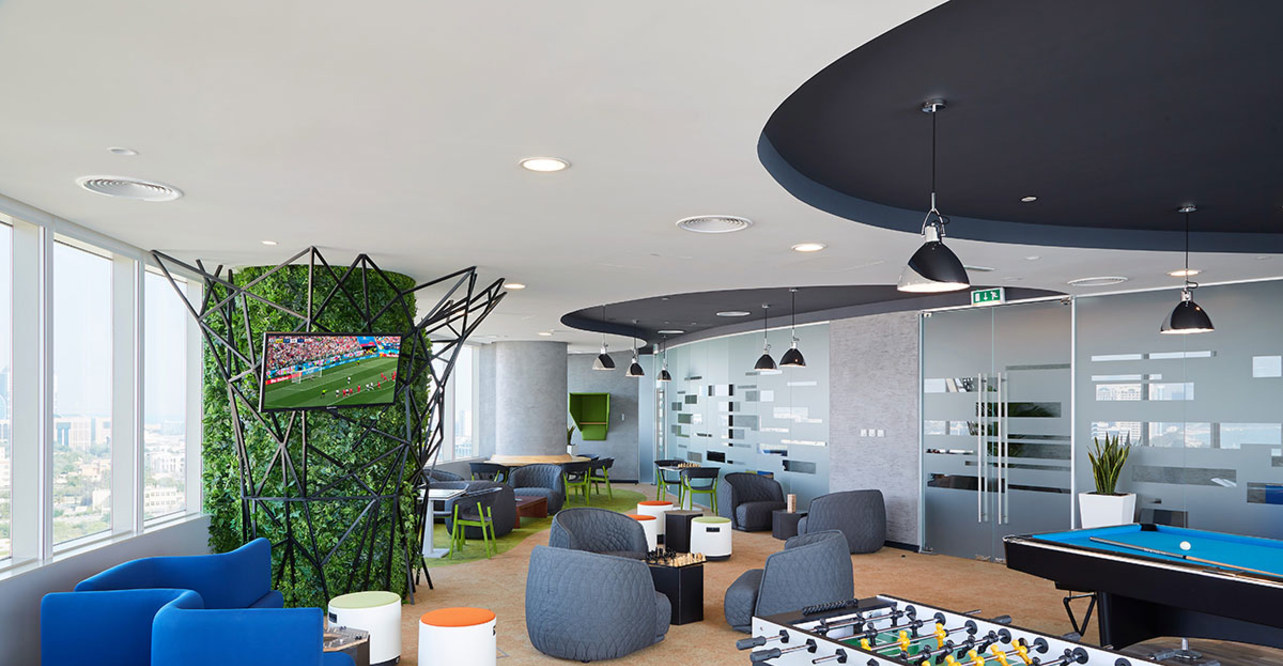 Barnes says the design brief called for a space that is fun yet workable.
"We had to develop a fun and functional space that offered a sizable workforce a different environment to work, play and ideate in, as well as provide space for entertainment.
It also had to accommodate events where ADT could host clients and promote initiatives being implemented by the tourism board authorities."
The office is bright and airy, with an open plan design that did not isolate functional regions.
Broadway Interiors subdivided the space into an open plan zonal design concept, providing flexible operation underpinned by the principles of biophilic design to promote active working and well-being.
"We needed to provide both intimacy and large open town hall-style meeting areas, due to the large headcount in the building. It required a spatial flow that enabled free movement throughout, while affording intimate huddle points. For instance, an oval pathway circumventing the core shaft of the building was designed differently serving as a visual demarcation against the open dining area. This way, an orderly flow of traffic can be achieved without barriers," explains Barnes.
Broadway Interiors also made it a point to make the most out of the natural light that streams into the building.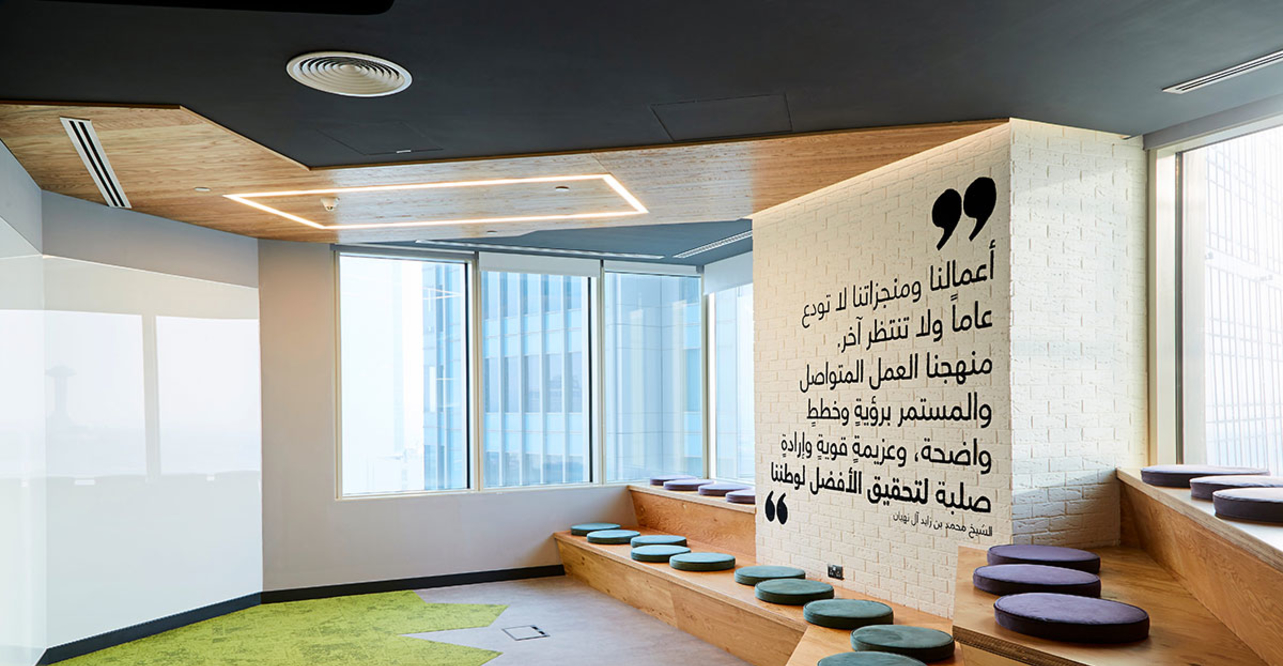 "This building has the benefit of 360-degree views from full height windows, allowing natural daylight to permeate deep into the space," says Barnes. "Hence, we were able to use bold dark colours without making the space oppressive, with very little requirement for artificial lighting during the day," Barnes comments.
Some of the most notable aspects of the office include a living wall column framed with mild steel artwork, timber ceiling detail in the main entrance, and tiered seating in the 'Speaker's Corner'.
It made sense to have a design concept that is young and inspiring as ADT has a largely young workforce, with most of the employees being in the age group of 22 to 45 years. "The space required, forward thinking, cultural sensitivity and transformation," he says.
In spite of the project being a 'full floor refurbishment', having a client that is open to new ideas helped greatly in the design process.
"The client was progressive and receptive to a major change in their organisation and encouraged creativity, which supported innovative ideas."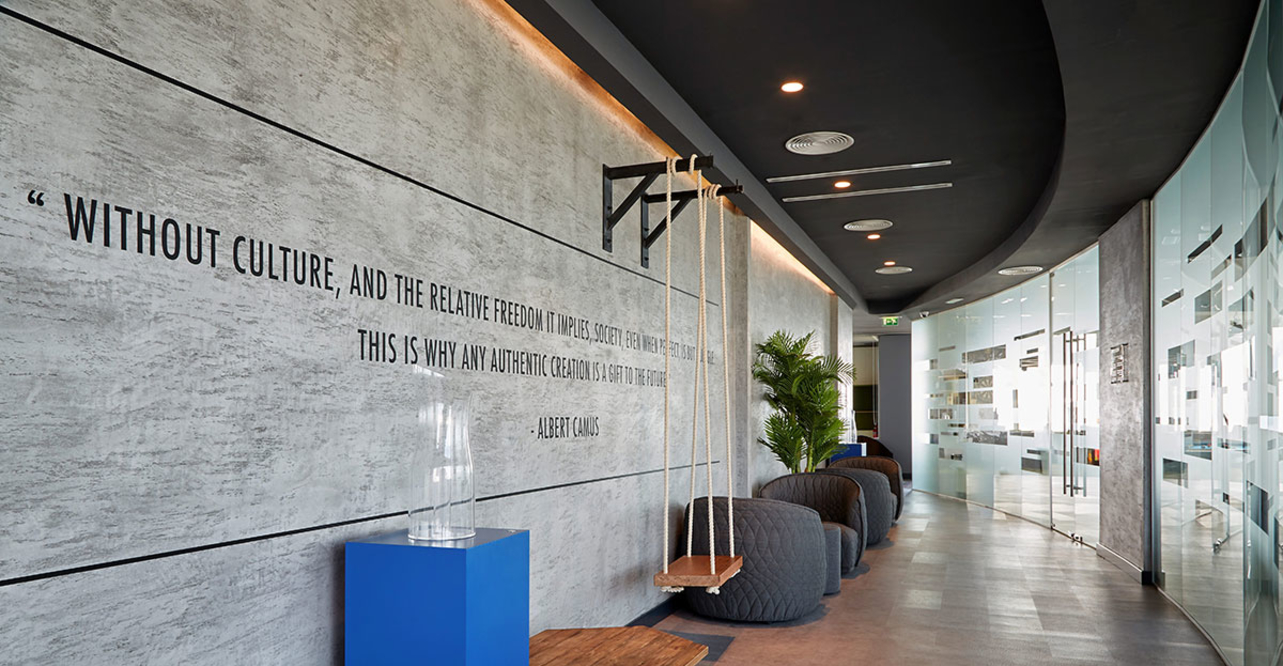 The entire right side of the old office was knocked down to provide an open plan layout, while the left side was made the "quiet side", which housed sound-sensitive rooms such as prayer rooms, a clinic, as well as training and recording rooms.
"This was broadly a full floor refurbishment, aside from the retention of the health clinic, which encapsulated a small section of the space. As it was predominantely a redundant space, we had the freedom to strip it right back without needing to phase the works. 
"We did introduce a new prayer room and ablution areas, and they had to be thoughtfully located," Barnes said.
The whole project took around three months to be completed. "With low budget parameters and a fast track delivery requirement, the full design consultancy and installation was delivered within three months," he says.
As the brief called for an organic approach when it comes to materials used, Broadway Interiors made use of joinery items with raw plywood finishing, with its beauty relying on the wood grain character and innate colour.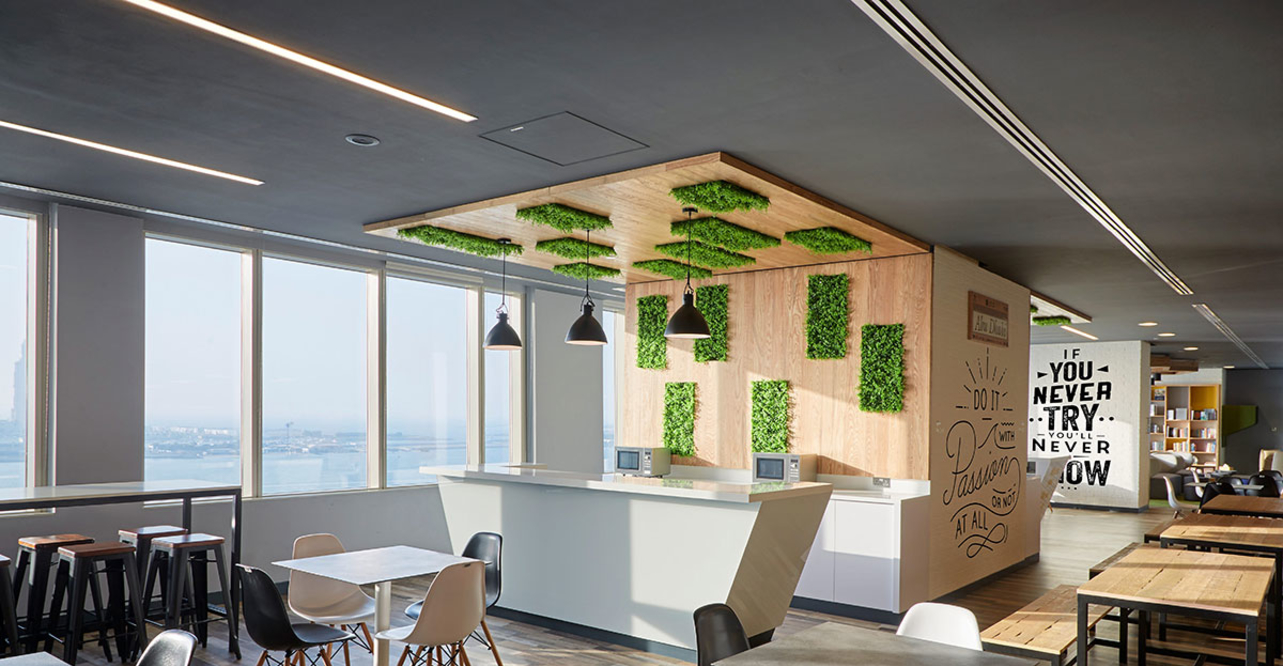 "Both rustic wood and concrete finishes play a dominant role in the entire floor, manifested through ceramic and veneer table tops, porcelain tiles as well as in the vinyl flooring," Barnes said.
The company strived to achieve a balance between hard and soft finishes, and there are several instances of this throughout the office.
In the general areas, concrete stucco walls have been softened by carpet tile flooring that mimics grass; the recording room has a glass wall and has been furnished with heavy curtains, carpet tiles and acoustic wall panelling that aids sound absorption. The prayer rooms have been designed with ombre stucco walls and handtufted wool carpets.