Swiss Bureau has created a bohemian-inspired stage and seating area for Downtown Design's talks and workshops at The Forum. The Dubai-based interior design practice has moved away from its traditional contemporary office style to create a more stripped back and chic aesthetic for The Forum.
Handwoven carpets by Samovar are draped on the back wall behind the stage, providing a Bedouin-style backdrop to events running from 12-15 November. One row of Moroccan poofs and several lines of Pedrali chairs with low-hanging bead and cane lamps by Tribe surround the stage, which Swiss Bureau says will promote collaboration and community at the trade event.
"We see ourselves as the conduit for businesses to align diverse people for common goals," says Joakim de Rham, co-founder and CEO of Swiss Bureau. "Our design approach is centered on creating environments that will foster change, creativity and discovery."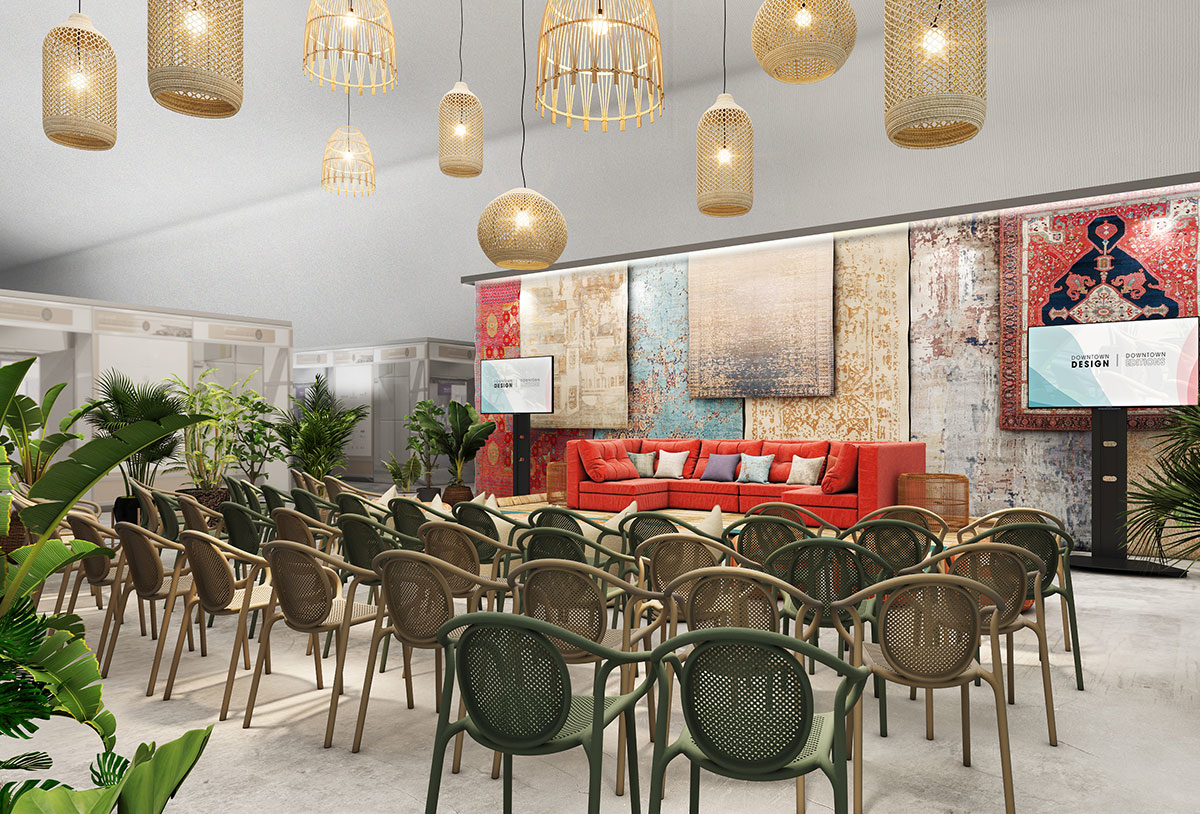 Conceptually, The Forum is inspired by a tribe and de Rham wants to "acknowledge the diversity of the regional design scene" and celebrate the similarities of the industry. Design manager Zoe Allen has led the project for Swiss Bureau, which joins a team at Downtown Design that includes Wilson Associates and XBD Collective.
Led by founder Ellen Søhoel, XBD Collection has collaborated with Downtown Design to create the café and the main entrance installation called The Portal. The café will be one of two food and beverage outlets at the fair and will include both indoor and outdoor areas. Both have been designed by the boutique practice, but will be operated by The Lighthouse, a restaurant and concept store in Dubai Design District. Joinery, furniture, landscaping, lighting and audio-visuals used for the café were all generously donated by trusted companies who worked alongside XBD Collective, the practice tells Commercial Interior Design.
The Portal that XBD Collective says it has "proudly" taken responsibility for designing was created by its architecture team to offer a "wow factor" as visitors enter Downtown Design.
"The aim was to create a feature out of the entrance experience that would not only draw participants of this year's festival into the event space, but also those from other backgrounds who are curious enough to discover what the world of design has to offer," says Søhoel.
"The Portal engages guests by reflecting the surrounding context as well as those around them in its many surfaces. While the entire installation is made up of numerous singular units, when arranged together, they create an elegant whole symbolic of what we can achieve through collaboration."