How do we live from the soil? What if we used local materials to drive our economy? How do we cultivate food through urban means? How do we drive forward an environmental consciousness? And finally, what are the different 'possibilities' of our future? These are just a few questions the third edition of Amman Design Week (taking place from 4 - 12 October) aims to explore. And in some instances, it even found some answers. 
Under the theme of Possibilities, the design week tackles various topics through exhibitions, workshops and talks. These range across a multitude of relevant national and regional issues that look to the future of materials and traditional crafts as well as food and territory. 
"This theme came about because everyone these days is feeling like we're doomed, with issues like climate change and so on," said Rana Beiruti, director of Amman Design Week.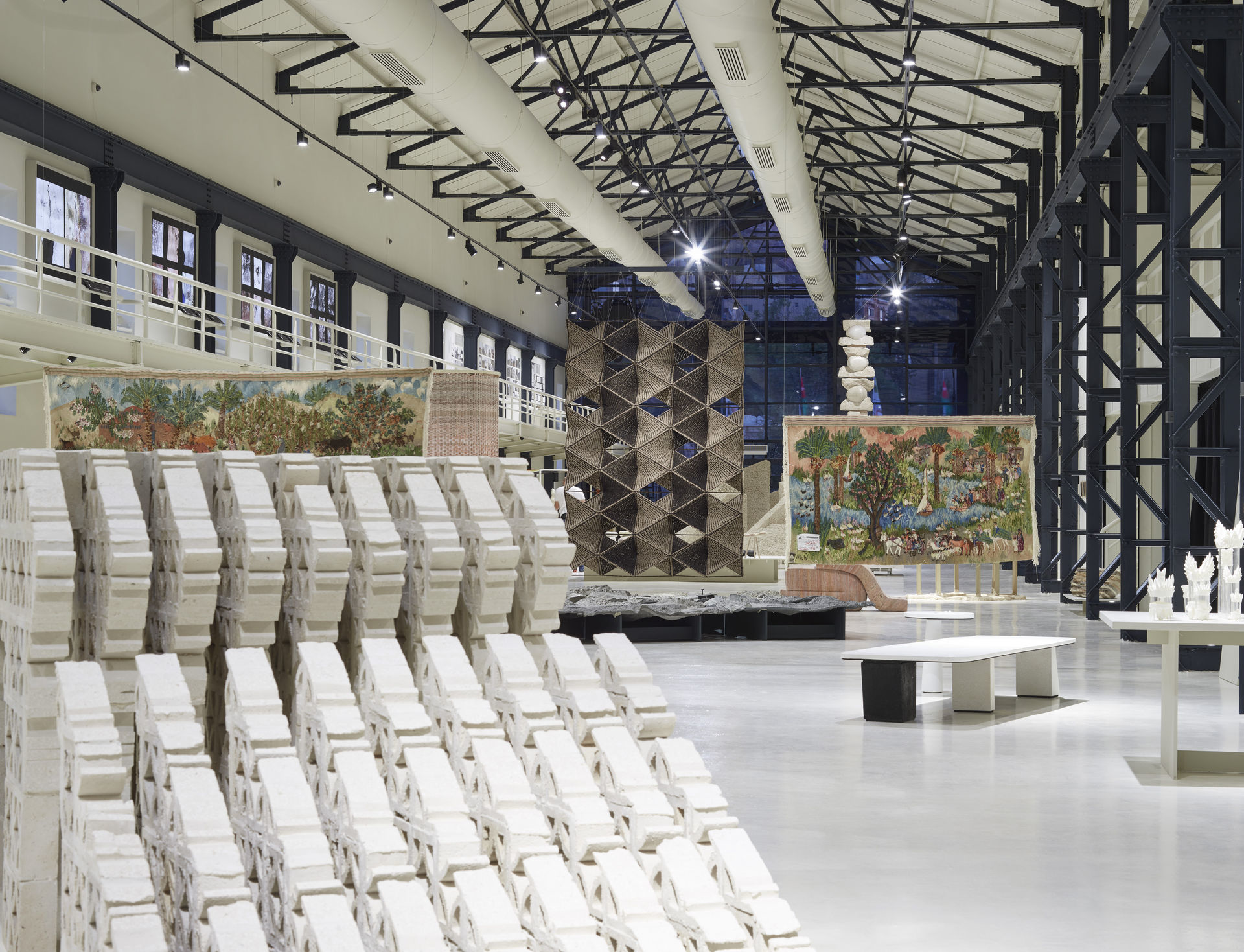 "Especially in Jordan, the political climate is always 'throw your hands up and give up', so I think the theme of Possibilities was sort of to say that there are bad possibilities coming our way, but there are also good possibilities coming our way. Through design we can start to see what these possibilities are," she said, adding that contrary to expectation, the results of the theme didn't encompass a futuristic outlook. Instead, designers and architects looked to the past for solutions.
The design week takes place across three main districts of Amman, including Ras Al Ain, featuring The Hangar Exhibition, the Student Exhibition, and Future Food/Future City, as well as the Jabal Amman District which has become home to the Crafts District and the Material Innovation and Jordan Script Routes exhibitions. The Jabal Al Lweibdeh district is also hosting a series of activities with various stores and galleries showcasing their works. 
The Hangar Exhibition, a staple of Amman Design Week, having launched during its first edition in 2016, is possibly the most important and diverse exhibition in the programme. Curated by architect and curator, Noura Al Sayeh-Holtrop - one of the winners of the 2019 Aga Khan Award for the revitalization of Muharraq in Bahrain - the exhibition reveals connections and commonalities amongst designers in Jordan and the wider Middle East, drawing out a map of shared interests and potential synergies across the Arab World. As a result, four key themes have emerged including material research, territorial explorations, narratives of the city, and weaving.
"I think what was interesting about curating this show under the theme of possibilities was that it was really just this shift in perception, changing the situation from one that addresses problematic issues to one where you take the possibilities within the realm of what's available today," said Al Sayeh. "For me it was really important that it looked at the possibilities within the 'possibilities' of what we have at hand today. One of the important things we tried to enhance or highlight in the exhibition was to show links between designers in an effort to highlight the synergies that could exist across the Arab world." 
Showcasing works from 53 designers, architects and collectives, the exhibition is based on a three-month open call, where the results are then used to structure the exhibition that is grouped into four key themes and three sub-themes. 
From loose gravel to jameed, olive mill waste and palm leaves, the use of materials across the exhibition rethink standard applications, turning untraditional local resources into architecture, furniture, and edible sculptures.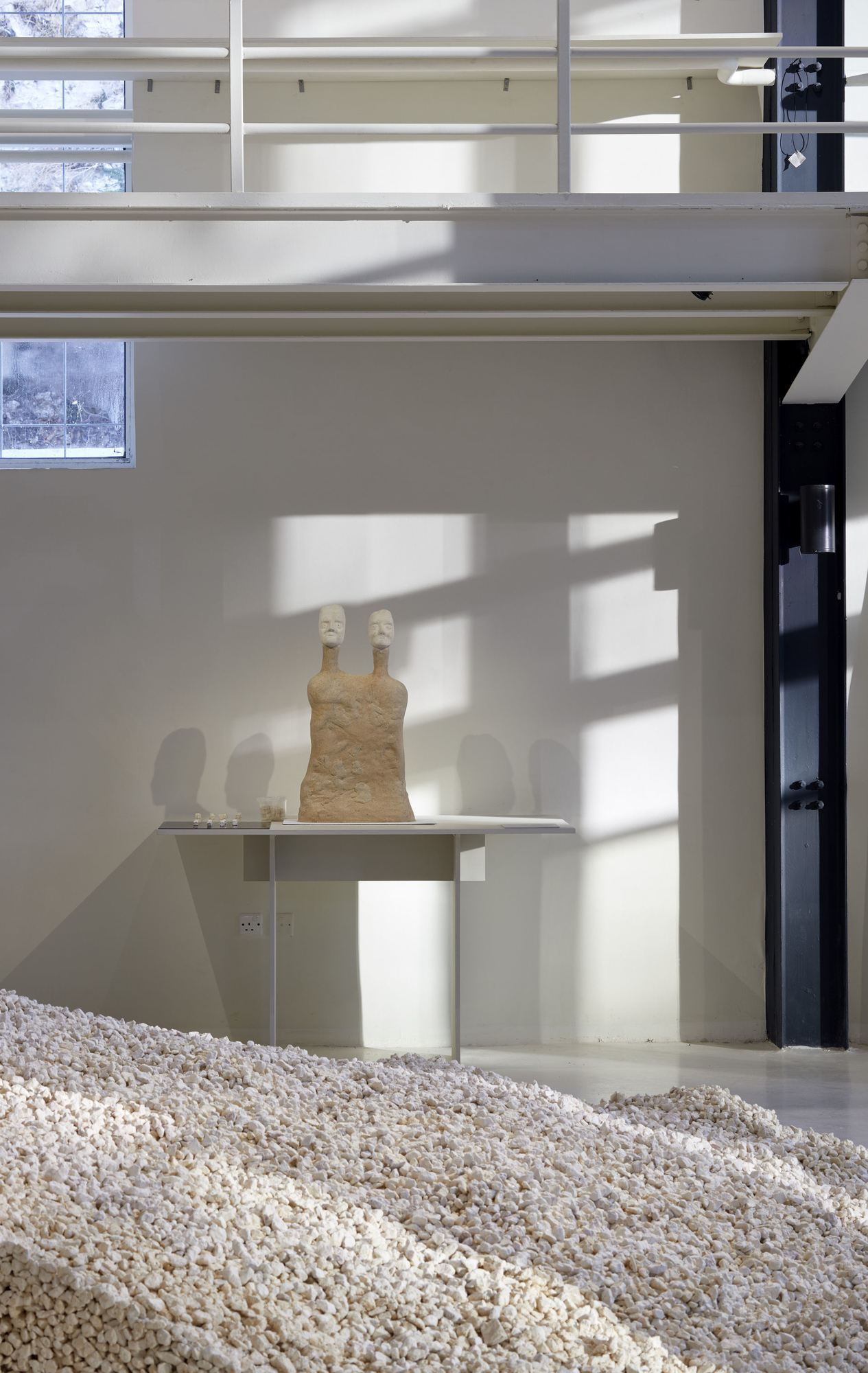 "Material exploration is something that you see worldwide but it was interesting to understand how this is being applied locally and what people are starting to research and also why this is happening, Al Sayeh explained. "I think, specifically in Jordan, the question of importing materials has recently become problematic, so designers are starting to look inwards to see what the local possibilities are within materials." 
In Jordan, importing materials from abroad is becoming increasingly difficult - both financially and logistically - due to circumstances such as high taxes and border issues, making commonly-used materials like wood and silicon, commercially unviable. 
"The struggle within that is that designers are not able to prototype, are not able to have access to certain materials. Somebody wanted to import silicon and it took them months to get it through customs. We are not a wood-producing country so there is a lot of things in terms of materials that are really difficult, which is why people resort to materials that we do have such as stone," Beiruti said.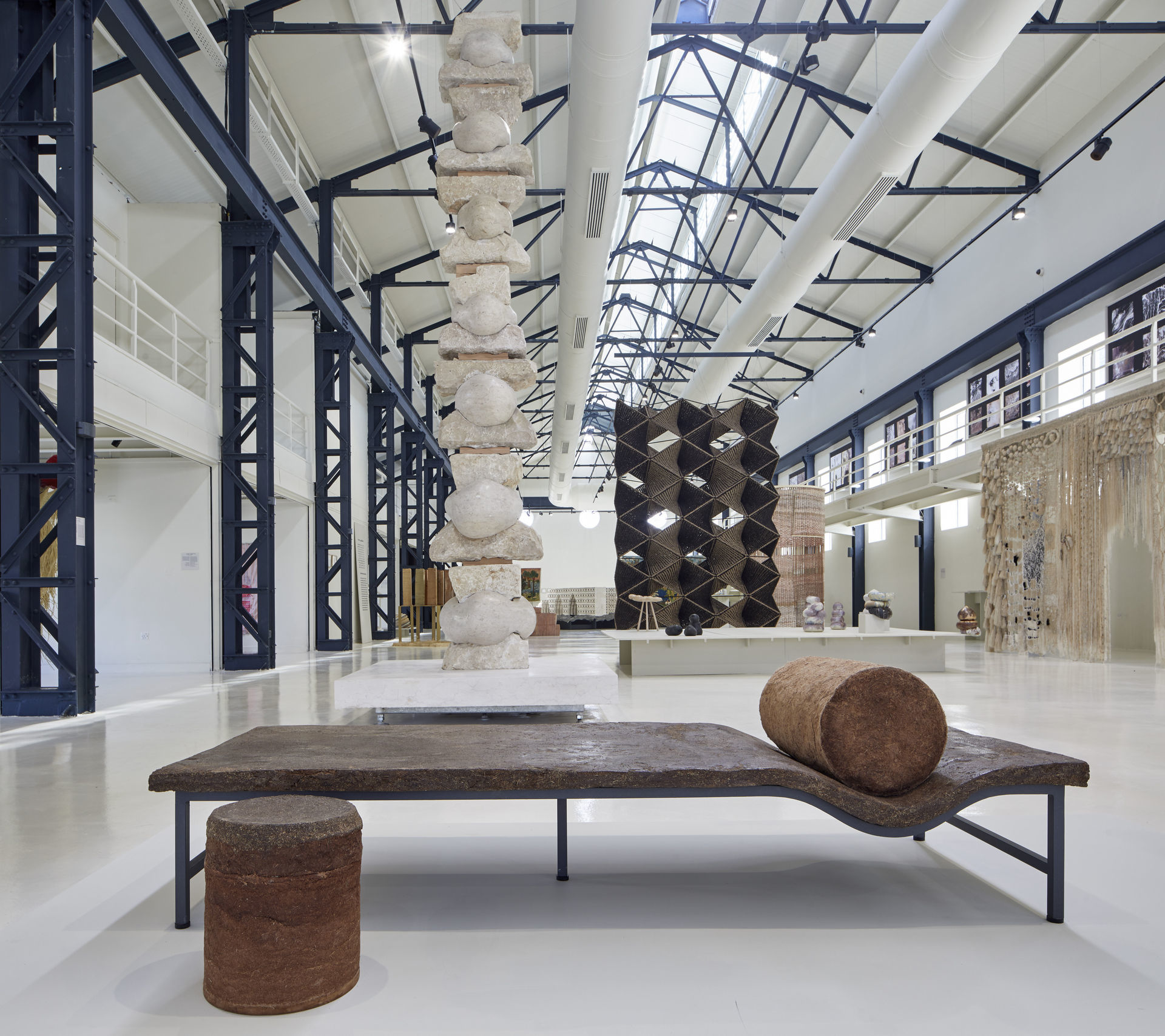 Twelve Degrees, led by industrial designer Sahar Madanat, presented 'Made From Jordan', a furniture collection created from a combination of ground palm leaves and olive mill waste, and bound by bioplastic. The two main components of the material are agricultural waste products. "We looked at these waste products and thought, 'they are found in abundance, they have good properties, and can we use them in a way to create a material that could be cheap and a good alternative to wood', so that designers and producers in Jordan can have something to work with that isn't imported from abroad already at a high cost," Madanat explained.
Another theme that came to the fore is millennial crafts such as weaving that are being revitalised by designers who are using materials such as goat hair, sheep's wool, and palm fronds to spin different interpretations of shelter. 
"There are a lot of works that are revisiting traditional weaving crafts which you find a lot in Jordan and there is a lot of history behind it," Al Seyah explained. "Weaving is being revisited in a certain way and they join a similar theme in the exhibition this year that positions shelters as a means of protection.They have a maternal feel which is quite beautiful." 
Jordanian artist and architect Abeer Seikaly is showcasing 'Meeting Points', a porous self-structuring tapestry that has been developed as a working prototype for a reconfigurable composite material system.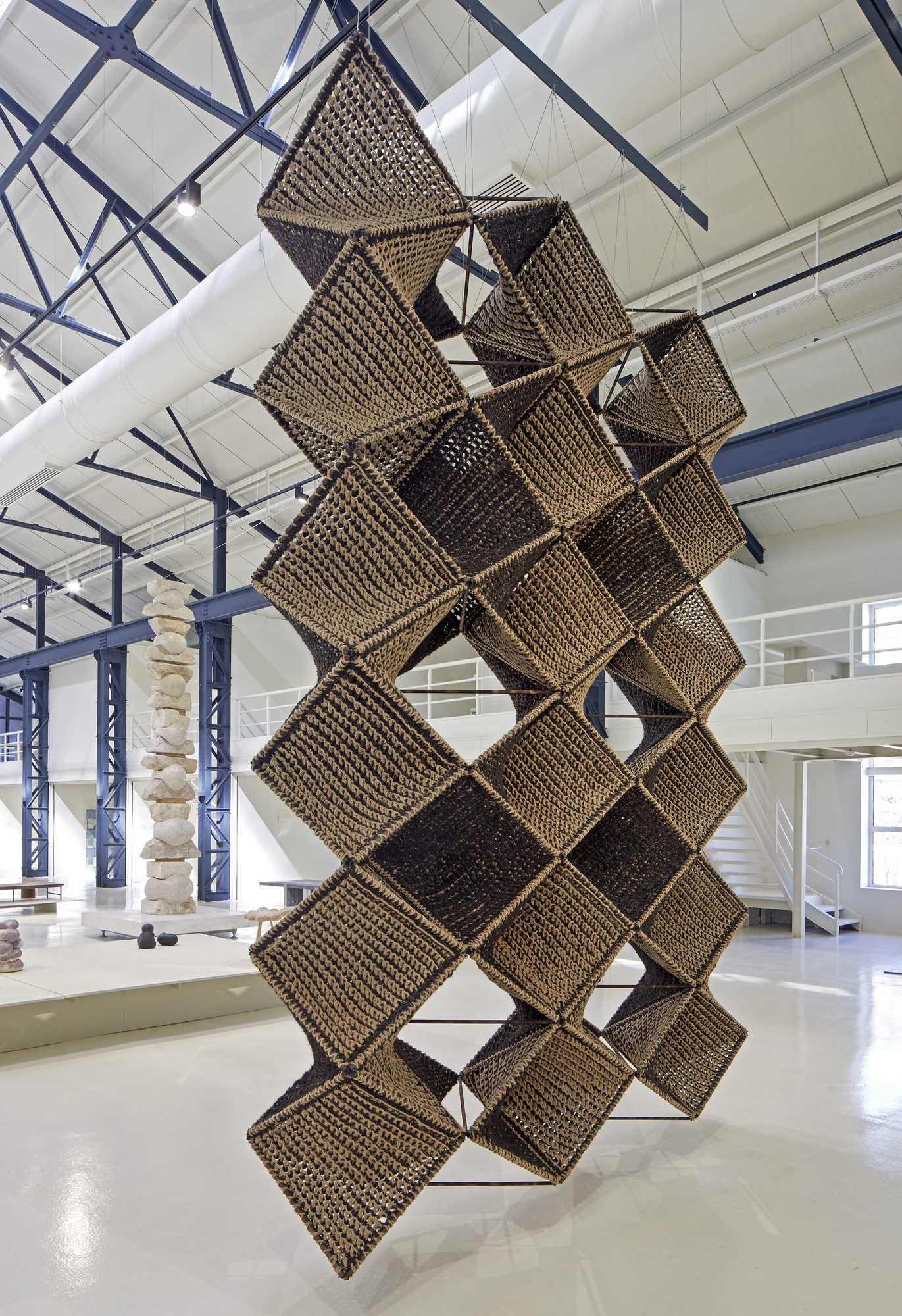 The installation is a tensility and equilibrium of wood and fibre (goat's hair and jute). It is inspired by the design process behind Bedouin tent-making; a communal practice of weaving and construction usually tasked to the women of the tribe, who Seikaly describes as "the invisible architects in a patriarchical system". The project is another example of utilising  locally-available materials. 
"Using goat hair or sheep wool has a lot of positive aspects – in addition to it being an abundant local resource – but they also have amazing environmental properties such as the expansion of fibres during rainfall so it doesn't allow the water to go in. This makes it good for shelter and great for insulation as well," Seikaly explained.
She continued: "In the last 10 years, animal fibres (wool and goat's hair) are burnt or thrown away after they are sheared. One of the reasons for this is that the border to Syria has now closed, whereas in the past, a lot of the raw fibres would be sold and exported to different countries like Syria and Turkey. Wool and goat hair had a monetary and cultural value. Now it is being burnt and this is really hazardous to the environment. We look at this now and say 'we have this material in abundance, why aren't we doing anything with it?' Our animal breeds are amongst the best and the oldest and the quality of material that can be processed is great, however, it's all gone to waste."
Besides its materiality, the project also brings together a connection with a community, created as a collaboration between fifty eight members of the community in Amman, Marka, Hisban, Madaba, Mukawir, Ma'an,  Mraigha, Al-Quwayrah, Humayma, Disi, and Al-Mudawwara. It aims to sustain the legacies of traditional design processes that could contribute to the future cannons of design knowledge in Jordan.
It is also part of a wider project that aims to develop a structural system in relation to a previous project by Seikaly called 'Weaving a Home.'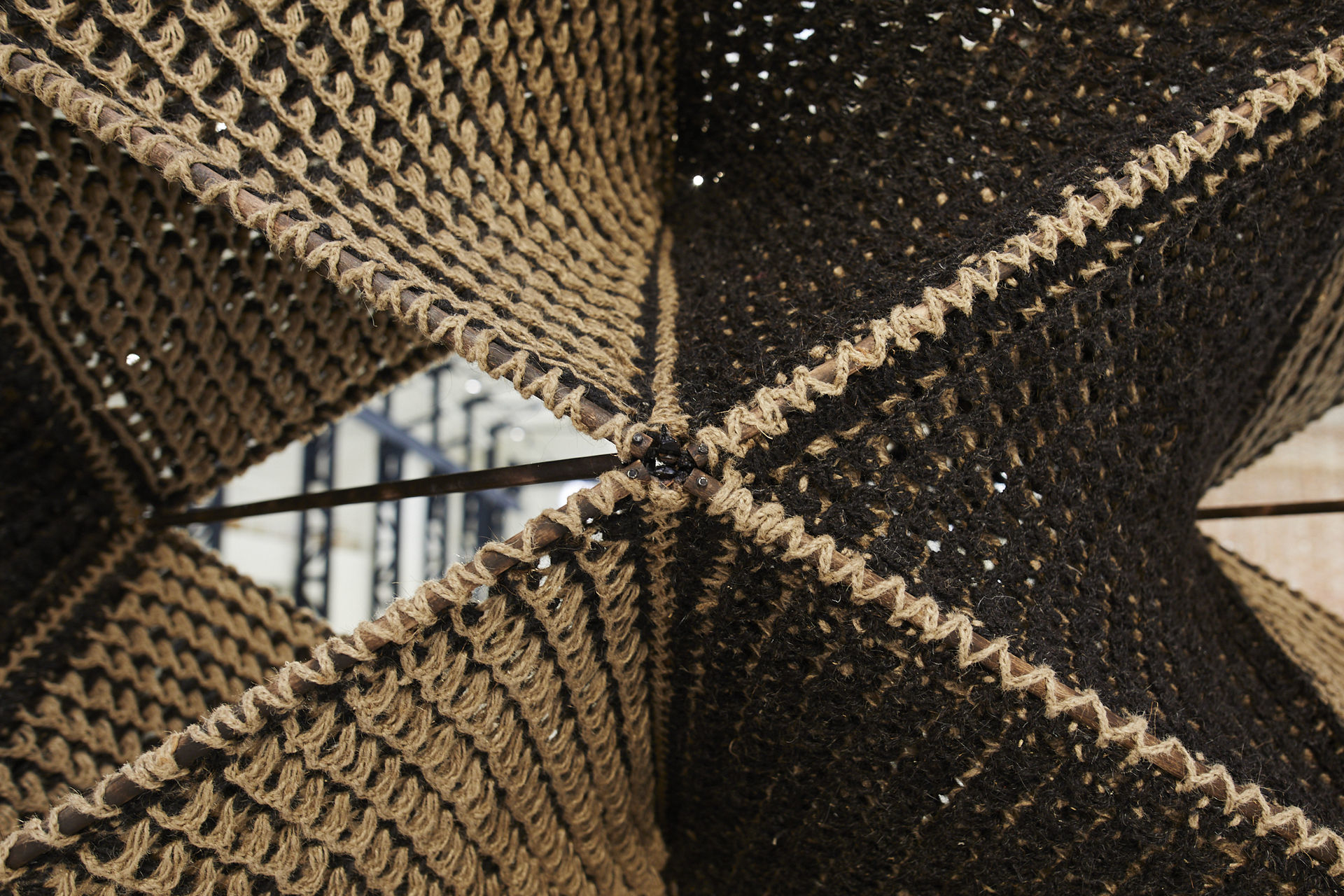 "This is a collapsible structure and it is the first prototype of something that could become a canopy or a dome," she explained. "My next step is to create a tent which is a dome and which can be used as a structural system or a 'self-structuring tapestry'. I think the challenge for me is how do I combine structure and fabric into one thing so they aren't separate entities. It's not like draping fabric over a structure- they become integrated and then you can start accommodating other functions like electricity and water. So this is just the beginning." 
The fact that Amman Design Week is a non-commercial platform differentiates it from other design weeks in the region. This also allows for the curatorial team to push for more experimentation, larger installations, and more research-driven content. 
"The exhibitions are quite regional and this was something we were happy to encourage and highlight: to show similarities in works that are happening from Morocco to Kuwait to Egypt to Lebanon. And to understand what is on designers' minds today," Al Sayeh said.