Dubai-based Serendipity by Design has been awarded a contract for the interior architecture and design for Central Plaza's - Dublin's former Central Bank - rooftop restauarant. 
The Irish-owned consultancy is led by Rebecca Gernon, and managed regionally by Paolo Cafolla. Together the designers will run the projects across its three offices in Dubai, Dublin and Manila.
In 2017, Hines Ireland, in partnership with the Peterson Group in Hong Kong, acquired an impressive portfolio of five buildings located on Dame Street in the heart of Dublin. The re-development  project will bring more than 12,500 square meters of retail, office and restaurant spaces to Dublin's city center.
The firm have been tasked with design of multiple F&B experiences that will compliment each other on the top floors (9th and 10th) and other areas such as the designated ground floor lift lobby/entrance and the 360 degree wrap around terrace.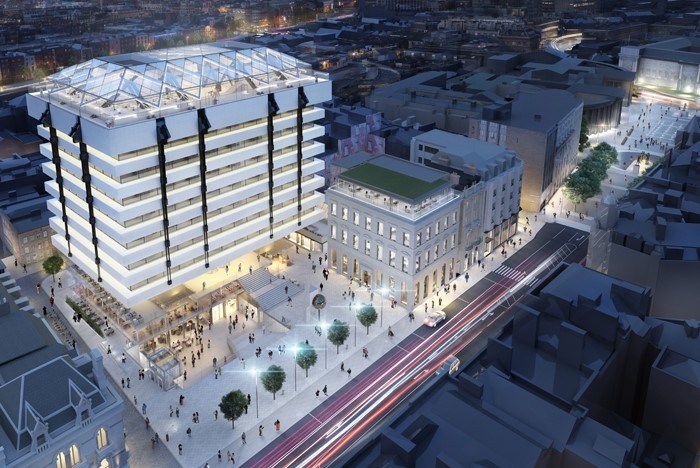 "To successfully design these outlets for efficient operations alongside an outstanding end-user experience is an exciting challenge due to the buildings amazing original architecture by Sam Stephenson that was ahead of its time," said Gernon.
"One of only a handful of buildings in the world where the entire structure is suspended from the central cores, the building's latest architecture elements designed by Henry J Lyons with the direction of  the owners of Hines have made this building one of Ireland's best. We want to ensure that the venue is active and attractive from early morning to late evening for passing footfall, tourists, local shoppers, office workers and corporates looking to utilise the venue for events."
"We are delighted to be designing this project using virtual reality technology from the outset so that every inch of the venue will experienced by the owners and operators well before a fit out contractor is even appointed," said Paolo Cafolla, commercial and marketing director at Serendipty by Design. 
"Having worked with the buildings original architect, Mr. Sam Stephenson, it is an absolute honour to be able to create an experience that he wanted to achieve all those years ago," Gernon added.