Submitted by aidan.imanova@i... on
Roar (formerly Pallavi Dean Interiors) has designed a flexible working space for technology firm Evoteq, inspired by the binary code.
Evoteq creates solutions that help companies accelerate their digital transformation.
The design of the 3,230-square-foot working space in Downtown Dubai needed to be flexible in order to be easily rearranged to host meetings, run workshops, or launch products. Furniture was also selected as a "creative collaborator", inspiring engagement within the team.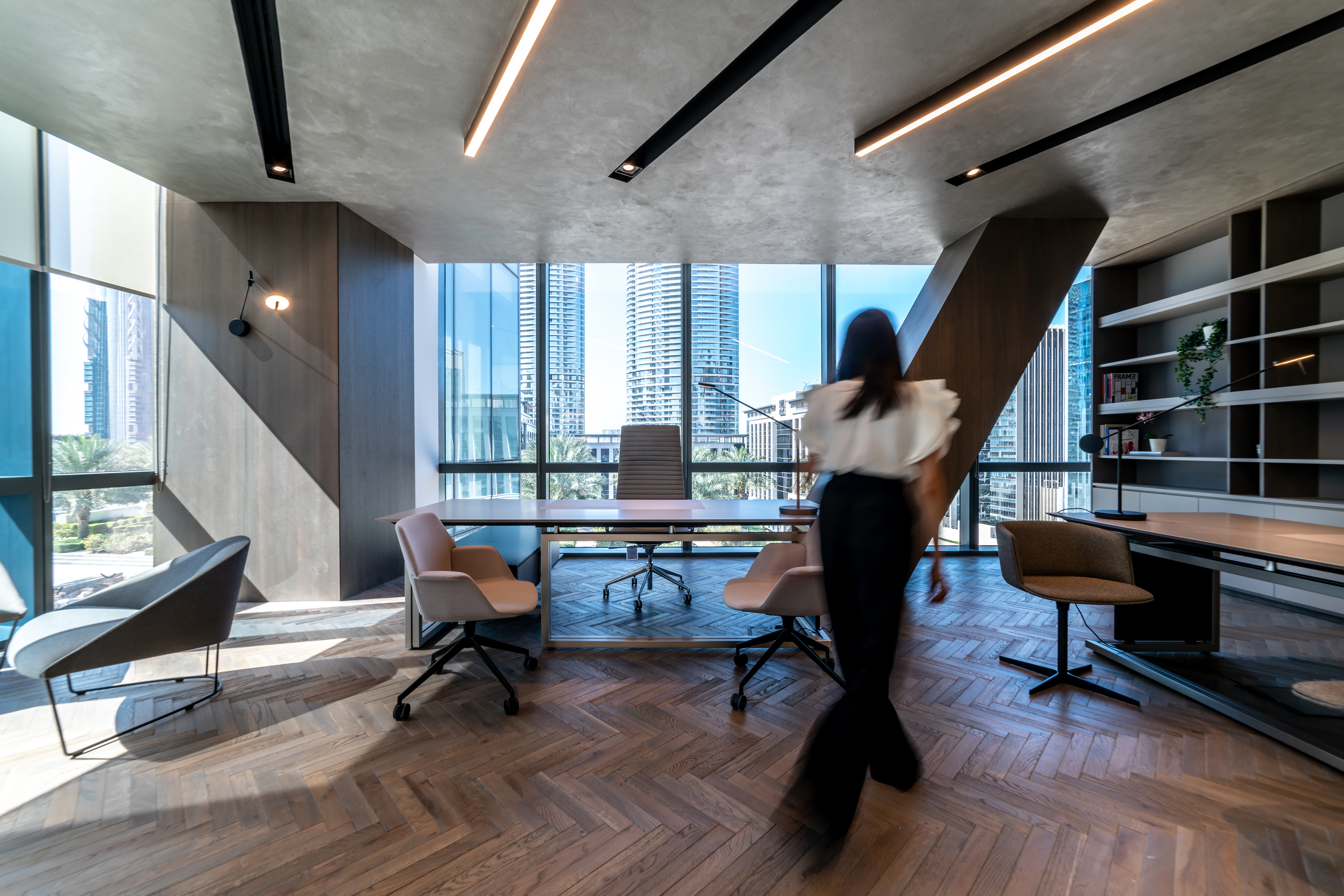 The design of the space is inspired by the binary code (the numeral system made up of 0 and 1), pairing angular shapes that represent the 1's in binary, while circles represent the 0's.
Meanwhile, the design features a series of activity based working spaces that are tied together to form one immersive and interactive office.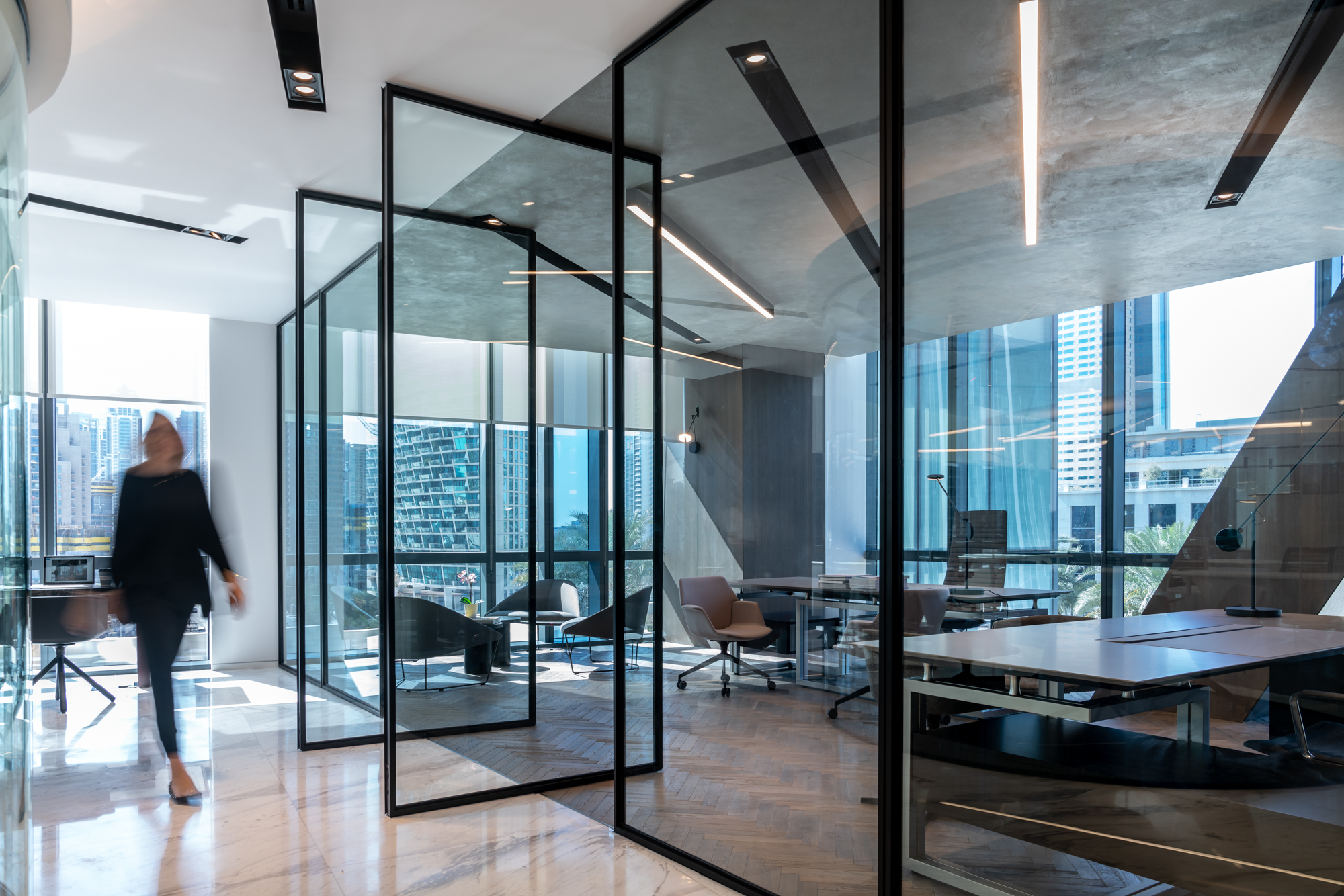 The shared CEO-COO office is designed to highlight Evoteq's corporate culture: "This isn't a closed-off office. This space is accessible to everyone, highlighting their open-door communication policy. We used a series of pivoting glass doors that can be left open most of the day, or closed for private discussions," said Pallavi Dean, founder and creative director at Roar.
On the floor, herringbone-patterned wood inlays sit besides Volakas marble flooring, bringing warmth to the overall space.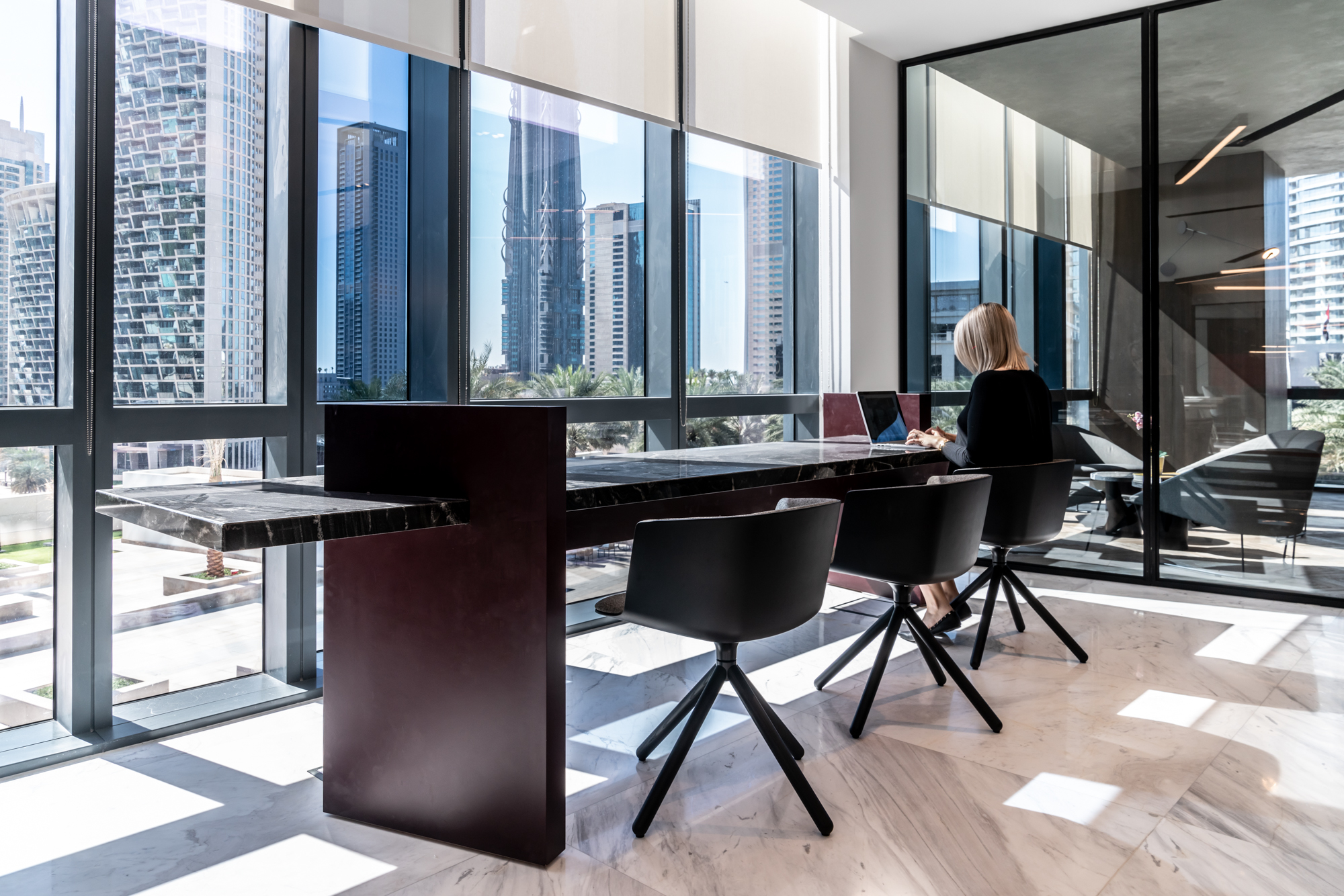 "One of my favourite features is the custom joinery behind the main desk," Pallavi says. "Roar worked with an Ajman-based joiner on this project, with the large columns at the back clad in oak veneer. In the open-plan space, we used Tecno SpA desk systems paired with Steelcase Think chairs.
"The organic forms work well with the circular work zones, pulling the interior architecture together. On the ceiling, we created a playful suspended light sculpture using Vibia's hanging HALO Lineal light the shapes paying subtle homage to the binary system."
Dean explained that providing a variety of workspaces was crucial to the design brief.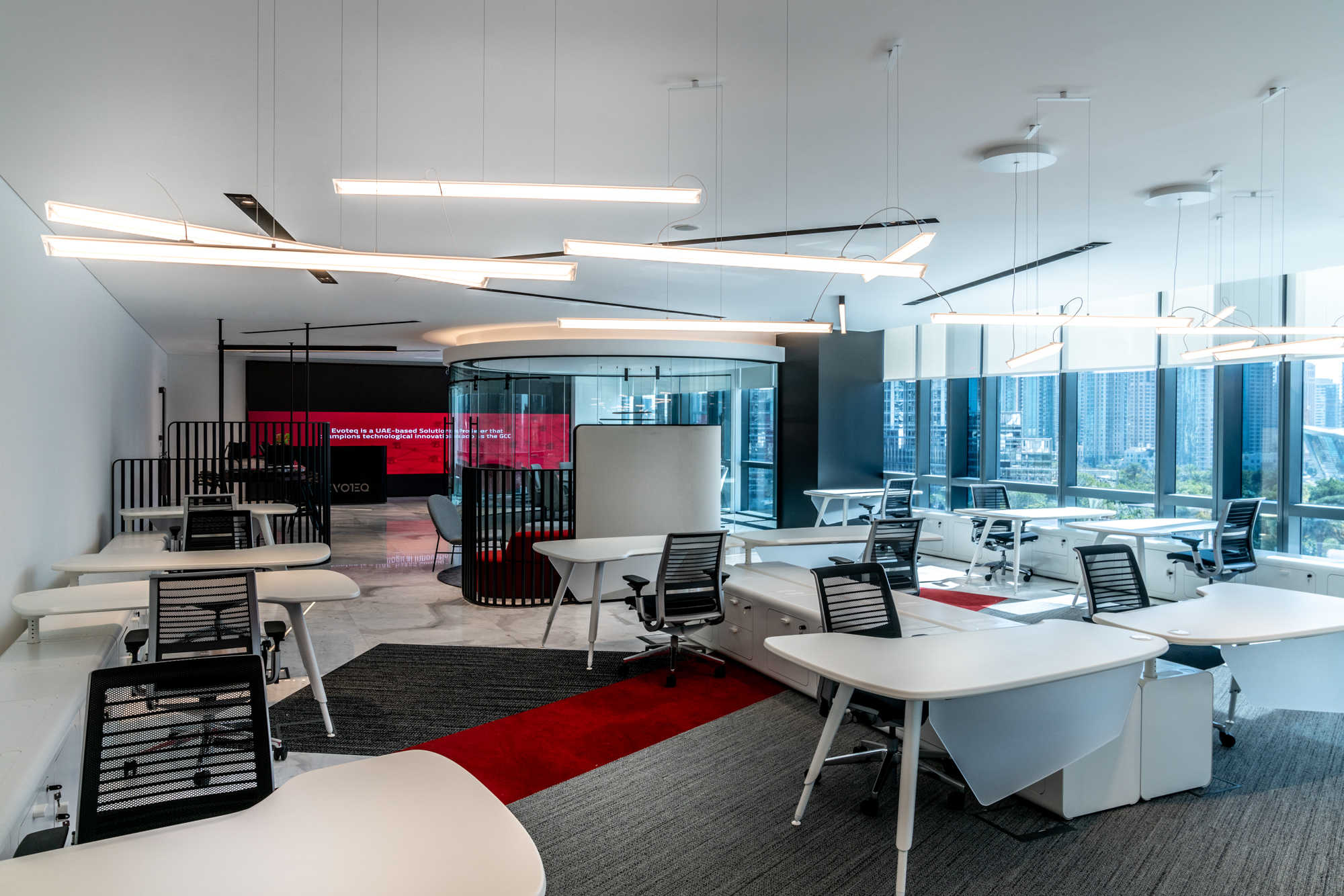 "We created two lounge areas for spontaneous brainstorming sessions and informal meetings. In one of these spaces, set just off the busy main work floor, the Lapalma slatted screen offers a sense of privacy and enclosure," she said.
Just outside one of the meeting rooms is a mini 'social-media zone', a space where Evoteq's team members can step aside and "update their Instagram, shoot out a message, or take a phone call."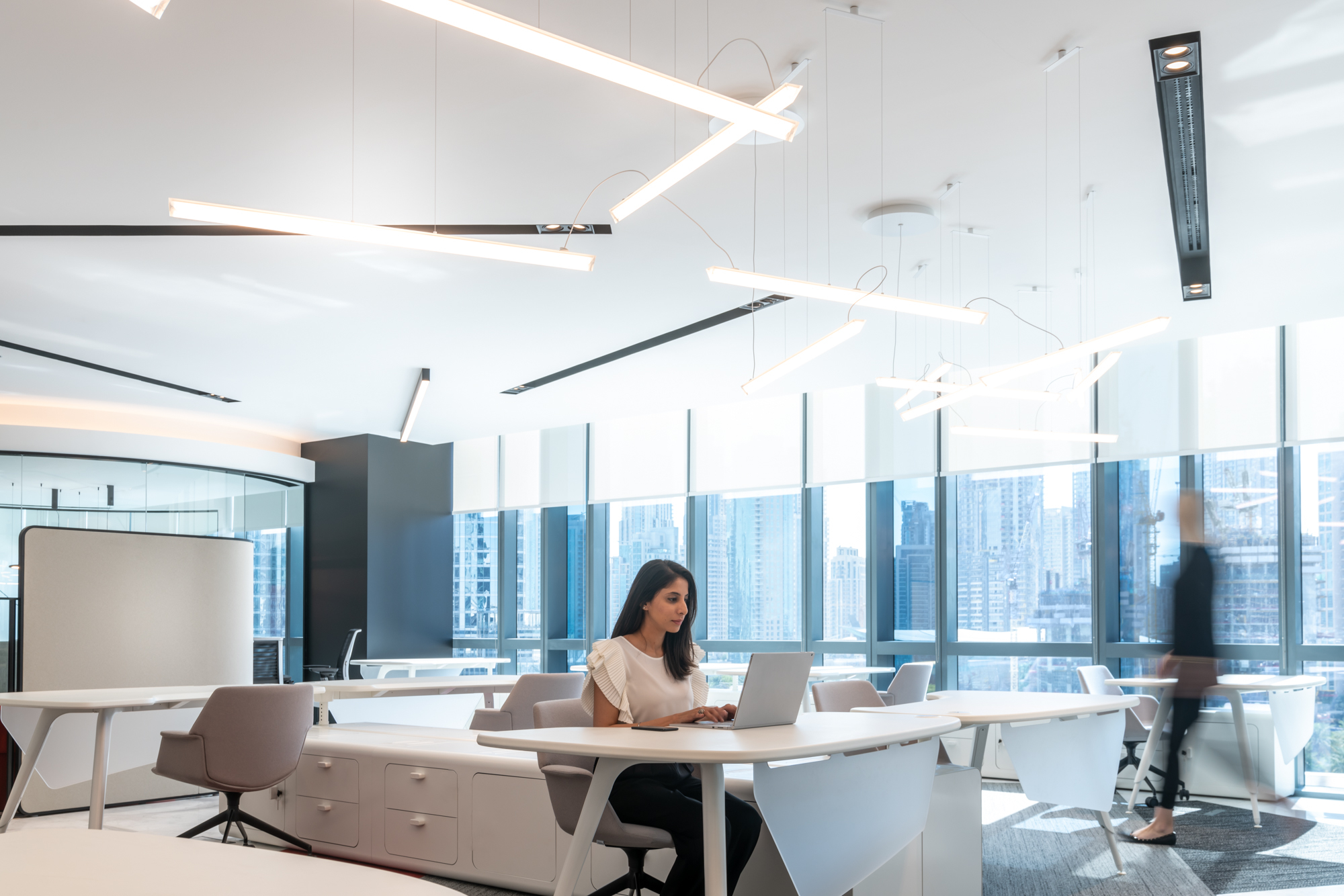 The design also features a circular boardroom: "While this is a traditional meeting space in that it's a place where people gather to talk, that's where the tradition ends. We ditched the old-fashioned boardroom design, doing away with the 'heads of the table' and opting for a glass-encased circular space that nurtures the idea that everyone is equal. This room also features writable glass surfaces ideal for making notes, and boasts the best views of Burj Khalifa just across the road," Dean described.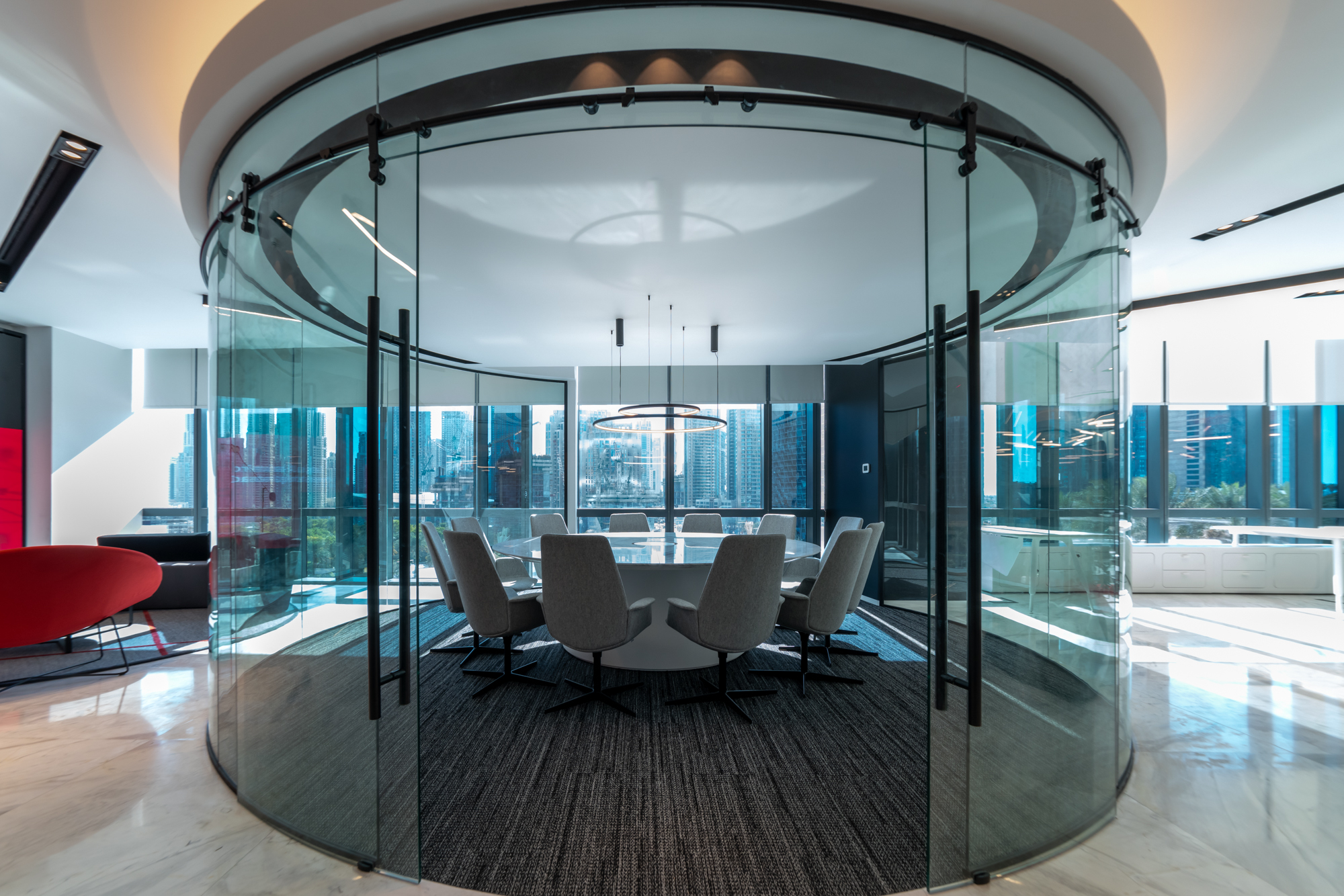 Roar also maximised the office's views for inspiration with a collaborative window-side work station to offer the Evoteq team seating options based on their current needs.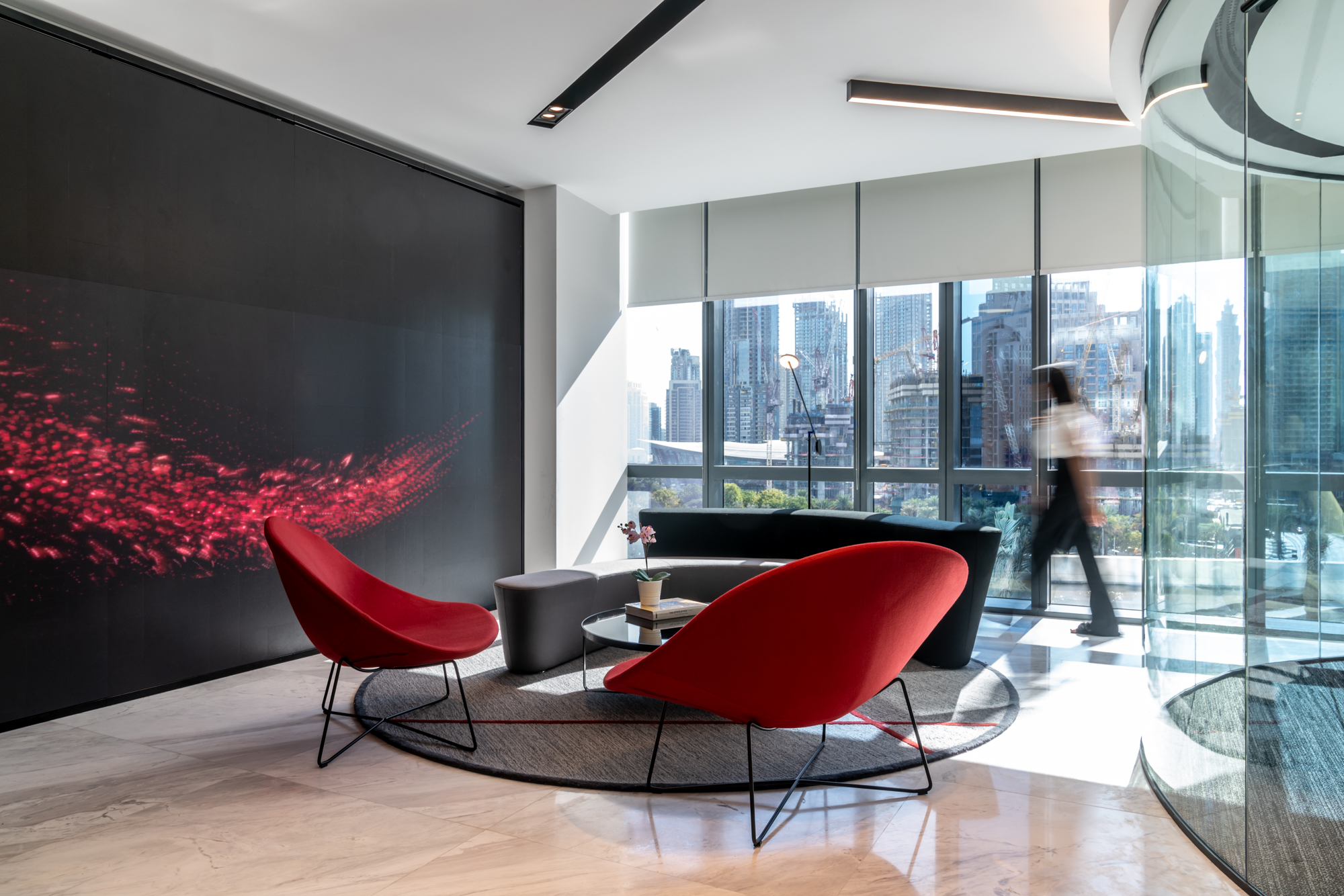 "This is an ideal deep workspace, but it's also a great hot desk for suppliers and sales staff who don't necessarily need full-time spots, but just want to pop in and finish something," Dean said.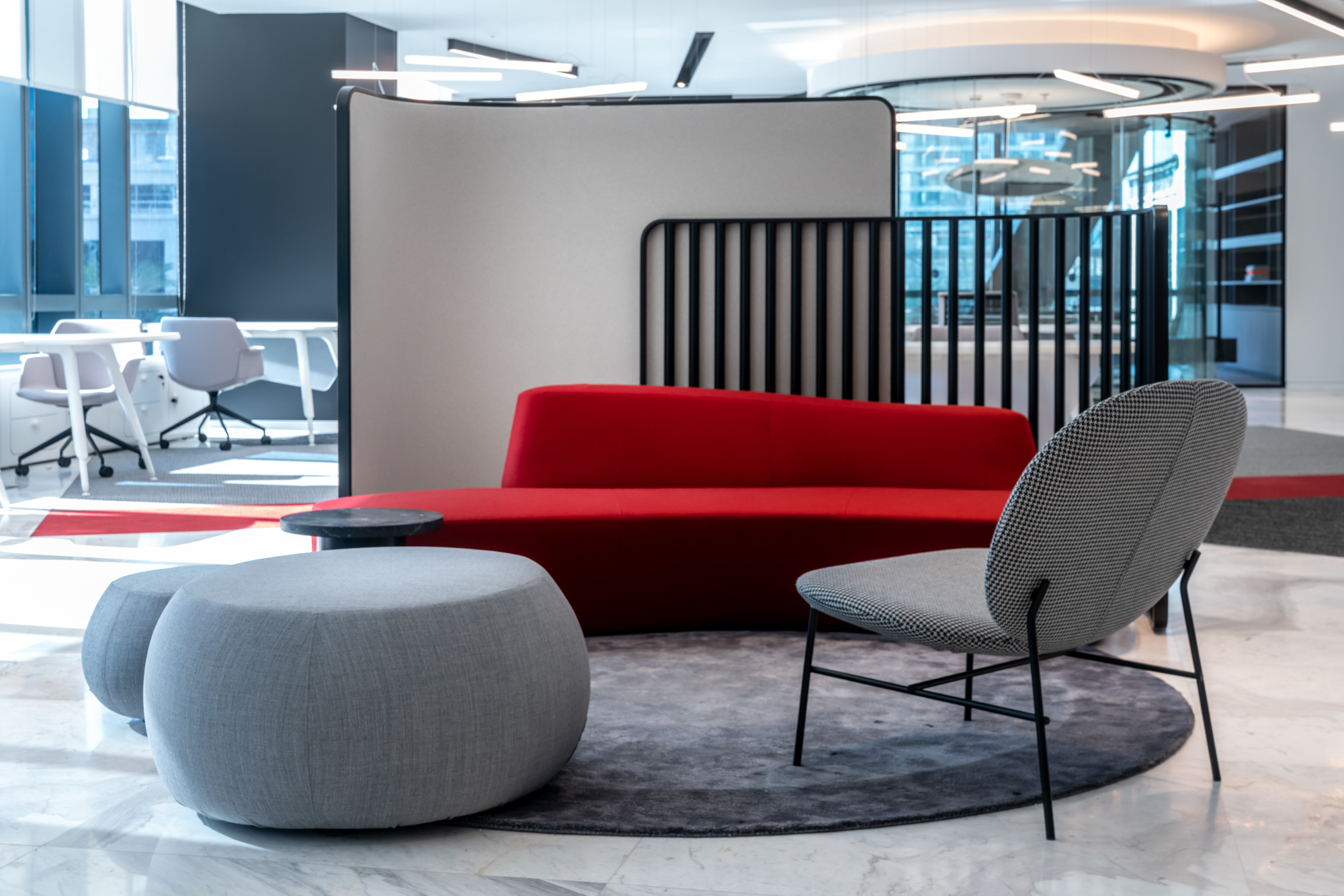 The office's ceiling-suspended floating desk, featuring deep red Rosso Levanto marble, which was also selected for its collaborative nature.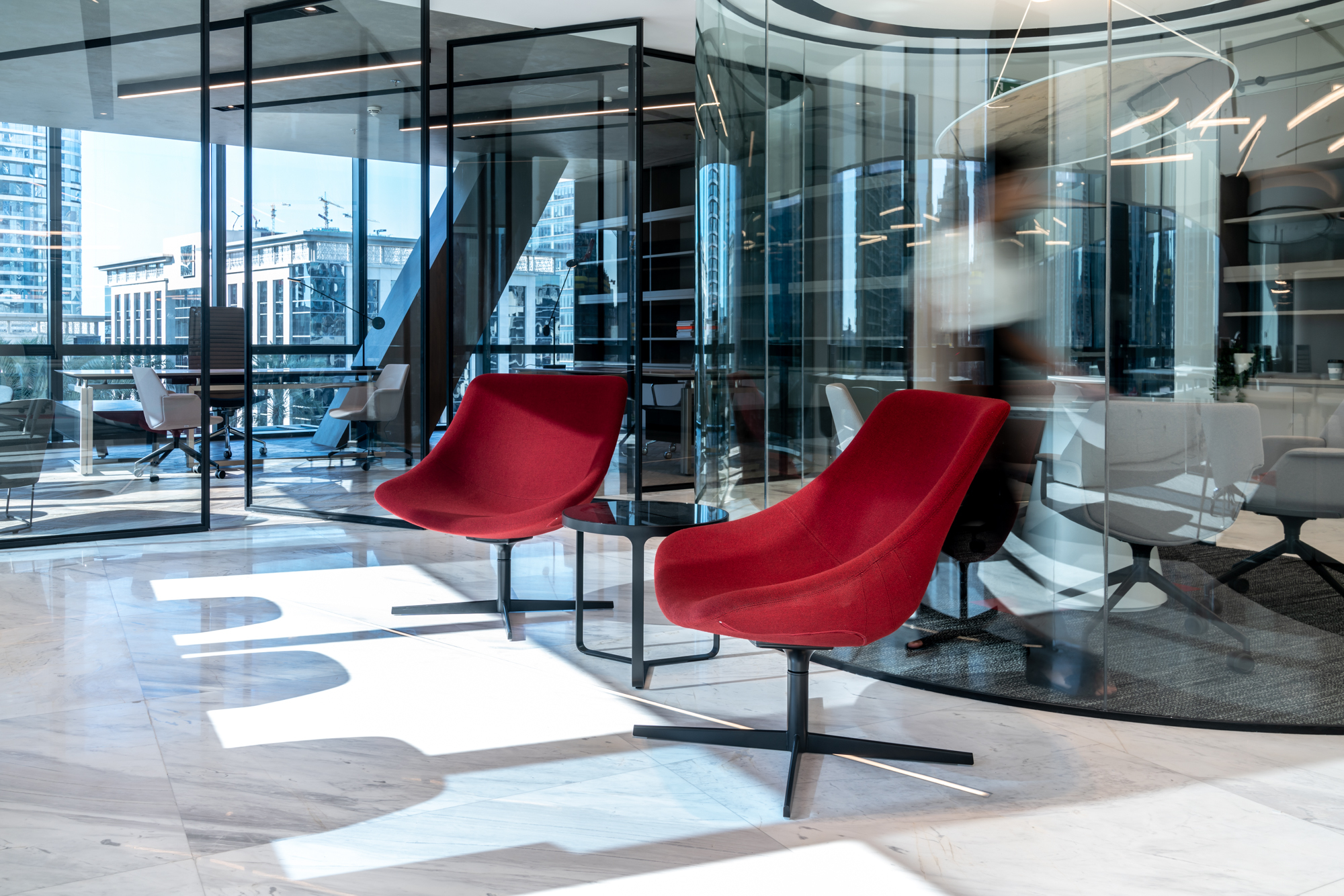 "I love this table because of its dynamic nature. Take the chairs away, and it's a stand-up meeting area. Spontaneously gather the team, and it's a collaborative brainstorming spot. Throw a party, and it's a DJ booth. Host an event, and it's a buffet table. I enjoy the idea that a piece of furniture can take on so many roles."
Story Relations:
Roar announces the opening of its London studio with Christina Morgan at the helm
Roar designs pastel-hued office space which brings cultural context into a corporate environment
Roar-designed nursery in Dubai offers an outlook into the future of learning
Pallavi Dean Interiors rebrands studio to Roar
Published Date:
Monday, June 3, 2019 - 17:11