Submitted by aidan.imanova@i... on
Jumeirah Beach Hotel (JBH) has reopened its doors following a refurbishment and a redesign completed by Dubai-based Engineering Office, taking inspiration from the sea that surrounds the property on one side.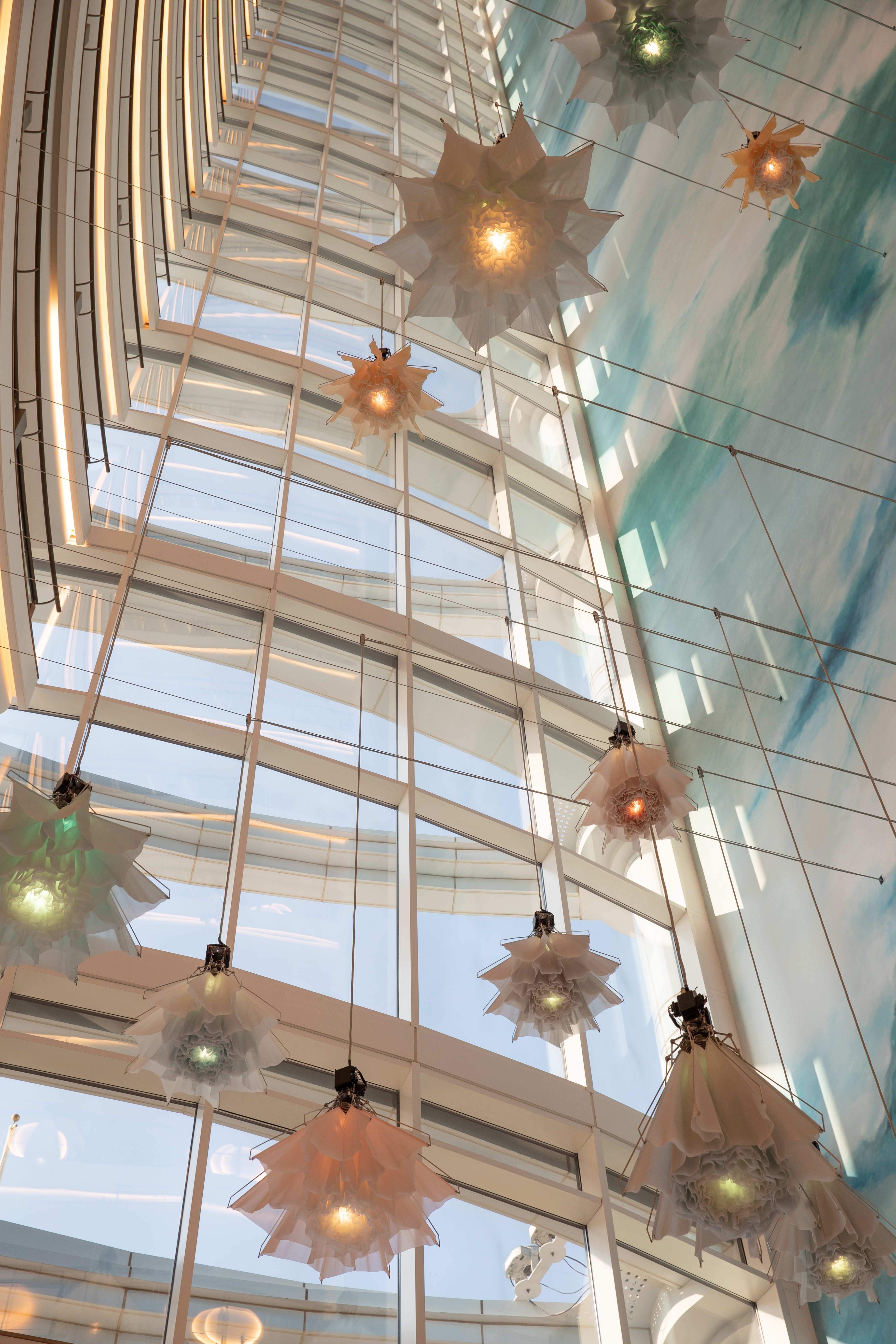 Originally launched in 1997, JBH is the first Jumeirah property to open in Dubai, and its wave-like structure - designed by architecture firm Atkins - quickly became an icon of the city's skyline.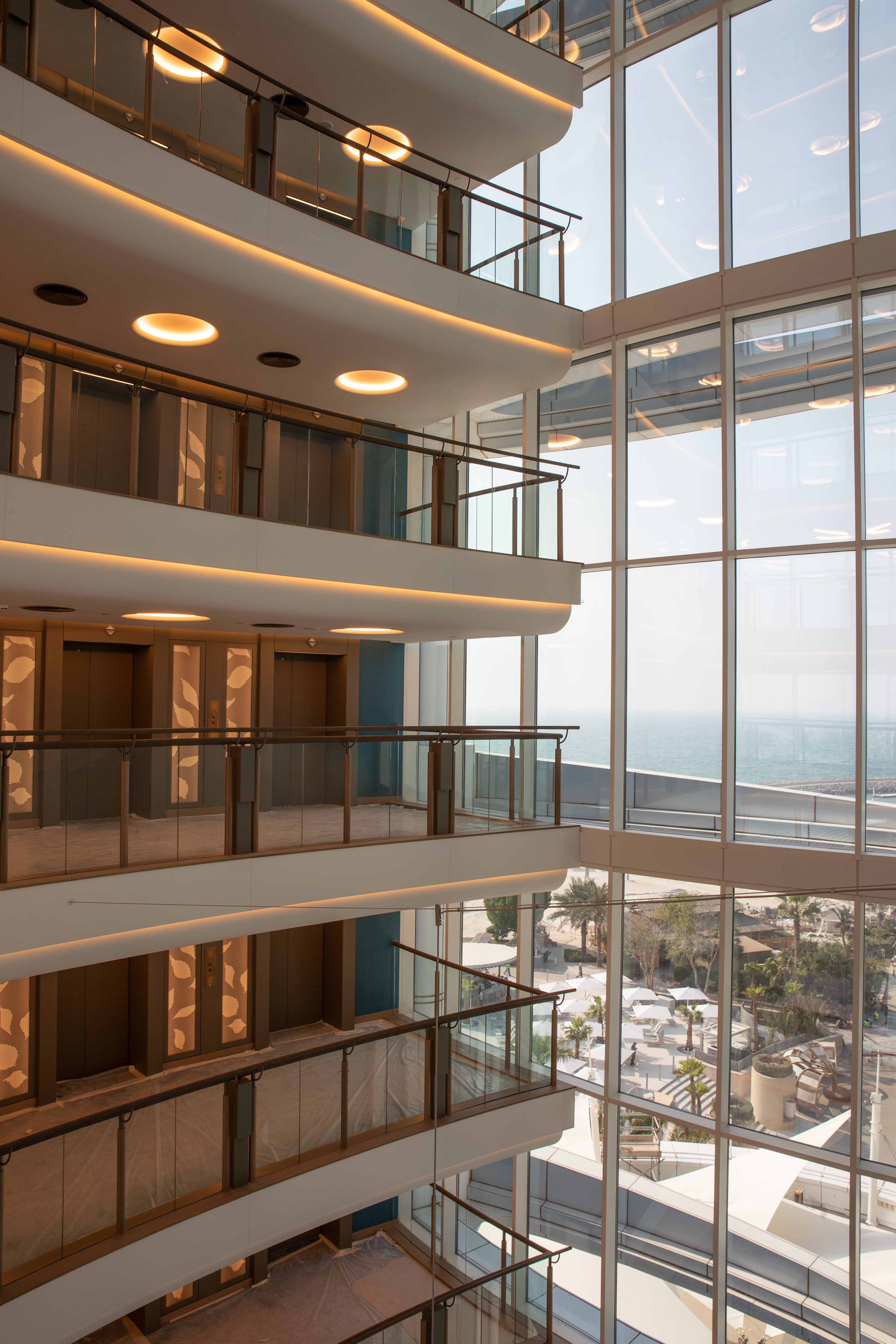 The redesign of the interior spaces features public areas, including sections of the outdoor facilities, restaurants, dining outlets and lobby area, as well as the guest rooms and suites.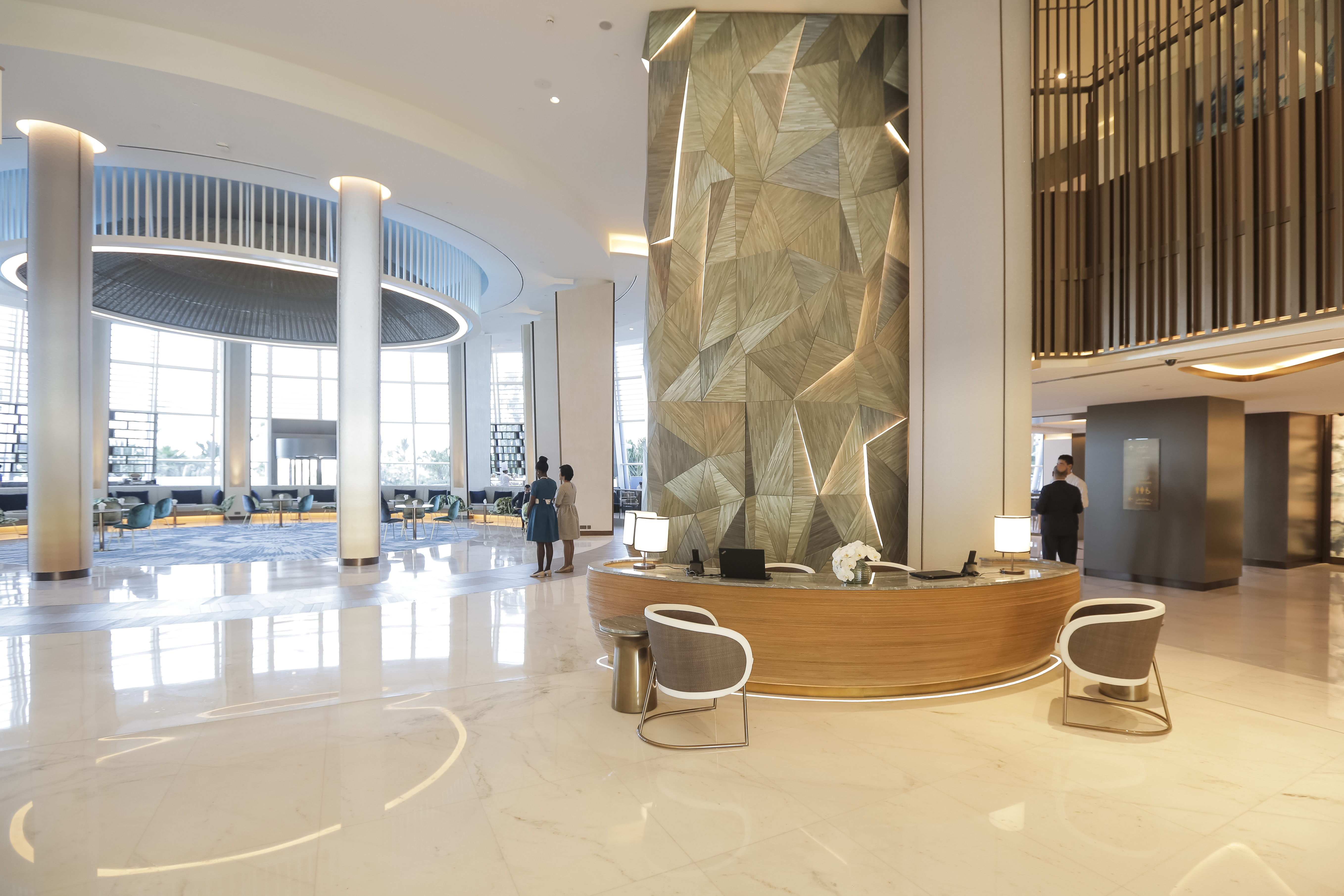 The new design takes cues from nature; from the colour scheme, lighting, textures, to the materiality. The designers paid homage to the sea, referencing colours of lighter shallow waters as well as stronger tones of the sea depth, in addition to referencing clouds receding into the water as well as rock formations. All these elements build layers of design and textures that evoke a sense of lightness and movement.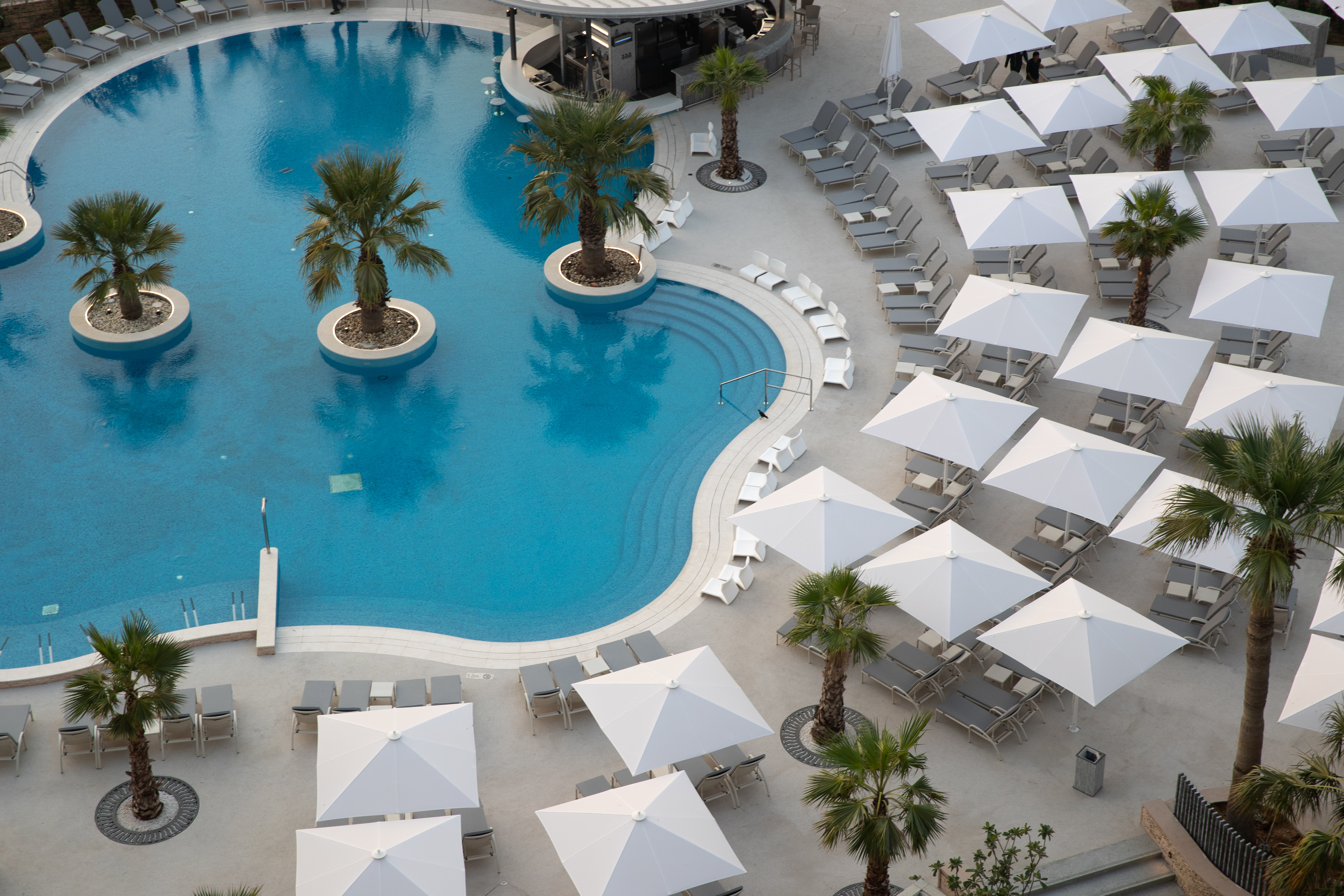 The lobby area was redesigned to allow for a greater emphasis on the reception and arrival area, enlarging the overall space and stretching it out to create a sense of openness.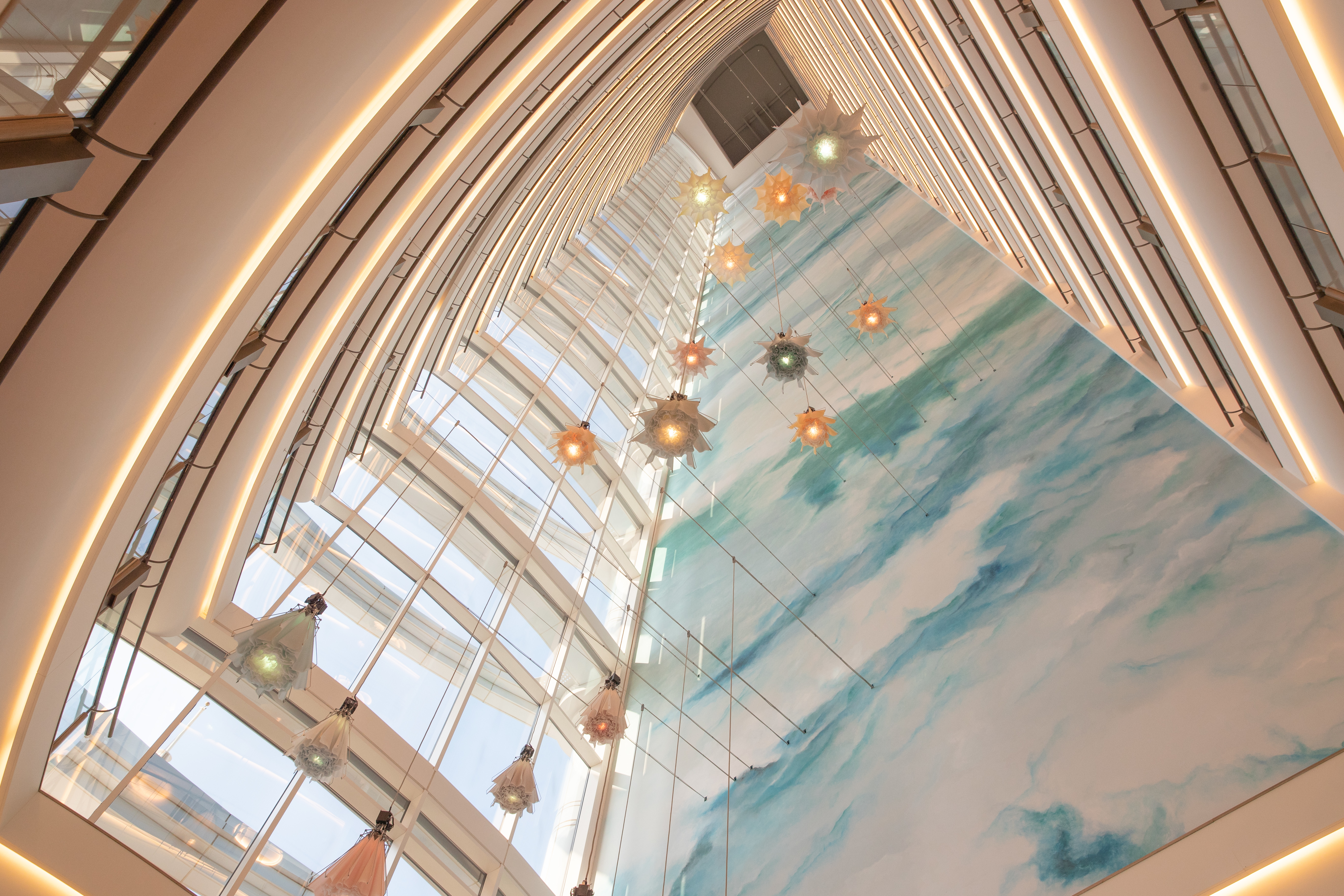 A back-lit wall with a wave effect frames one side of the reception area, evoking rock formations found at the bottom of the sea, comprising of wood rendered in irregular shapes that mimics water forms.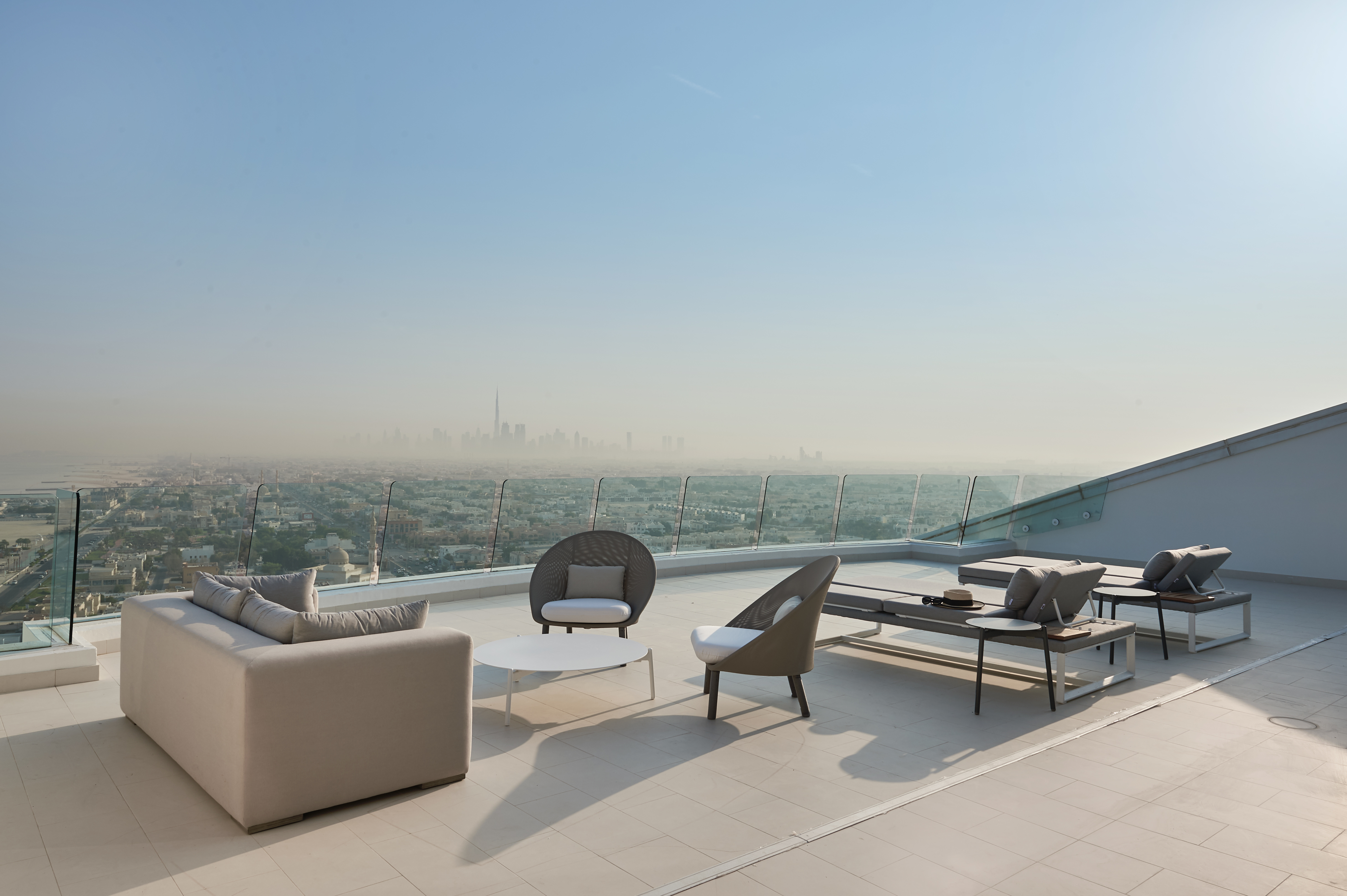 "For the supporting structure, we designed a gradient myriads of tiny glass beads attached to a flexible base material wrapping around the columns, and creating a quartz effect by reflecting light in all directions," Engineering Office told Commercial Interior Design.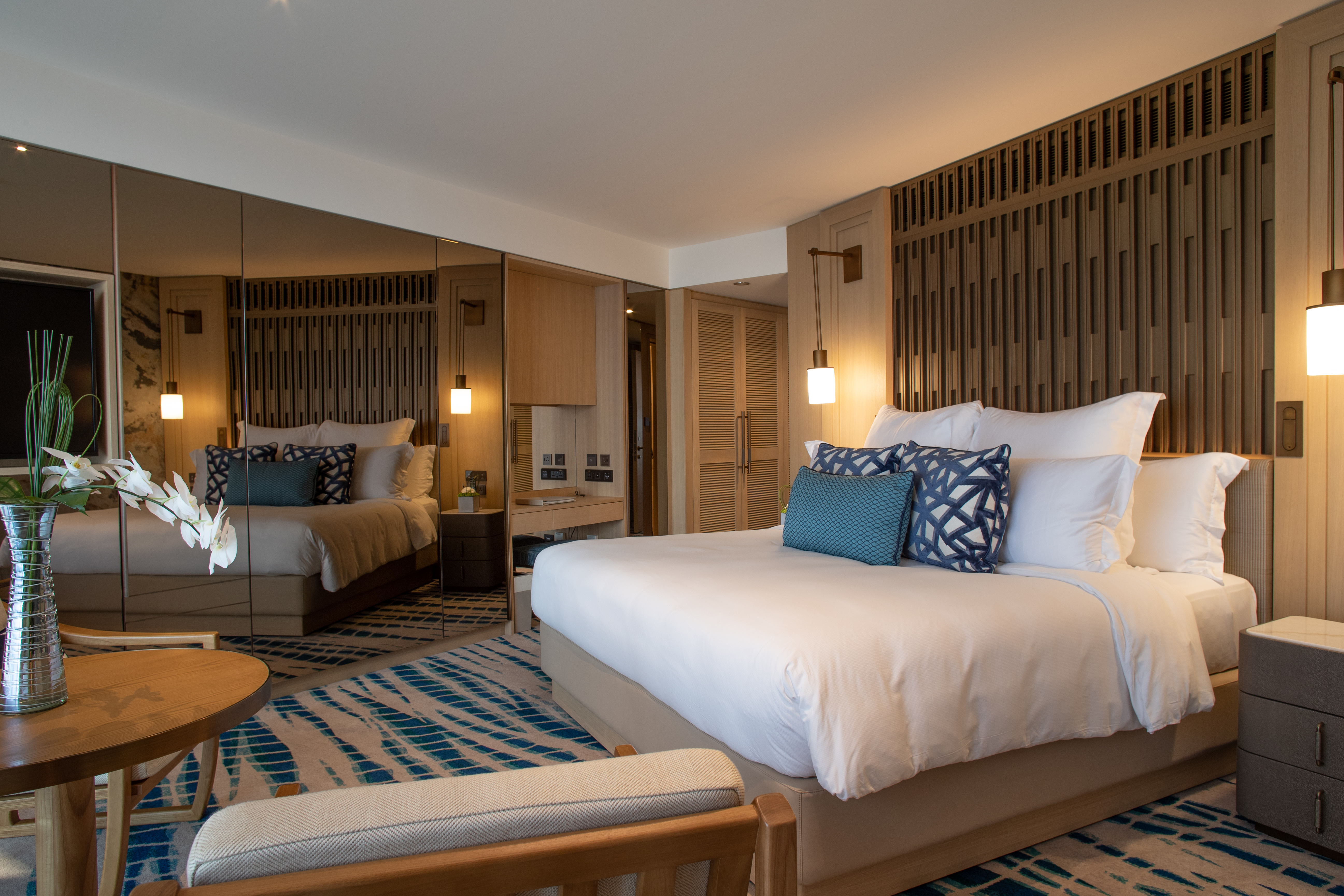 Amsterdam-based lighting designers Studio Drift were commissioned to create a lighting installation that stretches the full 100m height of the atrium space. 
"We wanted to revolutionise the standard 'chandelier' at the centre by designing a 'one-of-a-kind sculpture chandelier', supported by a full orchestra," the designers explained.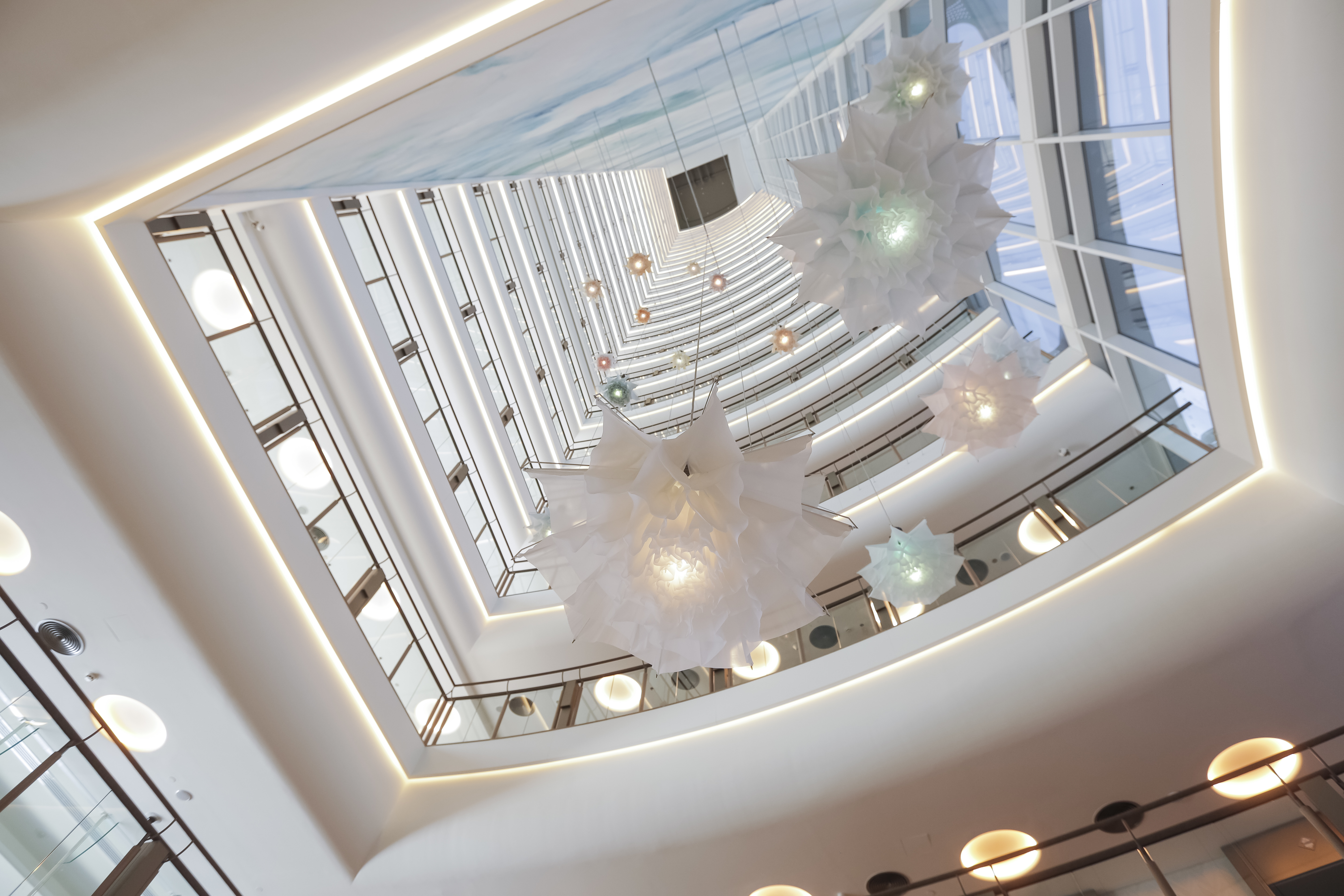 The lighting installation explores the relationship between nature, humans, and technology, forming a kinetic 'sculpture' - reminiscent of underwater creatures,- which opens up and closes in response to the guest activity happening in the lobby.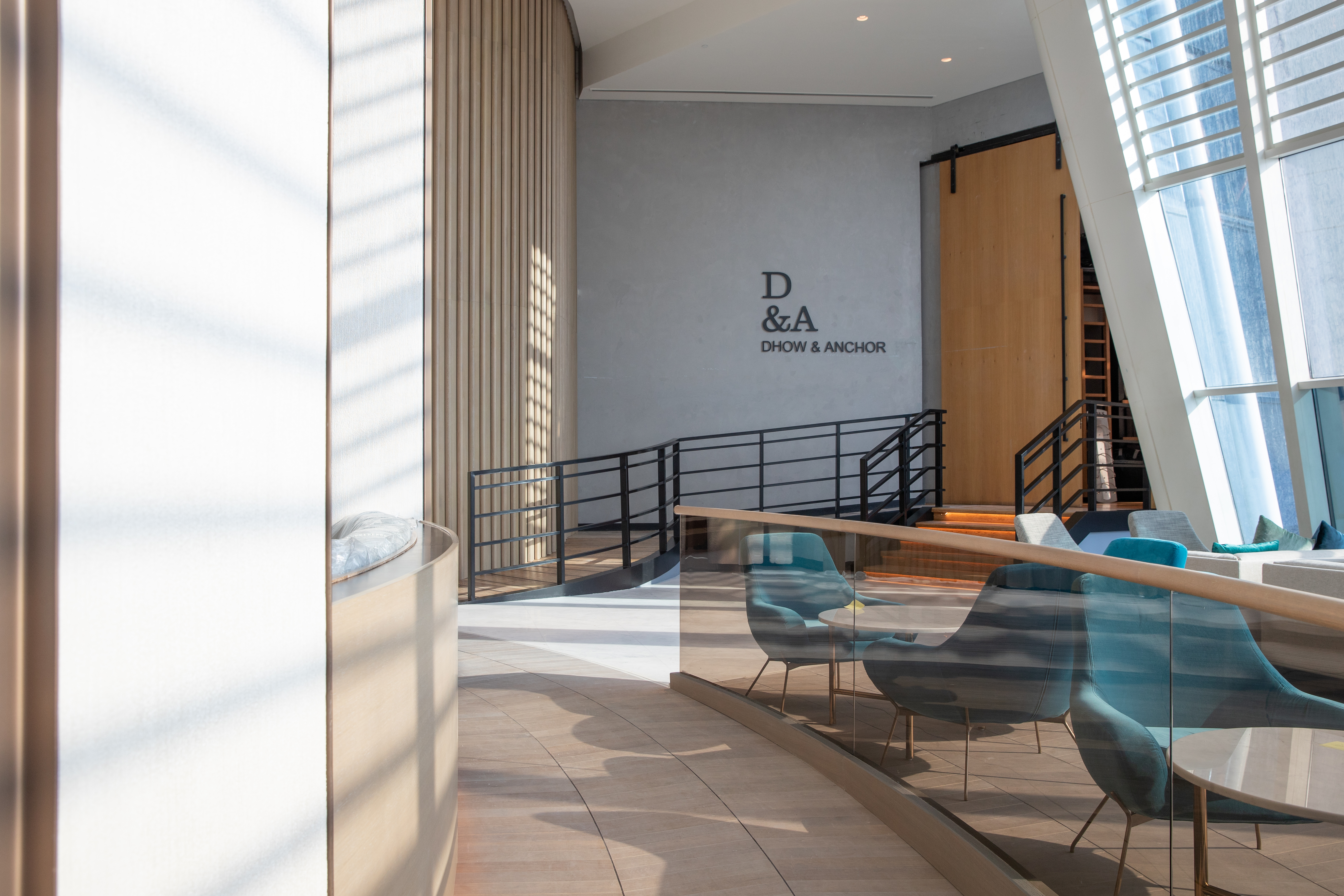 The main dining area has also been opened up to the outside terraces, limiting the barrier between indoor and outdoor spaces. 
Guest rooms and suites have also been redesigned to reflect themes of nature with a colour palette including subtle tones of blue and beige, referencing sea and sand.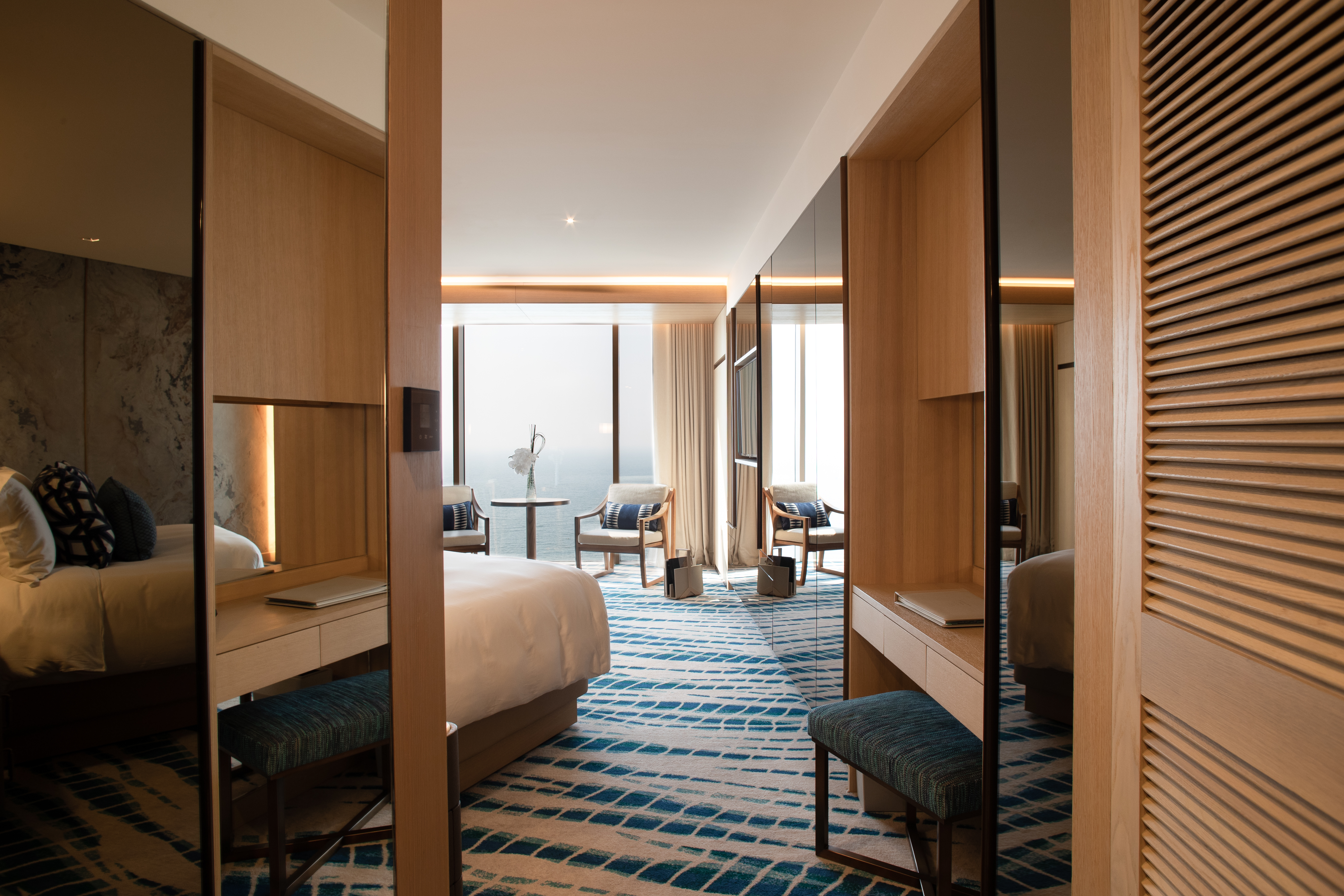 The flooring in the guest rooms resemble water rippling over sand, while the soft furnishings is covered in Shagreen leather (fish leather). Walls are covered with thin layers of stone, while the bathrooms have been renovated to create a wider space with bronze finishes, all while maintaining its existent wall and floor-covered marble.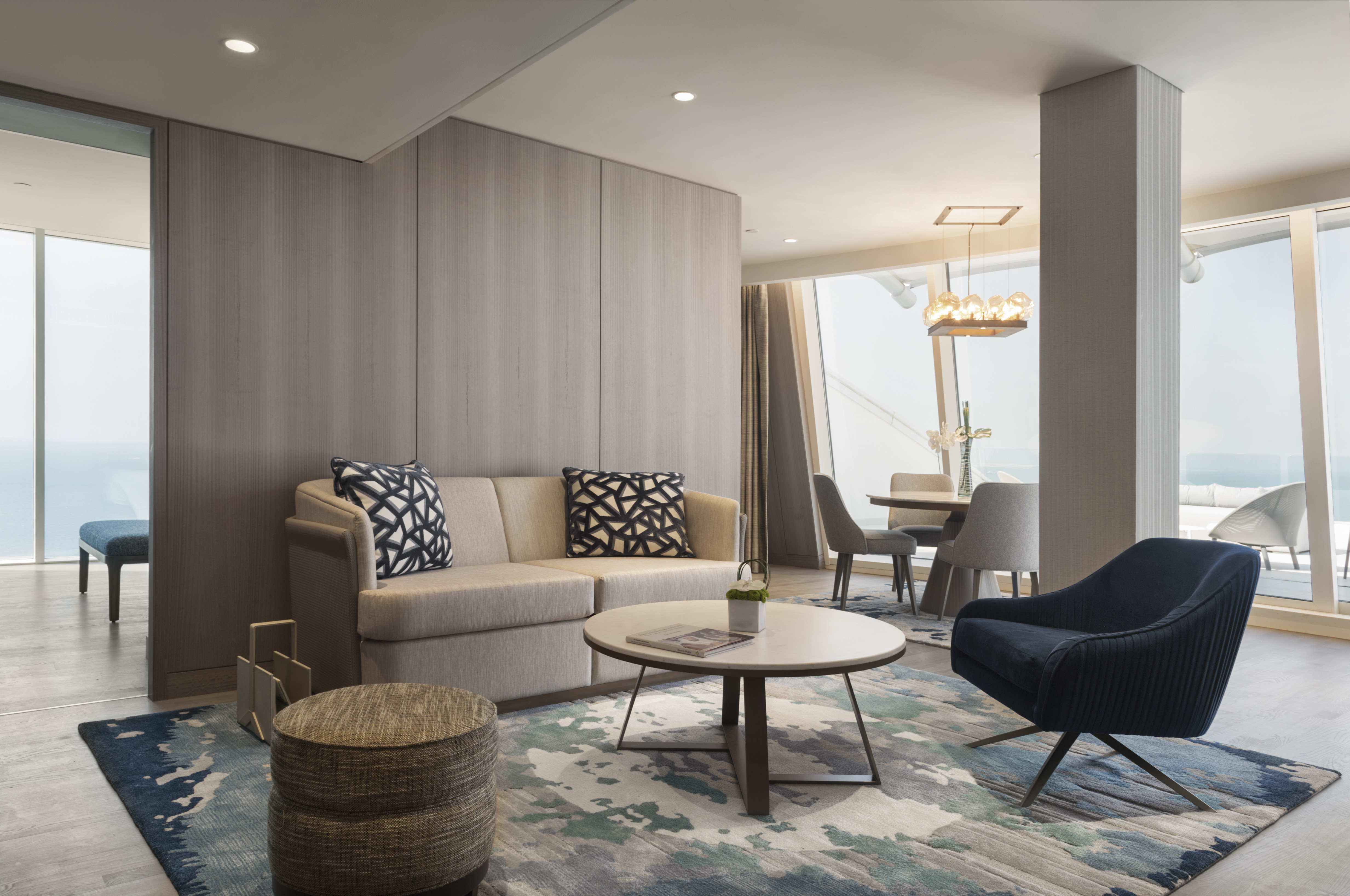 "With minimum intervention, the corridors were dressed with perforated patterned panels, covering all the anaesthetic AC grills and MEP/Technical access doors," Engineering Office said. 
Story Relations:
Atlantis hotel to undergo three year refurbishment of guestrooms and public areas
H2R Design reimagines the historic Alamein Hotel in Egypt with a fresh approach
Jumeirah appoints new CEO to oversee international expansion
A diverse range of materials makes it inexcusable for mid-market hotels to offer average designs says Form Hotel founder
Published Date:
Tuesday, November 6, 2018 - 15:24